Back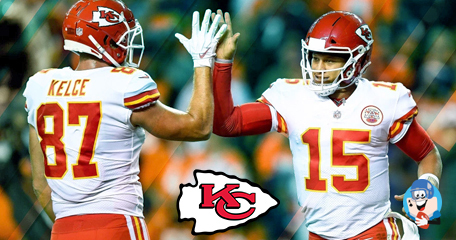 St. Joseph, Missouri is the location of the Kansas City Chiefs' training camp, and it sounds like all is well coming from the mouths of All Pro tight end, Travis Kelce, along with his young superstar MVP quarterback, Patrick Mahomes. They both seem to be have nothing but great things to say about their offense and their team's chances to excel in the AFC this upcoming season.
The Kansas City Chiefs' high-powered offense is a thing of beauty when running on all cylinders. They have one of the best quarterbacks in the National Football League under center in Mahomes. Coming off a miraculous season as a starting gun slinger in the NFL in which he led the league in pretty much every offensive/passing statistic while coming up just short of making it to the Super Bowl.
The Chiefs ended up losing a very close football game to Tom Brady and the New England Patriots in the AFC Championship game last year by the final score of 37-31. Of course, the Patriots won the Super Bowl again last season, but this year the Chiefs have the confidence and belief they can compete for the NFL championship and win it all.
Chiefs 2019-2020 NFL Roster (8/15/2019):
Offense
NO

PLAYER

POS

HT

WT

DOB (AGE)

EXP

COLLEGE

4

QB

6-3

222

7/2/1985 (34)

12

Michigan

8

QB

6-5

230

10/5/1995 (23)

1

Marshall

40

Shoulder: Questionable for Week 1 at Jacksonville

QB

6-3

225

4/25/1996 (23)

R

Princeton

15

QB

6-3

230

9/17/1995 (23)

3

Texas Tech

9

QB

6-4

225

11/6/1996 (22)

R

Vanderbilt

34

Chiefs' Carlos Hyde: Finds end zone

RB

6-0

229

9/20/1990 (28)

6

Ohio State

38

RB

5-10

200

2/23/1997 (22)

R

James Madison

42

RB

5-10

242

12/11/1988 (30)

9

Connecticut

25

Chiefs' Darwin Thompson: Totals 51 yards and a score

RB

5-8

200

2/12/1997 (22)

R

Utah State

26

Chiefs' Damien Williams: Enjoys busy, productive practice

RB

5-11

224

4/3/1992 (27)

6

Oklahoma

31

RB

5-11

224

4/15/1995 (24)

2

LSU

84

WR

6-5

213

11/6/1995 (23)

R

Syracuse

80

Achilles: Questionable for Week 1 at Jacksonville

WR

6-3

211

2/25/1997 (22)

R

Michigan State

89

WR

5-9

175

9/14/1995 (23)

1

James Madison

12

Undisclosed: Questionable for Week 1 at Jacksonville

WR

6-3

208

2/24/1993 (26)

2

Alabama

85

Chiefs' Davon Grayson: Leaves Saturday's game

Knee: Questionable for Week 1 at Jacksonville

WR

6-2

187

9/5/1995 (23)

1

East Carolina

17

WR

5-10

187

3/12/1998 (21)

R

Georgia

10

WR

5-10

185

3/1/1994 (25)

4

West Alabama

19

WR

6-4

210

8/14/1995 (24)

2

Hawaii

13

WR

6-1

203

11/17/1993 (25)

2

Kansas State

11

WR

6-1

203

9/21/1994 (24)

4

Florida

83

WR

6-2

205

1/11/1996 (23)

R

Toledo

14

Chiefs' Sammy Watkins: Practices Thursday

WR

6-1

211

6/14/1993 (26)

6

Clemson

81

TE

6-6

252

8/7/1991 (28)

5

Oklahoma

1

TE

6-6

230

12/7/1995 (23)

R

Valdosta State

—

Chiefs' Manasseh Garner: Lands in Kansas City

Knee - ACL: Questionable for Week 1 at Jacksonville

TE

6-2

240

3/11/1992 (27)

2

Pittsburgh

48

TE

6-4

251

5/2/1995 (24)

1

Grand Valley State

87

TE

6-5

260

10/5/1989 (29)

7

Cincinnati

82

Chiefs' Deon Yelder: Notches touchdown in preseason opener

TE

6-4

255

3/6/1995 (24)

2

Western Kentucky

67

Leg: Questionable for Week 1 at Jacksonville

C

6-5

304

5/5/1995 (24)

2

Holy Cross

62

C

6-3

300

11/27/1991 (27)

4

South Florida

73

G

6-4

320

4/21/1996 (23)

R

Illinois

65

G

6-3

321

3/5/1997 (22)

R

Kansas State

76

G

6-5

321

2/11/1991 (28)

6

McGill (Canada)

75

Shoulder: Questionable for Week 1 at Jacksonville

G

6-5

313

8/23/1992 (26)

5

Florida State

66

G

6-3

320

1/3/1997 (22)

2

Tennessee

64

T

6-4

300

9/2/1996 (22)

R

Cincinnati

72

T

6-7

315

1/5/1991 (28)

7

Central Michigan
Sports Events
Back to articles