Back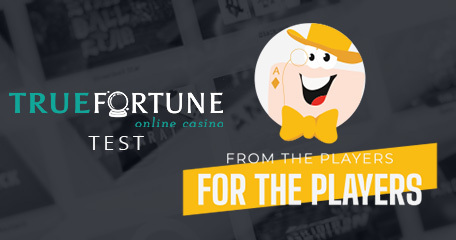 Was It Really True Fortune… Or More of a Misfortune?
As you all know, Bitcoin is widely praised as the most efficient means of payment in online casinos. That's why the "From the Players, for the Players" team frequently tests crypto-friendly casinos to see how fast they process the cashout requests in cryptocurrencies. This time we selected True Fortune casino, a brand running under TrueBet Affiliates to see how it handles BTC payments and whether the operator justifies its promising name.
After depositing in BTC, our tester played some games from the operator's well-equipped catalog. Before requesting a withdrawal via the same method, she completed the KYC process and had her documents approved a day after submitting them.
Let's take a quick look at the milestone moments:
Tester of the day: Bubbles12
Registration date: March 4, 2022
Deposit made on March 16, 2022, USD 200 / 0.00509318 BTC via Coinbase
KYC documents sent on March 22, 2022, approved a day later
Withdrawal requested on March 23, 2022, USD 100 via Coinbase
Withdrawal received on April 10, USD 96.91 / 0.00229551 BTC via Coinbase
As seen from these highlights, it took a while for the operator to approve the tester's request. Having in mind that she used BTC, processing shouldn't have taken that long, should it?
If you want to find out what went wrong during the True Fortune casino test, stay with us and take a look at our insightful report!
True Fortune Casino Overview
True Fortune Casino is a non-US-friendly online casino licensed by Curacao. Thanks to successful cooperation with multiple content developers, the operator has a wealthy library of slots, table games, video poker, and live dealer products.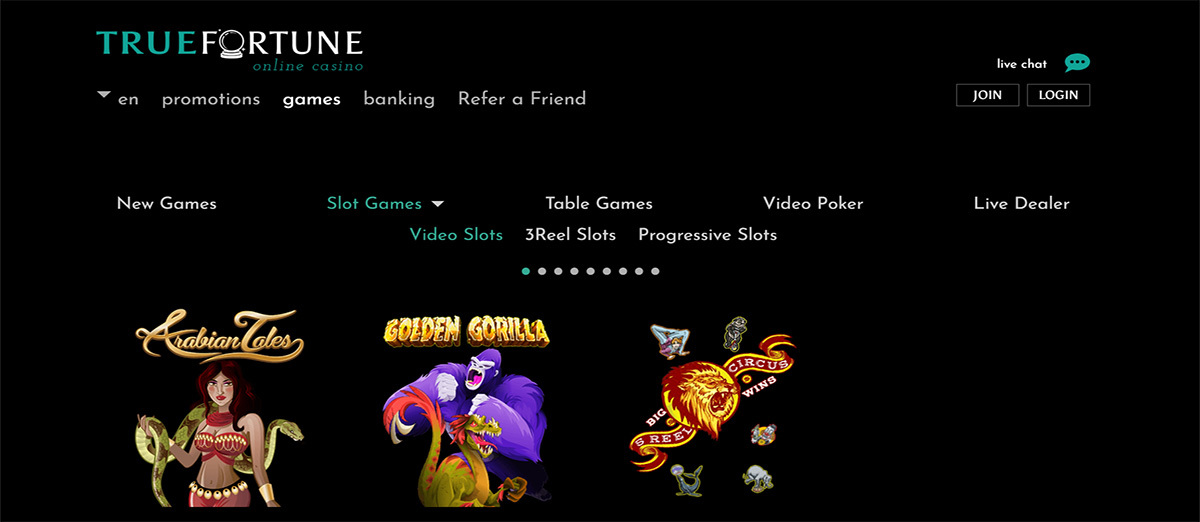 Moreover, there's a dedicated space with versatile promotional offers, including Loyalty Program and Refer a Friend scheme. As mentioned earlier, the operator does belong to crypto-friendly online casinos, but it has a long processing time for withdrawal requests.
Registration
On March 4, 2022, our tester joined True Fortune casino. To become a member, all she had to do was fill in a 4-step form and provide some basic information about herself. Step number 3 was optional SMS verification, but our tester decided to complete it as well.

As soon as she registered, the tester headed to her profile to ensure that information she submitted was accurate.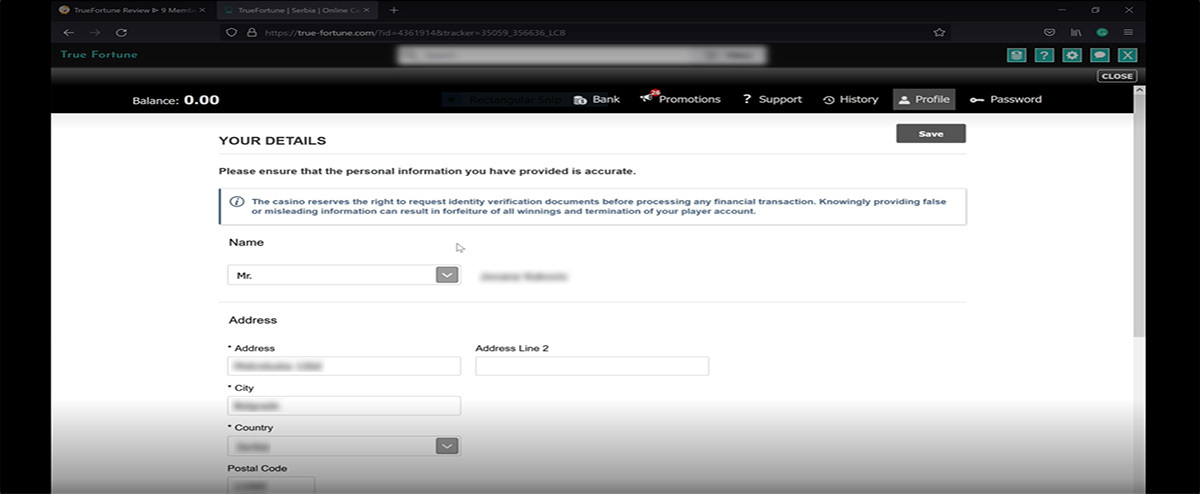 Deposit
On March 16, 2022, the tester deposited $200 / 0.00509318 BTC via Coinbase. Shortly after, a notification arrived, letting tester know that the funds were available in her casino balance.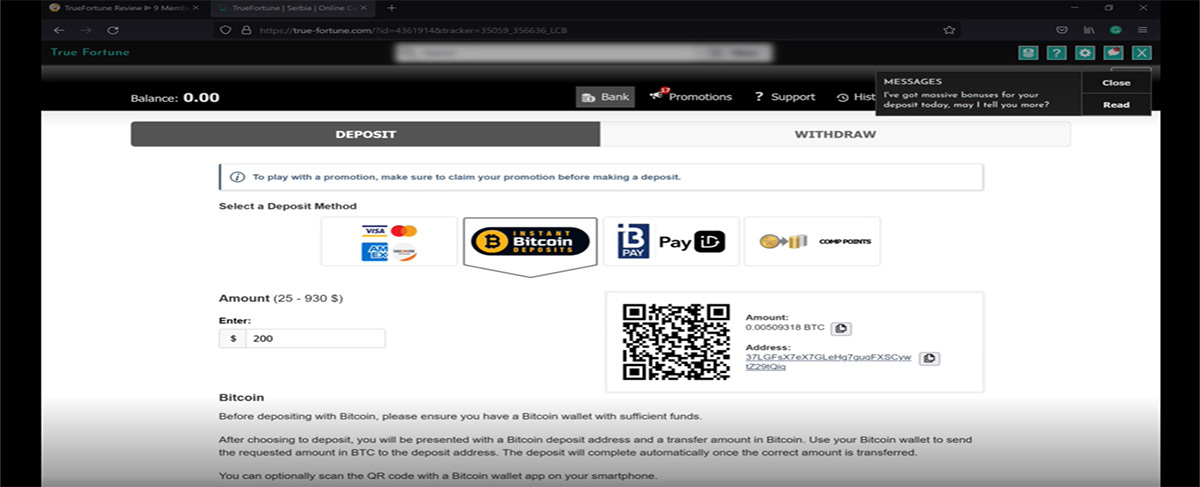 The minimum amount to deposit is $25. Regarding the available methods, players can fund the account using credit cards, e-wallets, or Bitcoin.
Players should be aware of the following:
"1.3 Every CC deposit made is subject to a 5% processing fee. The fee will be added to the deposit amount charged."
Gameplay
As soon as she replenished the account, the tester headed straight to the lobby to explore some games. Her first choice was Magic Shoppe by Betsoft, followed by Gold Canyon from the same developer, during which she triggered a couple of wins.
After that, she launched Giovanni's Gems and then tried luck with Blood Eternal and Sea Treasures. Furthermore, the tester checked out Zeus Rising and Caishen's Arrival and then returned to Gold Canyon.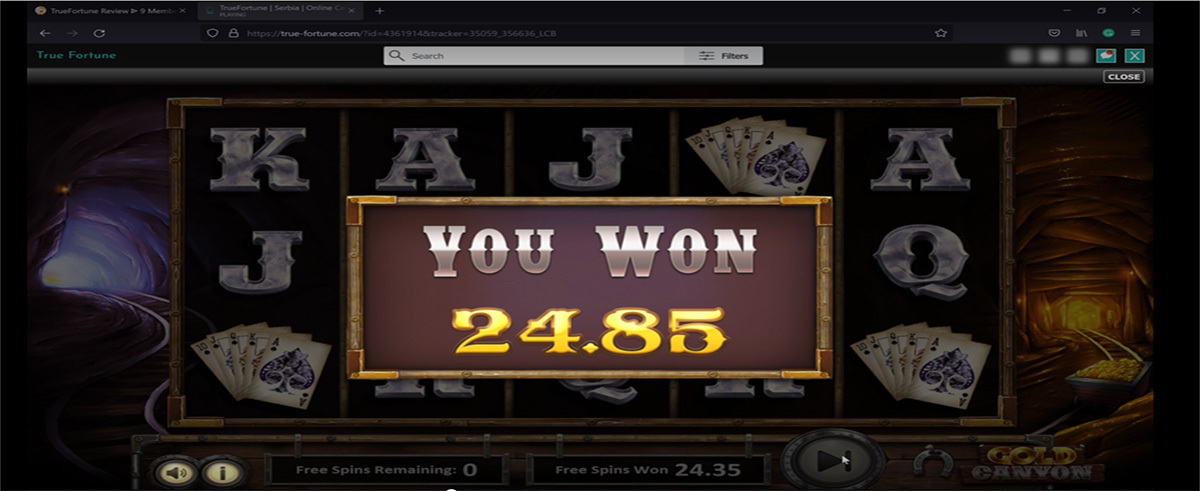 Following this, she played Fairytale Fortunes: Queen of Hearts and ended her gaming session with Merlin's Mystical Multipliers, where she triggered a couple of wins.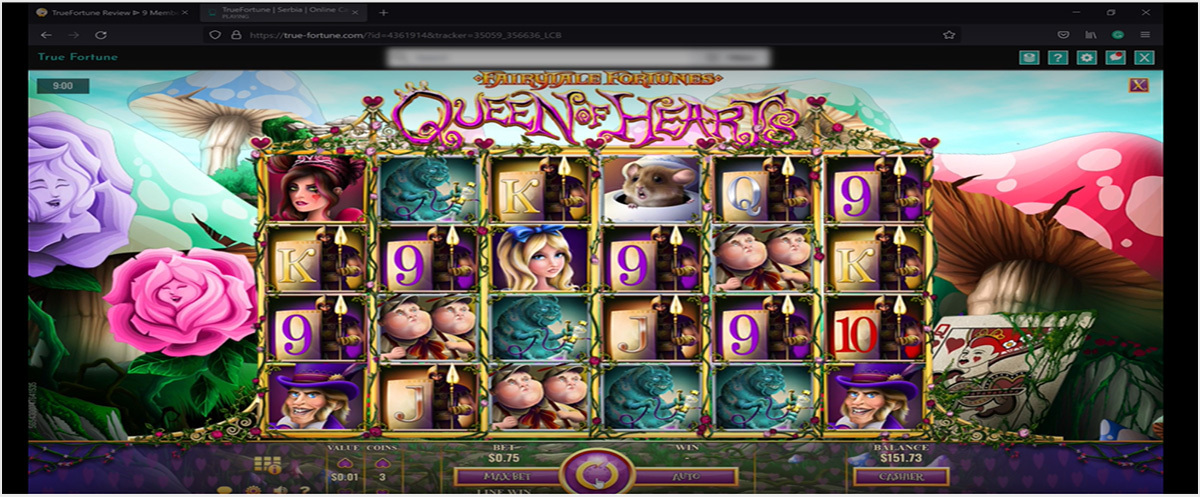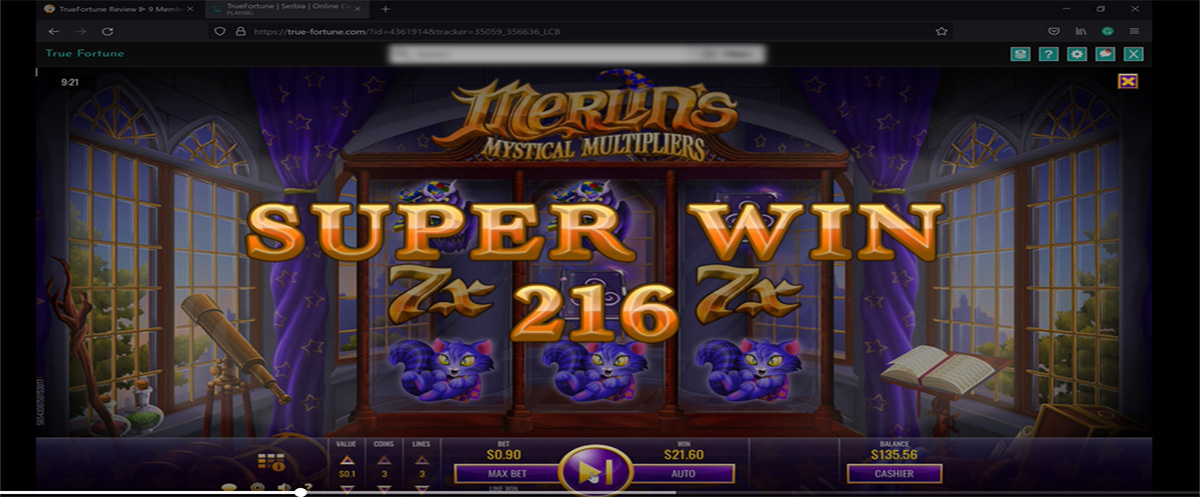 KYC and Customer Support
On the very same day she made a deposit, March 16, 2022, the tester received an email that required her to send some documents and verify her identity. It stated as follows:
"If you deposit with a credit card please fill up the below form and provide a copy of the credit card used in the casino.
If you deposit with an alternative method please provide the identity verification documents only (ID and UB).
By submitting this form (handwritten signed and dated), along with the additional information requested, I am authorizing and fully acknowledging the following:
I am the authorized cardholder and will honor all purchases initiated by me to my account with the below Credit/Debit Card, whether completed by telephone or Internet.
I am of the age of majority (18 years or older depending on my jurisdiction).
I have read and accepted the terms of use as listed elsewhere on this website."
On March 22, 2022, she provided the requested information, which included a signed form, personal ID front and back, and utility bill.
The response came confirming that the docs were approved on March 23, 2022.

A couple of days later, on March 29, 2022, the tester sent an e-mail to the support department, asking when the withdrawal would be processed. The response arrived on the very same day, indicating that it may take up to 18 business days from the moment the relevant docs were fully validated.
It also stated that many factors can impact the processing timeframe, such as account activity, the total number of deposits, and seniority.

A few days went by, and the status was still the same which is why the tester sent another e-mail on April 7, 2022. Shortly after, a response arrived, advising her to check the previous mail regarding withdrawal timeframes.

Interestingly, upon checking her account on April 11, 2022, the tester noticed that her casino balance displayed $40.40. As a small reminder, after submitting a request, the remaining amount was $0.40, so she sent an e-mail to see what these funds represented.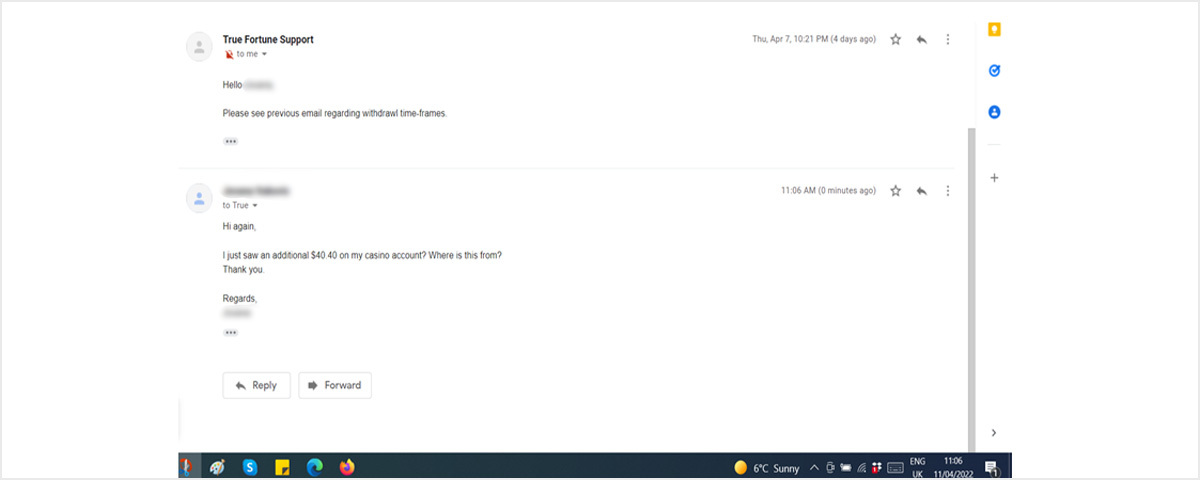 Before the response came in, the tester received one more free chip on April 11, 2022. So she asked the support once again to stop sending free chips.
Withdrawal
Having finished playing games, the tester headed to the cashier to make a withdrawal request on March 23, 2022, after her account was approved. She opted for Bitcoin and typed in $100.


The money arrived more than 15 days later, on April 10, 2022. Due to BTC value fluctuations, the tester received $96.91 / 0.00229551 BTC, which was slightly less than the amount she required.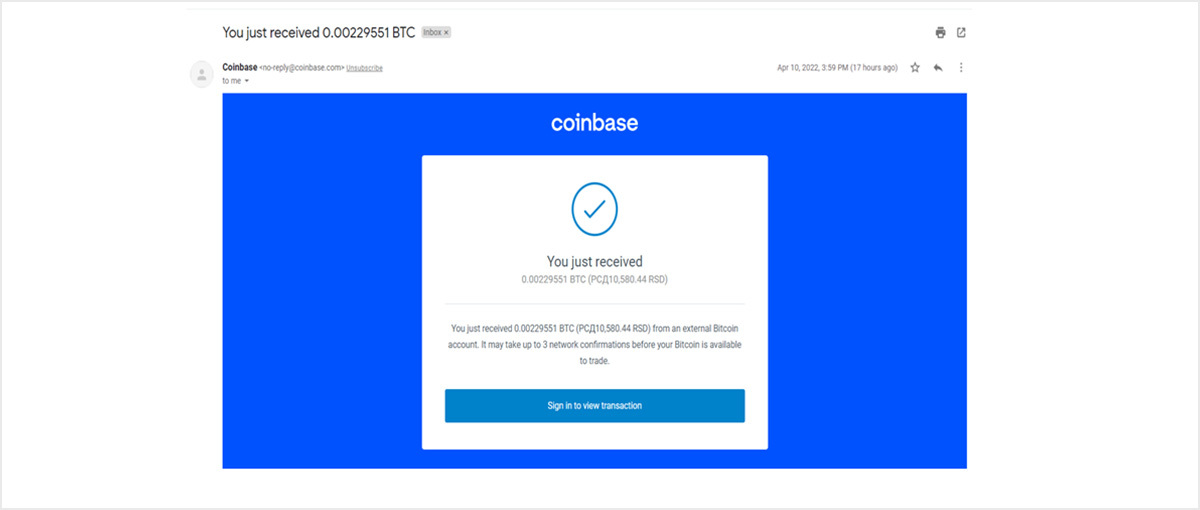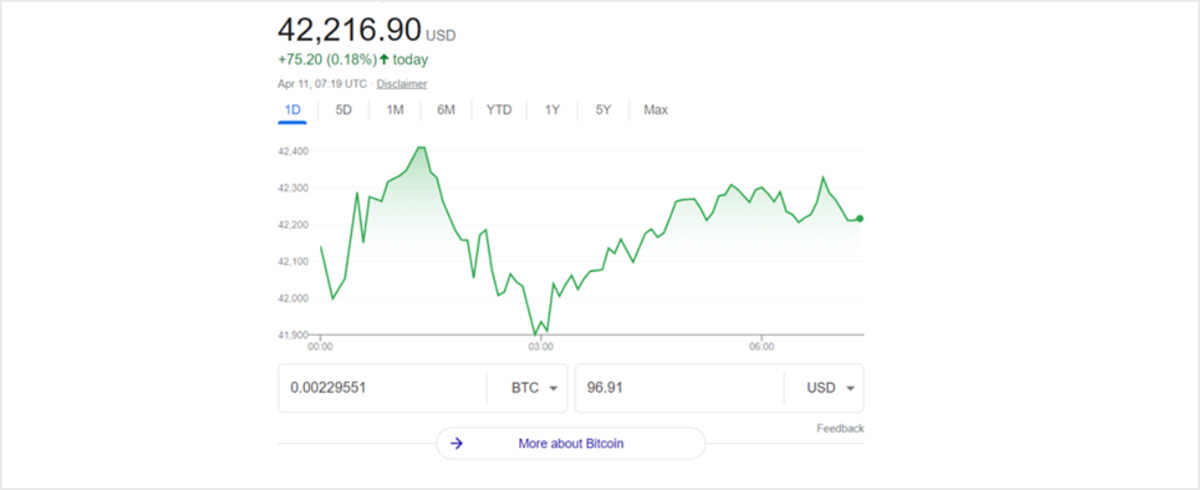 The minimum withdrawal amount is 100.00 USD/EUR/AUD. As for the available cashout methods, players can use Bank Transfer, BTC, and e-wallets.
"All Deposits of 249 USD/EURO/GBP/AUS or less have a max withdrawal of 10X the deposit for that specific play session (all other currencies pegged to USD). Once a withdrawal is approved, the casino applies the 10X rule and corrects the withdrawal to accurately reflect the 10X rule."
Regarding the max limit and the processing time, the Terms indicate as follows:
"5.2. Customers can submit their withdrawal request at any time (up to $1000) unless otherwise specified by the casino manager. The approval time may take fifteen (15) working days starting the date the authorization process was completed successfully. Processing a pending withdrawal requires authorization from the Fraud department as well."
Finally, any and all deposits must be wagered at least once the sum of the deposit in order to qualify for a withdrawal. A withdrawal cannot be approved unless a minimum wager of 1X the deposit is first met.
While our tester claimed no bonuses while registering or afterward, here's one relevant rule regarding clients interested in claiming bonuses:
"2.3. A player that didn't add funds to his account for one month-long or more (30 days), will be considered a free bonus player and will not be eligible to withdraw winnings from free bonuses or cash granted to him by the casino. The possibility of withdrawing winnings from free bonuses is reserved for our active players only."
Conclusion
Although in line with the True Fortune Casino's Terms, the processing time for Bitcoin withdrawal is way above the industry's average. 15 working days, or 18, as stated by the support agent via e-mail, is simply too long to process any transaction, let alone the one requested in a cryptocurrency.
Have you had the opportunity to visit True Fortune casino? What were your impressions like? Hit the comments section below, we'd like to hear from you.
Gamble responsibly!
"it took a while for the operator to approve the tester's request"
From the Players for the Players
Back to articles