Back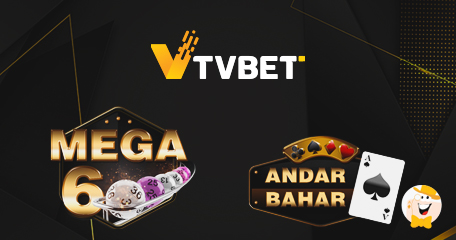 Pick a Pile or Choose Your Lucky Lottery Numbers! 
Cutting-edge provider of live casino games, TVBET, is delivering two new titles- Andar Bahar and Mega 6!
With these two newest additions, its portfolio counts 15 top-notch games. The brand refreshed its gaming library with Andar Bahar, a popular Indian card game, and Mega 6, a live 6 of 49 balls lottery game.
New games are available for integration, but if someone is in a rush to give them a try, a demo version is available at the provider's website.
Players are looking forward to playing the real-cash version, taking into matter that both of the games promise exciting entertainment.
Big winning potential is possible, considering that multiple bets can be placed in combination on Andar Bahar and Mega6, and so as on other TVBET releases, in order to get increased chances to score a massive win.
In addition to winnings, these titles offer up to three jackpots!
Andar Bahar- Simple but Immensely Popular
TVBET made its own live version of a very well-known and popular Indian card game. This is a game of pure chance, with extremely simple rules, which makes it suitable for all generations.
In this game, you play against the dealer.
The dealer places a card (in the game this card is referred to as JOKER) face up.
The bettor needs to choose one of two piles of cards: Andar (inside) or Bahar (outside) where he will place the bet.
Dealer lands a card on the Bahar side firstly, afterward on the Andar side. This action is repeated until the joker card lands on one of the piles. The player who bet on the right side, the one where the joker landed, wins!
Simple as that! Just choose a side and summon the lady luck!
Mega 6 – Find Your Lucky Numbers
This game is based on the lottery and it offers numerous chances of winning.
The rules are quite easy to understand if you are familiar with lottery games.
From the total number of 49, only 6 balls are drawn. Every ball is numbered from 1 to 49, and colored in either white or pink. This gives a pinch of excitement to the game because it means you can place a bet on both the number and the color of the ball.
Many more betting options are available in the Mega 6 game, some like betting on the first number drawn, color order of the balls, and many more. The winning occurs if the better have three or more ball matches.
About the TVBET Brand
TVBET is an award-winning TV games provider, which is working hard to deliver honest and trustworthy gaming with fair outcomes.
In their gaming portfolio, at the moment, 15 games are available, every single one with a modern design, regular jackpots, and ingenious features.
Its games are broadcasted live, 365 days per year, 24 hours a day, from a studio in Warsaw. Polite, friendly, and hospitable dealers are there not only to lead the game but to welcome you and wish you the best of luck. Widely popular games, easy rules, jackpots, lots of features… provide a whole list of reasons why TVBET became one of the most reputable live-games providers.
Be sure the check out their titles!
Source:
"TVBET to launch new live games: Andar Bahar & Mega6 ", Miller, George, europeangaming.eu, September 21, 2021.
"TVBET is delivering two new titles"
Casino Games
Back to articles