Back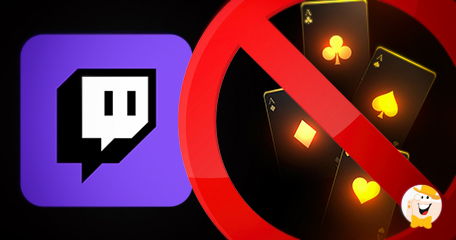 Tough Period for the Leading Streaming Platform
If things are to be judged by their recent post on Twitter, Twitch is going to make significant updates regarding its Gambling Policy. Set to come into force on October 18, 2022, the streaming giant plans to prohibit streaming of online gambling sites that include selected genres of games that aren't licensed either in the US or other jurisdictions where the level of customer protection is high.
While there were a couple of attempts to curtail the streaming of casino-style games on this platform, the most recent controversy around one streamer pushed the streaming platform to take steps and protect the consumers. The streamer in question admitted that he scammed not only his fans but other content creators as well out of a staggering amount of money due to developing a gambling addiction.
Having in mind that nearly 75% of Twitch viewers are between the ages of 16 and 34, meaning large portion is an underage audience, the decision to make the gambling policy more rigorous was a wise one. Streamers are seeking more clarity on the matter, but what we do know for fact is that not all forms of gambling will be completely outlawed from the platform. At least not at the time being.
Brief History of Gambling on Twitch
Acquired by Amazon in August 2014 in an all-cash deal, Twitch was primarily known as a video-game broadcasting and viewing platform. In 2016, the first slot streamers appeared on the platform, giving viewers a unique chance to follow the action on the reels, and post their comments on a vivid chat.
Realizing the growing popularity of this particular section, the platform created a separate category for slots in 2018. At that time, there were more than 10,000 viewers per day, but it was also the period when the first suspicions appeared.
One of the main concerns was the lack of age filtering because a huge number of Twitch fans were underage consumers. Also, the number of casino-focused accounts of questionable origin with humongous viewership grew overnight.
In 2020, the online casino sector and the streaming world saw major growth in popularity, mainly due to the pandemic, as other forms of entertainment were mostly unavailable. A year later, two of the most famous video game streamers entered sponsorship deals with cryptocurrency casinos, but that's precisely when the first signs of a gambling crackdown on Twitch became visible.
One of the streamers in question commented that he'd become "slightly, if not moderately, addicted" to gambling, so he decided to stop streaming such content. That's when some members of the community began to realize the (hidden) risks that come along and started calling for a complete ban on streaming casino games.
Streaming Giant Takes Steps
In a Creator Update published on August 11, 2021, Twitch announced as follows:
"To prevent harms and scams created by questionable services that sponsor content on Twitch, we will prohibit sharing links and/or referral codes to sites that offer slots, roulette, or dice games."
While the streamers were impacted by the ban, the genre wasn't completely banished from the platform. After a while, the numbers started increasing again, surpassing those before the ban was imposed.
During the summer of 2022, casino-related streams ended up among the top 10 categories on Twitch. In the meantime, the number of Curacao-licensed crypto-oriented casinos offering sponsorships to those interested in promoting gambling sites started to increase.
Due to rising controversies, and irresponsible gambling behavior broadcasted to the audience, Twitch made an announcement on Twitter, stating, amongst all that it would:
"prohibit streaming of gambling sites that include slots, roulette or dice games that aren't licensed either in the US or other jurisdictions that provide sufficient customer protection".
The platform even listed four specific brands all licensed by Curacao to be affected by the ban, with more to be included mobbing forward. As mentioned earlier, this ban is set to take effect starting October 18, 2022.
Worth clarifying is that majority of scams and unpleasant situations such as counterfeit games, unpaid winnings, and poor customer support have to do with websites licensed by this regulator. Such operators often end up blacklisted or on a warning list.
On the other hand, websites that focus on sports betting, fantasy sports, and poker will still be permitted, provided that they are not streamed from a casino-first website.
Are There any Alternatives for the Streamers?
While this will undoubtedly affect streamers who have large viewership and those who have built their name in the sector, there are alternatives.
One of them is Livespins, a platform that offered streaming integrated directly into operator sites, and the ability for viewers to place bets along with streamers was established. They have so far entered numerous strategic agreements with studios such as Skywind, Relax Gaming, Endorphina, Kalamba Games, Fantasma Games, Yggdrasil, iSoftBet, and many more.
One thing is for sure- the desire for slot streams won't be diminished by the upcoming ban. So, the main goal is to find a way that will enable both streamers and the players to enjoy games in a well-organized, responsible and entertaining environment.
What are your two cents on the upcoming updates? Share your opinion with us in the comments section below and gamble responsibly!
Source:
"Twitch cracks down on gambling, but streamers aren't sure it's enough", Grayson, Nathan, washingtonpost.com, September 21, 2022.
"Twitch's tortured relationship with casino streamers", O'Boyle, Daniel, igamingbusiness.com, September 23, 2022.
"take steps and protect the consumers"
General Gambling News
Back to articles