Back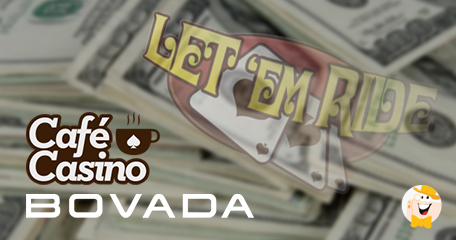 Last weekend it was all about raining money at Bovada and Café Casino, as two lucky gamblers managed to trigger huge cash prizes – a Royal Flush and a 3X Multiplier. Both scenarios are quite rare, but when they occur, great attention and splash are guaranteed.
A player from Georgia, Douglas P, made his debut while playing Let 'Em Ride, a one-person poker game with frequent payouts, since one hand comprising of a pair of 10s is enough to cash out. According to statistics and probability laws, there is only a 0.00015% chance of being dealt the highest-paying hand. Actually, out of 2.6 million poker hands, only four of them are royal flushes.
Our fortunate player beat the odds while holding his three hole cards – the building blocks of any royal flush. After making a slight $10 raise, another card rushed in and made the second round of betting a winning combination, as the final community card completed the sequence.
This enabled a 1000:1 payout on raise bets, and a 100% of the $91,859 progressive jackpot. The total payout was a mind-blowing $111,879! We hope that Douglas is still somewhere celebrating with his friends. The progressive jackpot for Let 'Em Ride (RTG) continues to expand and reaches up to $13,000.
The second winner was Rob J., a Café Casino player, who scooped up an incredible cash amount on mobile slot, Achilles (RTG). By triggering the game's spins mode, he landed three scatters and turned all Troy symbols to Achilles and Helen.
A single spin brought four Helens and one Achilles, which resulted as a bonus and a 3X multiplier. The 5,000-coin payout, thanks to five Helens, reached up to 15,000 coins! Rob easily collected $75,240, which is amazing for playing just the extra spins mode.
We congratulate the players and wish them further luck in placing bets.
"two lucky gamblers managed to trigger huge cash prizes"
General Gambling News
Back to articles