Back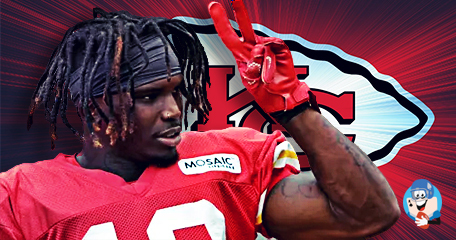 On Friday, September 6th, 2019 the Kansas City Chiefs and their superstar wide receiver, Tyreek Hill, agreed to terms on a three-year, $54 million contract extension. The deal includes $35 million in guaranteed money as well.
This contract extension was granted just prior to the 2019-2020 NFL season but after Hill was cleared by the Kansas City police of his child abuse case. He is considered one of the fastest and most elusive wide receivers in the League at his young age of 25.
Career Accomplishments and Honors:
For a wide out drafted out of the University of West Alabama, Hill has made a name for himself as one of the best receivers in the NFL throughout his first 3 years of playing professional football. The Kansas City Chiefs were lucky to have selected him with the 165th overall pick in the 2016 NFL draft (5th round).
Since he has been a part of the Kansas City Chiefs led by head coach, Andy Reid, he has been named to the NFL Pro Bowl each of his first three seasons in the league (2016, 2017, & 2018). It is quite the achievement to be honored as an NFL First Team player and he has accomplished that feat both in 2016 & 2018), and in 2016 he was on the All Rookie Team too.   
First Game of the 2019-2020 NFL Season:
During the Chief's first regular season game against the Jacksonville Jaguars Hill ended up breaking his clavicle. Upon the review of the x-rays, the Chiefs medical staff and doctors determined the All Pro wide receiver will have to miss the next several game due to this injury.
He will ultimately not require a surgery that would in effect cause him to miss more extensive time or possibly the remainder of the season. With Hill out Patrick Mahomes, the Kansas City Chiefs will rely upon the services of his other big time pass catchers such as Sammy Watkins, Travis Kelce, and Demarcus Robinson. Watkins had one hell of a start to the season during the Chief's week one win against the Jacksonville Jaguars.
Hill's Regular Season Career Statistics:
 

Games

Receiving

Rushing

Total Yds

 
 
 

Year

Age

Tm

Pos

No.

G

GS

Tgt

Rec

Yds

Y/R

TD

Lng

R/G

Y/G

Ctch%

Y/Tgt

Rush

Yds

TD

Lng

Y/A

Y/G

A/G

Touch

Y/Tch

YScm

RRTD

Fmb

AV

22

WR

10

16

1

83

61

593

9.7

6

49

3.8

37.1

73.5%

7.1

24

267

3

70

11.1

16.7

1.5

85

10.1

860

9

4

10

2017

23

KAN

WR

10

15

13

105

75

1183

15.8

7

79

5.0

78.9

71.4%

11.3

17

59

0

16

3.5

3.9

1.1

92

13.5

1242

7

2

13

24

WR

10

16

16

137

87

1479

17.0

12

75

5.4

92.4

63.5%

10.8

22

151

1

33

6.9

9.4

1.4

109

15.0

1630

13

0

18

Career

 
 
 

47

30

325

223

3255

14.6

25

79

4.7

69.3

68.6%

10.0

63

477

4

70

7.6

10.1

1.3

286

13.0

3732

29

6

41
Playoff Career Statistics:
 

Games

Receiving

Rushing

Total Yds

 
 

Year

Age

Tm

Pos

G

GS

Tgt

Rec

Yds

Y/R

TD

Lng

R/G

Y/G

Ctch%

Y/Tgt

Rush

Yds

TD

Lng

Y/A

Y/G

A/G

Touch

Y/Tch

YScm

RRTD

Fmb

22

WR

1

0

6

4

27

6.8

0

9

4.0

 
Gambling Law & Society News
Back to articles