Back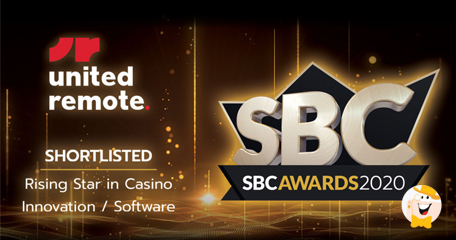 Deserving aggregator in the gaming sector, United Remote, has just been selected as one of the shortlisted candidates for software innovation at the SBC Awards. The provider stands out with its deserving offer which was additionally enriched over the previous 18 months. The brand is ready for new integrations, focusing on B2B activity and simple to use tools.
More About Brand
United Remote is an exclusive aggregator, with fast-increasing results and excellent performance. The brand has undergone significant improvements in the previous period by reorganizing its operation and reshaping its relationships with partner companies. It has also become recognized for a high level of transparency as well as a strong corporate culture.
United Remote is known for its rich portfolio of more than 2000 games including slots live casino, table games and more. All of them are innovative and engaging for the gaming community. The brand has also completed a period of significant investments in tech solutions. Thanks to its strong organizational culture, the brand will make a difference in the market.
The forward-looking aggregator has also moved its operation to a new building, located at 14 East, one of the tallest buildings in Malta. It was yet another move by the management, looking to enhance the reputation of the company.
United Remote is already known for extensive gaming offers and services, which includes the development of games and B2B services for casino operators, with the highest possible quality. Its products meet the highest standards in the industry, fulfilling the needs of both customers and operators.
Official Statement
Speaking on the latest nominations, CEO at United Remote Group, Jeremy Fall said:
"We are delighted to be shortlisted by the respected SBC Awards and gratified that the judges have acknowledged that we have evolved into a best-of-breed aggregator and platform that is replete with engaging entertainment as well as providing a solid B2B service. This shortlisting is a confirmation of a consistently high level of work and effort put in by the entire team, and we all look forward to the awards night in December."
Source:
"United Remote rewarded for reshaping effort with SBC Awards shortlisting", europeangaming.eu, October 22, 2020.
"United Remote, has just been selected as one of the shortlisted candidates"
General Gambling News
Back to articles