Back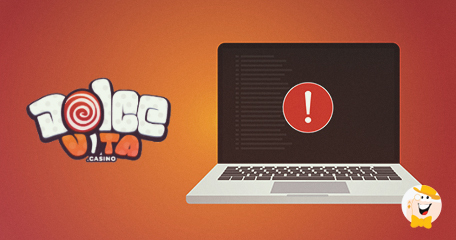 Not So Sweet, After All!
Taking a look at the dictionary, you will notice that the expression "to live la dolce vita" means "living a life full of pleasure and luxury". Logically, if an online casino bears such a name, the least we could do is describe it as a promising one, isn't that so?
Dolcevita Casino eventually ended up among LCB's blacklisted online casinos. Was it because the lack of license or some other issues emerged?
The company totally went ghost on us without paying out the full amount of money they owed. This is just one of the issues, observed from the affiliate's perspective, however, there's more. Their former rep notified us that Dolcevita Casino is closed even though it's not. What's even more, payment methods are not available when you go to the cashier.
Players, Be Warned!
There are many reasons why an online casino can end up in slums. If placed on the "Warning list", it means that players have experienced delayed payments or poor communication with the support department. On the other hand, the "Blacklisted" label is attached to those involved in unethical business practices, declined withdrawals, fake games, and the absence of license.
Dolcevita Casino hasn't paid the money it owed to us, their affiliate partners, since September 2022. Their customer support is unresponsive. When accessing the cashier, payment methods are not available. On top of everything, it still bears no license.
Worth adding is that the operator's Terms aren't quite what could be described as "player-friendly". It is noted that if a consumer doesn't log in for 6 consecutive months, a fee of EUR 10 will be applied. In addition to this, the operator charges fees on both deposits and withdrawals. If certain betting techniques are used, for example, low-risk Roulette bets, the operator will terminate such player's account and suspend and/or cancel all payouts.
These are just some of the most noteworthy highlights from the T&Cs, but more than enough for players to be careful. Based on everything, the decision to blacklist them turns out a wise one so steer clear from this brand until further notice!
They Can Always Turn Over a New Leaf…
Finally, LCB has a special corner called "Probation", where casinos are given a chance to show that they want to improve and redeem themselves. If they prove their honest intentions and really work on assisting players and removing predatory Terms, they are welcomed back among trustworthy online casinos. Let's wait and see if that will be the case with Dolcevita Casino.
After all, a couple of months ago, in July this year, Dolcevita casino was tested under "From the Players, for the Players" project. Except for a total of €21 transaction fees charged on both deposit and withdrawal, the tester experienced no other issues. The investigation went quite well.
Have you had the opportunity to interact with Dolcevita Casino? If so, would you like to share your precious experience with us in the comments section below?
Gamble responsibly!
"payment methods are not available when you go to the cashier"
LCB News
Back to articles