Back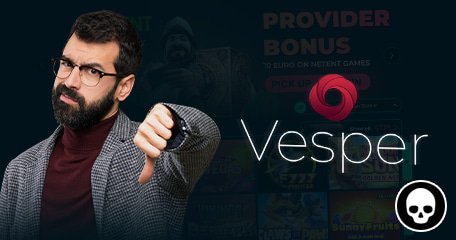 Once a Troublemaker, Always a Troublemaker?
It's been a hell of a ride for Vesper Casino and some of its players over the last couple of months, and now it still doesn't seem like anything is going to change either.
Ever since we caught the operator hosting fake games back in 2020, our vigilant scouts immediately took action and put the blackhat site in "solitary confinement" to avoid further financial and emotional harm they'd inflict on players.
After informing NetEnt, Aristocrat and Novomatic about the operator's counterfeit games, little has changed. The casino removed fake titles, but other software was still questionable.
The probation period for Vesper Casino has continued to this day, and after two months, the brand will have to stay at the bottom of iGaming due to unresolved payouts and ignored initial requests to close player accounts.
A New Regular Member… on our Warning List
To bring things closer, let's go back a little. Vesper Casino was placed on our Warning list in November 2020 due to hosting pirated and unlicensed Greentube / Novomatic, Igrosoft, Aristocrat and NetEnt games.
Although the games have since been removed and the company appointed a new management, we simply had to put this brand on probation.
Things started looking weird when some products from renowned providers appeared slightly different from the originals: a trick blackhat gaming sites use to camouflage the mobile version which is optimized alternatively for touchscreen.
To cover their tracks, these guys mixed it up a little bit, and offered some genuine products among their many fake ones. This may serve to confuse less experienced customers who can't really notice the difference.
This way, Vesper was all set to earn lots of money without spending any, since obtaining genuine licenses and contract deals with official providers cost quite a bit.
Among the pirated slots were NetEnt's widely celebrated title Starburst, Novomatic's Book of Ra, Aristocrat's discontinued slot Red Baron and so on.
Our immediate reaction was to put this brand "on hold" and prevent anyone from joining… at least until all fake games have been removed.
Guess what? It never happened… well, at full capacity.
Wait They Said: Removal in Progress
After promising us to remove fake NetEnt titles (due to our appeal to the provider regarding this issue), things finally started to look encouraging; in a swift move, Vesper Casino switched the fake games with original titles, but…
...fake Aristocrat and Novomatic titles were still around. Ergo, warning status: still very much active!
To conclude, even after two months on our probation list, this casino brand has many unresolved complaints meaning we will have to prolong their warning status indefinitely.
They did not help us resolve the issues some of our members are still facing, and they even stopped responding to our messages. At first, the operator was willing to help and it even created an account to resolve several complaint requests, but their replies were vague and practically didn't do anything to handle the claims.
This is a big NO for Vesper and we urge them once again to resolve any remaining issues with the players as every professional business ethics dictates.
Otherwise, the warning status will only continue to slander their name.
"This is a big NO for Vesper"
LCB News
Back to articles