Back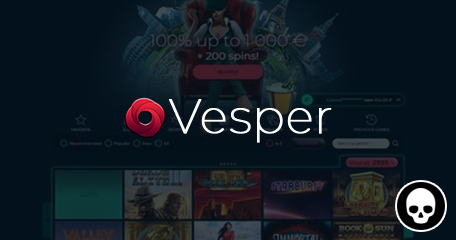 Almost exactly one month ago, we brought you the infamous saga of Vesper Casino whose gaming lobby we found to be swarming with dishonest software - in layman's terms, counterfeit NetEnt, Aristocrat and Novomatic slot games. 
Now the saga gets a development which doesn't absolve the place of its sins whatsoever - meaning, the casino remains on our warning list until further notice.
So What Happened?
What happened is, following our previous report on fake NetEnt games…
…the casino actually houses BOTH fake and genuine NetEnt titles. We have contacted NetEnt regarding this, after which the developer reached out to them as they felt they were due some explanations (rightfully so).
In a swift move, Vesper Casino switched the fake games with original titles, so all that the supplier's representatives saw were the proper games - in other words, nothing suspicious whatsoever.
After a bit of brainstorming, we figured out that this was the casino's longstanding strategy: with fake games, they are free to adjust anything they like, such as reducing the return to player rates or employing other cheap tricks to prevent the winning combos from happening.
We have tried to get in touch with the casino representatives, to no avail. We could not find anyone willing to discuss this development.
In short, Vesper now has genuine NetEnt games - with fake Aristocrat and Novomatic titles still around.
The Story So Far
Vigilant as ever, our in-house scouts have noticed there is something off about the casino, which only tickled their curiosity, fueled by experience that these things usually mean bad business.
How right they were:
The first fishy thing they noticed was the dual registration or, rather, the lack of clarity WHICH license the casino has: Hungarian or Curacao.
The next thing we noticed was, of course, pirated games from developers such as Greentube/Novomatic, Igrosoft, Aristocrat and NetEnt. We found that Quickspin games were genuine at least, albeit different looking on mobile screens.
This we deduced by looking into a code of the games - something that isn't as complex or demanding as it may sound, really, especially if you know how to look into the source of each game. All we needed to do is to look at the official provider domain in the source - which wasn't there.
We Urge Caution
Despite the fact that there ARE some games here that are not bogus…
…don't fool yourself into thinking that you're safe playing those. A casino that stoops to strategies like this is not worth your regard, especially seeing as how there's ton of other online casinos where you can play and actually hope to win!
Keep following this space for our regular updates on the dishonest practices but also, never forget, that you should do your due diligence by informing yourself about the casino you're about to play at - read the terms and conditions, keep following other LCB members' experiences and impressions on our Forum and just downright keep alert.
Take a look at our Casino Warnings page and Rogue Reports page to be up to speed with our discoveries of rogue casinos.
"swarming with dishonest software"
Casino Warnings & Rogue Reports
Back to articles