Back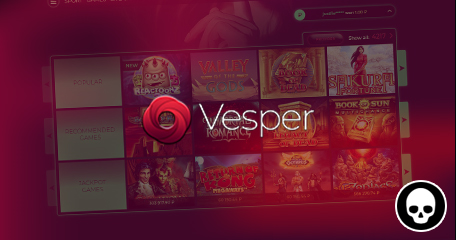 Online gambling offered us a chance to enjoy slots, card games and sports betting comfortably from home whenever we feel like it, but with this convenience comes danger in the form of rogue brands that prey on unsuspecting players. Vesper Casino is the latest in line of such trickster hubs with pirated software.
Vesper Casino caught the eye of our vigilant LCB scouts because something about this brand just screamed WRONG, and as the saying goes - whenever there is any doubt, there is no doubt.
In Search of Knock-Off Slots
So, we set out to investigate hoping they would prove us wrong. The last thing we gamers need is yet another black-market operator to deal with, as we all know how much financial and emotional harm they can inflict on players who want nothing but to pay for good honest service and unwind after a long day's work.
Here's what they state in the About Us section of the site:
"When we created the project called VesperCasino, we set ourselves only one goal, so that you would get the maximum pleasure, getting into this exciting world of excitement."
"We strive to become the best in our business, our team works tirelessly and improves all developments to create a unique and amazing atmosphere of the game you are immersed in."
"We understand how Reliability and Security are important to you."
Hmmm...
We're not too sure about that!
Unless offering pirated games is your idea of striving to become the best in this business full of excellent, reputable operators who do things the right way, by proving themselves honest, reliable and trustworthy through consistent ACTIONS, not mere words.
We were able to deduce that the site is most probably of Russian or Ukrainian origin. The interface offers two languages: Russian and English. At the bottom of the homepage, it also states they are operated by Fair Game Software KFT, a company registered under the laws of Hungary with registration number 01 09 349834, registered in Budapest.
What is interesting is that the site states that they operate under license by the above group, but also mention they are regulated under the jurisdiction of Curacao, under the Master License of Gaming Service Provider N.V. #365/JAZ.
Analyzing Counterfeit Software
The main problem with this operator, as with many others of their ilk, are PIRATED GAMES. You'll see on their landing page a LOT of software providers, over 30 even! However, the majority of integrated games from these developers are, in fact, counterfeits of the real deal.
However...
There are some products that are indeed original video slots from renowned providers, such as Quickspin, delivered though a licensed aggregator Slotegrator.
Don't be confused by the look of Quickspin games, which appear at first glance different from the originals: this difference is due to the mobile version which is optimized for touchscreen.
But! Be mindful: this does NOT mean you are safe just playing products from this popular Swedish development studio at this casino. Do not risk your wellbeing, don't be lazy and find yourself a decent gaming site. We do hard work finding these for you. HERE is LCB directory of thousands of online casinos, reviewed in great detail. Browse carefully and choose the one that suits you best.
Interestingly, what Vesper did here to cover their tracks, is mix it up a little bit, and actually offer some genuine products among the many fake ones. This may serve to confuse more experienced customers who begin to suspect something's a miss.
However, the real reason behind all rogue gaming operations is simple:
To earn lots of money without spending any, the easiest way possible! Obtaining genuine licenses and contract deals with official providers cost quite a bit of money, and renewal of these permits and contracts, as well as acquiring newly released games to add to the offering, costs even more and on a regular basis...
...and that is not something a casino with a shady past dead set to slither their way through the complicated and costly legal procedures is willing to do.
Now, Onto the Pirated Products!
Not surprisingly, the bogus games in the Vesper offering include video slots from Greentube/Novomatic, Igrosoft, Aristocrat and NetEnt. AS you may already know, these developers are the favorite candy of all criminal pirating organizations. They are all sourced from the same unknown and fake domain: https://7zprs7bpz48ax7f.c27.games/
Here is one example of Net Entertainment's famous Starburst, where the source clearly shows that is NOT the official provider's domain - casinomodule.com:
The same case is with Novomatic's Book of Ra (one of their most popular games and often hand-picked by rogue brands to pirate). The official domain of Greentube, the Novomatic Interactive division, is nrgs-b2b.greentube.com.mt. In the screenshot shown below, you can clearly see a strange source that does not resemble the real Greentube: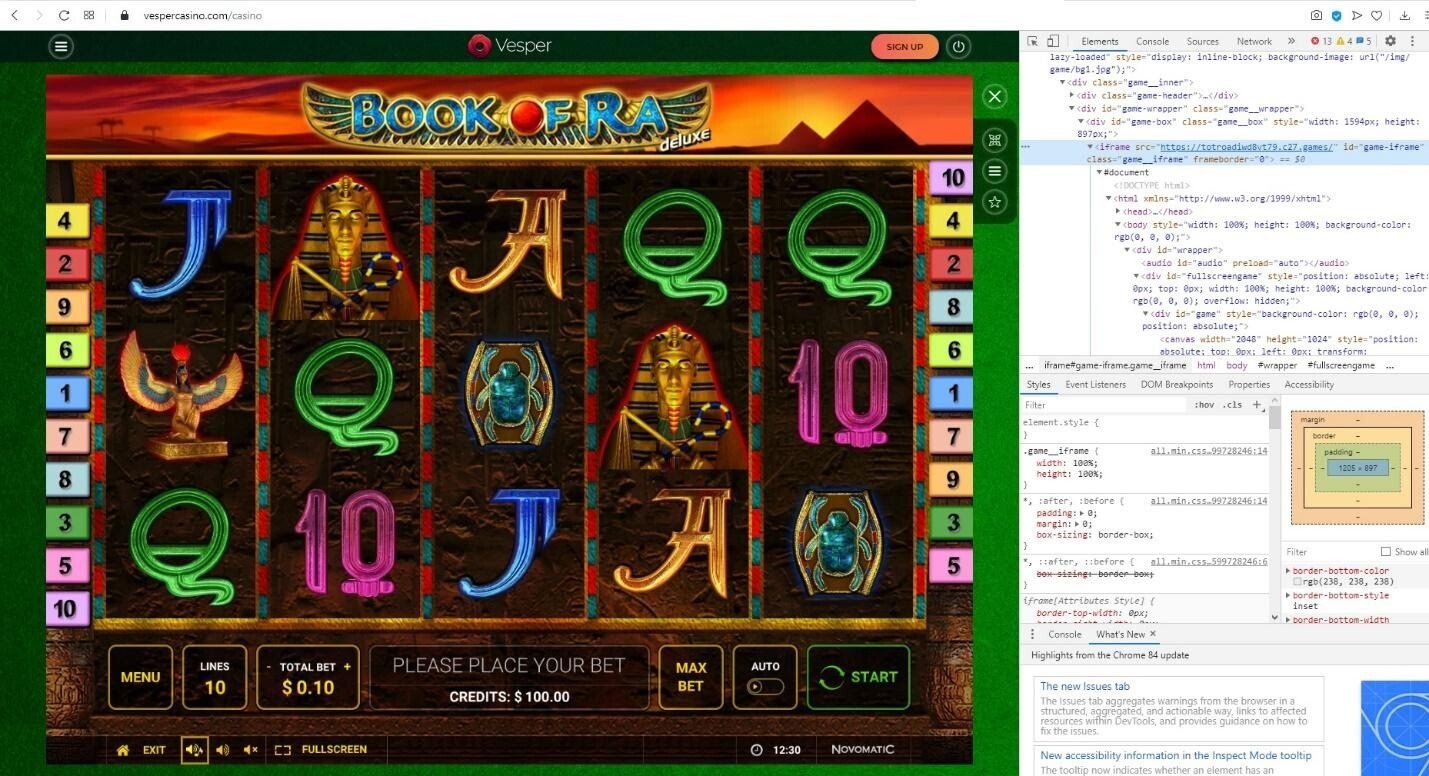 Aristocrat software was the easiest for the LCB team to spot, as they are to the trained eye suspicious even at a glance. Not to mention the casino still offers a long since discontinued slot called Red Baron. Have a look at the screenshot below:
Discontinued Aristocrat's Red Baron Slot: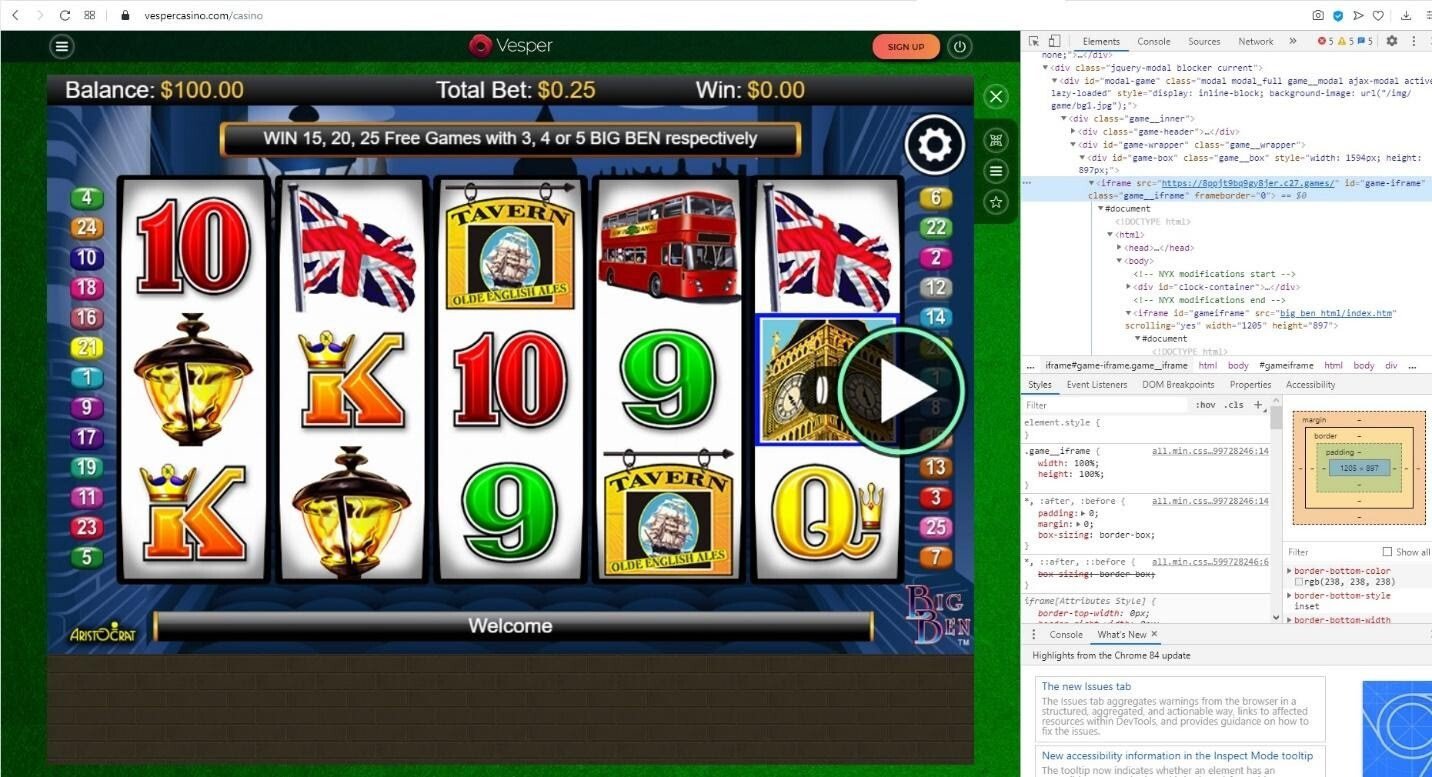 We are waiting for NetEnt to officially confirm that Vesper Casino games are fake. We will update this article as soon as we receive the confirmation.
As always, we urge you to do your due diligence when it comes to gaming online. One of our primary goals is to find and expose criminal brands to protect players in this, still relatively new, age of internet games of chance and skill.
We take great pride in the work we do putting away so many cheating brands for good. Our team invests a great deal of effort looking into and investigating all industry brands, old and new. Great care is taken to do things properly and present proof without any doubt.
Be kind to yourself and others, steer clear from cheater sites – that way you not only protect yourself, but other players as well, by putting a dent in the popularity and visibility of such brands.
LCB offers a directory of bad casinos, some with a warning and some blacklisted – all for good reasons. Take a good look at our Casino Warning page, as well as our Rogue Reports to learn more about shady dealings of the industry's most notorious operators.
"The main problem with this operator, as with many others of their ilk, are PIRATED GAMES"
Casino Warnings & Rogue Reports
Back to articles