Back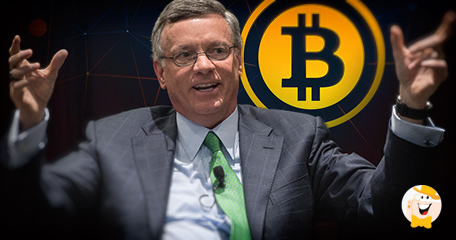 As far as credit card conglomerates go, there is none bigger and more significant on the planet than Visa. As an institution reliant chiefly on traditional transactions and fiat currencies, it doesn't come as a big surprise that, historically, their view of Bitcoin was not in favor of cryptocurrency. Even so, Visa's representatives rarely shifted their focus to the digital currency in public and refrained from making any further comments. Until this Wednesday, when, during an interview on CNBC, Visa's chairman, Alfred Kelly, further cemented Visa's stance on Bitcoin by calling it "a speculative commodity" and saying that "it is not payment system player."
Kelly's remarks coincide with the US Treasury's statement that cryptocurrencies are an "evolving threat," made connections with Bitcoin and terrorism (!), soon after its value nosedived dramatically.
Visa's CEO was quite a bit more elaborate than that, it has to be said. In fact, one should admit he made some very good points. After being pressed for his angle on the cryptocurrency during a New York conference, he said: "I don't view it as payment system player. We at Visa won't process transactions that are cryptocurrency-based. We will only process fiat currency-based transactions."
He went on to add: "My take is that Bitcoin is much more today a commodity that somebody could invest in; and honestly, somewhat of a speculative commodity."
While we may think Kelly's proclamations are a sign of the rising worries that the modern banking method may endanger Visa's hegemony, facts and figures tell otherwise. It is still far away from threatening Visa in any way. Prior to this statement, Wavecrest – a Visa subsidiary – has cut off debit card services to a certain number of crypto card companies from Europe, due to "continued non-compliance with our operating rules." Many saw this as a campaign against cryptocurrencies – however, Bitcoin was quite un-spendable for daily purchases due to very high fees and, in general, the market of digital currencies is not yet ripe to challenge the supremacy of credit card and fiat money giants such as Visa. Also, as Bitcoin.com suggests, Wavecrest processes more than 100 billion transactions per year versus Bitcoin's 130 million – a huge mismatch.
Source:
"Visa CEO: Bitcoin is Not a Payment System", Sedgwick Kai, January 18, 2018.
"Visa won't process transactions that are cryptocurrency-based"
Bitcoin
Back to articles