Back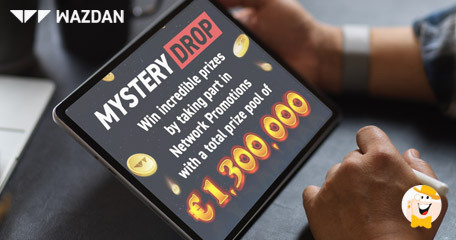 Innovative Games Provider Expands Popular Promotion Until March 5th with a €150,000 Prize Pool
One of the most innovative developers from St. Julians, Malta, Wazdan LTD, has started a new Mystery Drop Network Promotion, naming it Gods Clash.
The campaign is open to all partners as of February 20th and it will run until March 5th 2023. With a prize pool of €150.000, supplied by Wazdan, the Gods Clash promotion already echoes positively among all participants.
All Godly Slots Unlocked
As Wazdan reveals, the new Mystery Drop promotional tool is applied on the entire slots portfolio. Among the featured titles are mythological godly slots like Power of Gods: Hades, Power of Sun: Svarog, and Power of Gods: Medusa.
It is also said that partners can join and launch the promotion seamlessly and quickly. Furthermore, all payouts from the prize pool are automatically made into players' accounts.
This way, the participating operators can maximize their revenue thanks to the increased player engagement and retention. Apart from this, the Wazdan studios have also secured ready-to-use promotional materials for the players, such as banners, newsletters, and social media posts.
The best thing about Gods Clash is that all mythological titles within the provider's godly franchise have been opened. However, only the best will lay unimaginable riches ranging up to a thundering €150,000 and no mortal can resist such a bounty.
What's even more interesting than the promotion itself is the roadmap for the first half of the year.
As the studio announced, Gods Clash will be followed by the Easter Drop promo, running from the 3rd to the 16th of April. This incredible contest also features a massive prize pool of €150,000 and it is based on the on the highly popular Cash Drop from June 2021.
The supplier's biggest promotion to date, Wazdan Breaks the Rules, will launch on May 15th and last until August 15th, 2023. The year's biggest promotional campaign will feature a huge prize pool of €1,000,000, and it is sponsored by Wazdan.
Giving Back to Partners
According to Andrzej Hyla, chief commercial officer at Wazdan, the upcoming Gods Clash Network Promotion is a clear indicator of Wazdan's commitment to give back to its partners.
"Players will also undoubtedly be excited to see the promotion, boosting the allure of their favourite Wazdan games and massively ramping up their engagement with instant cash prizes," concluded Hyla.
Among other new products from the provider is also the sixth edition of its continuously evolving Hot Slot series, called Hot Slot: 777 Rubies.
Make sure to check it out.
Source: "Wazdan's Gods Clash Network Promotion goes live across its entire slots portfolio", wazdan.com, February 20th, 2023.
"Among the featured titles are mythological godly slots"
Promotions & Bonuses
Back to articles