Back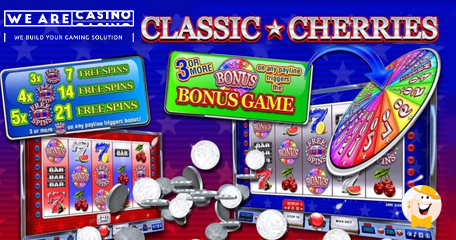 A unique provider of casino content, WeAreCasino, has added a brand-new slot experience called Classic Cherries. The game is a result of the cooperation of the brand with Silver Lining Studios – a powerful gaming development company. At the same time, this slot is the very first one produced with the utilization of the SlotBuilder engine.
Theme of the Game
The brand-new slot, Classic Cherries, features a classic fruit theme, allowing players to enjoy a selection of symbols such as iconic bells, bars, and sevens. The title includes five reels and nine pay lines and allows customers to win from the left or rightmost reel. It also allows players to enjoy multiple bonus levels and mobile additions.
Statements
Commenting on this opportunity, CEO of WeAreCasino, Sem Moioli said:
"This is a crucial milestone for us. We are launching our first game developed with our brand-new engine – and with the most classic theme in slots. Our new engine offers a lot of innovative features and possibilities that will allow our games to be unique and instantly recognizable. The fantastic combination of sleek design, high definition, and immediacy of the game is truly outstanding."
He added:
"When we started the Slot Builders Program, we were looking for top-level studios exactly like SLS. I want to thank our developers for such a great job with our partner SLS – we are really proud to start this new chapter for WeAreCasino."
CEO of Silver Lining Studios, Ryan Silver said:
"We are thrilled to be working with WAC during the exciting launch of their new and robust game engine. We feel fortunate to be partnered with such an innovative and creative team. Classic Cherries is a captivating and intuitive slot game paying both ways! It has multiple thrilling bonus games sure to keep the player engaged throughout the entire gaming experience. We are looking forward to getting the game out to the players and feel confident it will be a winning favorite for all."
Source:
"WeAreCasino and Silver Lining Studios launch new game", focusgn.com, May 5, 2020.
"Classic Cherries, features a classic fruit theme"
Casino Games
Back to articles