Back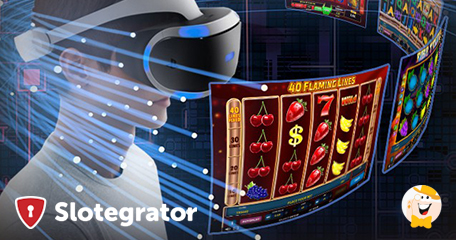 2017 was quite a year for online gambling – turbulent, innovative, revolutionary and groundbreaking in many ways, but also troubled and uncertain in others. Our friends at Slotegrator – prime content aggregator and iGaming visionaries with whom we did an interview, are eager just like all of us to see what 2018 holds in terms of online casino trends. They didn't sit around waiting for others to make prophecies, instead they've analyzed bygone trends and and where things stand now. The times they are a changin' and so is the industry. Here are Slotegrator's predictions for 2018:
This year could be pivotal for the development of Virtual Reality technologies and their implementation in the gambling industry. Some of the operators have already gone down this route but they're still considered avant-garde for their efforts. However, there's no doubt it's a looming future – VR tech gadgets are more affordable nowadays and could become the next big thing in online gambling.
Cryptocurrencies were a big deal in 2017 and, despite some of the enthusiasm about them seemingly wearing off in 2018, their advantages over other currencies remain undisputed: Slotegrator cites anonymity, speed, convenience and minimum fees as main reasons while Bitcoin, Ethereum, Litecoin and co. could extend their domination well into this year.
In order to provide a "competitive edge to the operators and increase brand's visibility," developers and casino operators may start offering custom-tailored slot games in order to rise above the masses, become more distinguished, and recognized. Also, with the soaring usage of mobile devices for engaging into online gambling, tools like 'Messengers' will be gaining further popularity as a communication option with the casino representatives and other players – the aggregator has developed their very own Telegram casino with the integrated messenger within the gaming platform.
Also, as a consequence of new technologies and faster internet, live table games are cementing their place as players' favorites. Last year, they were in high demand and this will keep the momentum in 2018. A mash-up of VR and live games is expected to become all the rage, as developers continue their quest for introducing more realistic environments and broadcasting games in real-time mode.
The aggregator is also of the opinion that skill games, as opposed to luck games, is where it's at this yearas more and more developers begin supplying casinos with strategy games. Having to apply their skills is what players worldwide cherish and embrace and that, again, implies that we can expect a new breed of skill-driven gamblers to flood the iGaming scene.
A few other trends that may sweep the gambling market this year are gamification – the concept that asks players to solve marketing tasks using game dynamics through providing missions, competitions, bonuses and rewards – and entertaining content, other than gaming itself, which may be used in order to keep the punters occupied, like TV shows, music videos etc.
Finally, 2018 may see Big Data technology and mergers and acquisitions make all the major headlines in the world of online gambling. The former is invaluable for its advent as it provides means to adapt and adjust games to the needs of target audiences via the huge amount of data and information it stores. Mergers are just the way of the world right now as gambling companies will be increasing their capital this year – and will exceed $60 billion in volume by 2020, according to experts.
What do you think of these forecasts? Is there something you think they left out and you'd like to add? Do so in the comments below..
Source:
"The Main Trends of the Online Casino in 2018", slotegrator.com
"This year could be pivotal for the development of Virtual Reality"
General Gambling News
Back to articles