Back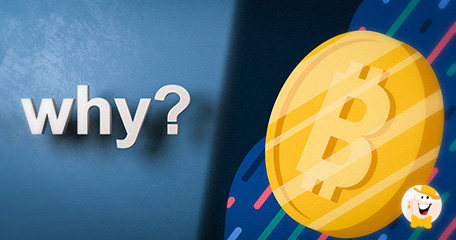 How Reliable Are Crypto Assets?
Summarizing all the trends on crypto markets that marked the soon-to-end year, the least to say is that it has been quite turbulent for digital payment assets. Bitcoin, one of the most popular choices for transactions in online casinos, has experienced a record high value and sharp fall in less than a month, raising numerous questions among fans of virtual currencies.
On November 5, 2021, the BTC reached an all-time record high value of $68,521. A month later, on December 4, the price dropped by around 12% to $42,000, decreasing nearly 30% within 24 hours.
While it is true that transactions in Bitcoin and other digital payment assets are more confidential and more efficient, they come with a couple of flaws. Knowing that its price is based on speculations only, people are concerned for a good reason.
What are the reasons for sudden market crashes? Is it safe to invest in crypto? How do all the ups and downs affect the iGaming industry? Let's analyze the facts and tendencies, and see what 2022 could bring to cryptocurrencies!
China Shakes the Market to the Core
One of the major reasons for the sudden drop in prices has to do with China's announcement from September 2021. Known as one of the world's largest cryptocurrency markets, the country declared all transactions illegal.
As far as The People's Bank of China (PBOC) stressed out, none of the crypto assets are permitted to circulate in the country. Also, overseas exchanges are barred from providing services to China-based investors, while financial institutions, payment companies, and internet firms are strictly prohibited from facilitating cryptocurrency trading nationally.
Worth adding is that cyber cash has actually been banned since 2019 in China, but trading has continued online through foreign exchanges. However, the first rigorous actions were taken in 2021.
In May this year, buyers were reminded that they are not protected for continuing to trade BTC. Only a month later, in June, the country ordered banks to stop facilitating transactions and imposed a ban on mining.
Other Reasons Behind Bitcoin's Volatility
While China's decision played a crucial role in making the market unstable, it's not the only reason for growing concerns about BTC's reliability.
Only days before China took actions in May 2021, Elon Musk, declared as follows:
"We are concerned about rapidly increasing use of fossil fuel for Bitcoin mining and transactions, especially coal, which has the worst emissions of any fuel."
According to the billionaire entrepreneur, cryptocurrencies are a good idea, but their mining should not come at a great cost to the environment. He stressed out that Tesla will no longer support BTC transactions until the exploration switches to more sustainable energy.
In addition to this, FBI agents seized millions of dollars in bitcoin from criminals. UK's financial watchdog, along with big banks such as HSBC and Santander blacklisted Binance, one of the largest crypto exchanges.
August 2021 was marked with one of the biggest heists in the crypto sphere, as Poly Network, a de-fi platform, was hit by a major attack in which the hacker stole more than $600 million worth of Ethereum, Shiba Inu, and other digital payment tokens. Quite unexpectedly and after a couple of obstacles, the hacker, named "Mr. White Hat" returned all the money, stressing out that he only wanted to point out the flaws and vulnerability of the system.
Optimistic Side of the Story
In March this year, Morgan Stanley became the first big US bank to offer wealthier clients access to bitcoin funds. Investment firms need at least $5 million, while individuals should have at least $2 in assets held at the firm at the bank to become eligible for this privilege. Also, the accounts have to be at least 6 months old. Bitcoin investments are limited to as much as 2.5% of their total net worth.
Amazon's job ad for "Digital Currency and Blockchain Product Lead" lead to speculations that the gigantic corporation could soon start accepting BTC as a payment option.
Finally, El Salvador is making bitcoin legal from September 7, 2021. While some protesters are fearing that this decision will bring more instability and inflation to this Latin American country, the president is positive that his decision will help Salvadorians working abroad send money back home to their families.
Impact on iGaming Industry
All the ups and downs are affecting the online gambling sector as well, but not yet to the extent that some concerns should arise. As far as numerous experts notice, 2022 is expected to be a big year on the regulatory front, which would, for sure, change the payment habits of consumers of iGaming products.
Should the value go up continuously, people will for sure turn to crypto banking methods to deposit and withdraw. On the other hand, if the trends remain equally turbulent with more drops in the upcoming period, perhaps customers could return to fiat currencies as a more reliable and predictable option.
Bitcoin's volatile nature opens room for numerous surprises at some point in the future. It could be weeks, months, or maybe even years, so all there's left to do is follow the trends closely and act accordingly.
What are your two cents on the matter? Hit the comments section below and share your thoughts and impressions with us. Gamble responsibly!
Source:
"Is a bitcoin crash coming?", thetimes.co.uk, December 6, 2021
"experienced a record high value and sharp fall in less than a month"
Bitcoin
Back to articles