Back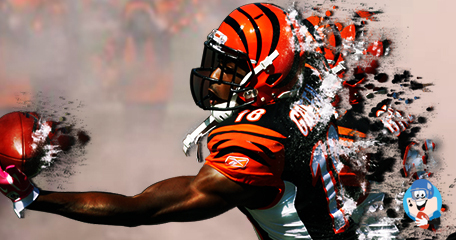 On Saturday, July 27th, 2019 the Cincinnati Bengals held their first practice of training camp at Welcome Stadium in Dayton, Ohio. The team usually does not hold practices at this facility. They decided to do so to honor the NFL's 100th anniversary as the first game in NFL history was played at Triangle Field in Dayton, Ohio.
In the first NFL game ever, the Dayton Triangles hosted the Columbus Panhandles during October of 1920. The field conditions at Welcome Stadium last Saturday were said to be poor according to some of the players that participated. The rest of the Bengal's training camp practices will be held in Cincinnati, Ohio.
The Injury:
Toward the end of the Bengal's first football practice of training camp, their superstar wide receiver, A.J. Green, made contact with his cornerback teammate, Dre Kirkpatrick. Green went down after the play and did not get up on his own. It was apparent that the Pro Bowl wide out had injured his left foot during the drill. His left shoe was removed as the training staff assessed the injury. He was eventually carted off of the field, and he did not return to action.
MRI:
Green underwent an MRI on Sunday, July 28th, 2019 in order to assess the severity of the injury that he suffered the day before. The scan revealed that he has torn ligaments in his left foot. The Bengals are currently estimating that he will require approximately six to eight weeks before the All Star receiver will be cleared for football game action. He is not expected to be ready to play in the regular season opener taking place on September 8th, 2019 in Seattle, Washington.
Media Statements from Players and Personnel:
"We'll find out a little bit more about him later on," says head coach, Zac Taylor. "I don't want to speculate on anything. We'll find out more."
"I felt like he had a good summer," he added. "Sometimes, today, freak things happen."
 "The turf was terrible. I couldn't run any routes out there. I'm falling all over the ground. It was bad. It was rocks, pebbles out there. Man, it was somewhere we shouldn't have been. I'm not trying to say any excuses, but it is what it is," Bengals wide receiver, Tyler Boyd, recalled.
"I don't think the turf had anything to do with it," Taylor stated after Sunday's practice.
Previous Health Issues:
Initially, over the course of Green's fabulous NFL career, he had been extremely reliable. In fact, he only missed four games throughout his first five professional football seasons. However, the seven time Pro Bowler has been held out of 13 games over the last three NFL seasons. Last year Green did not participate in seven games due to an injury to his right toe.
A.J. Green's Career Statistics:
| | | | | | | | | | | | | | | | | | | | | | |
| --- | --- | --- | --- | --- | --- | --- | --- | --- | --- | --- | --- | --- | --- | --- | --- | --- | --- | --- | --- | --- | --- |
|   |   | Game | Game | Rece | Rece | Rece | Rece | Rece | Rece | Rece | Rece | Rece | Rece | Rush | Rush | Rush | Tota | Tota | Tota |   |   |
| Year | Tm | G | GS | Tgt | Rec | Yds | Y/R | TD | Lng | R/G | Y/G | Ctch% | Y/Tgt | Rush | Yds | TD | Touch | Y/Tch | YScm | RRTD | Fmb |
| | | 15 | 15 | 115 | 65 | 1057 | 16.3 | 7 | 58 | 4.3 | 70.5 | 56.5% | 9.2 | 5 | 53 | 0 | 70 | 15.9 | 1110 | 7 | 1 |
| | | 16 | 16 | 164 | 97 | 1350 | 13.9 | 11 | 73 | 6.1 | 84.4 | 59.1% | 8.2 | 4 | 38 | 0 | 101 | 13.7 | 1388 | 11 | 2 |
| | | 16 | 16 | 178 | 98 | 1426 | 14.6 | 11 | 82 | 6.1 | 89.1 | 55.1% | 8.0 |   |   |   | 98 | 14.6 | 1426 | 11 | 1 |
| | | 13 | 13 | 117 | 69 | 1041 | 15.1 | 6 | 81 | 5.3 | 80.1 | 59.0% | 8.9 | 2 | 2 | 0 | 71 | 14.7 | 1043 | 6 | 3 |
| | | 16 | 16 | 132 | 86 | 1297 | 15.1 | 10 | 80 | 5.4 | 81.1 | 65.2% | 9.8 |   |   |   | 86 | 15.1 | 1297 | 10 | 1 |
| | | 10 | 10 | 100 | 66 | 964 | 14.6 | 4 | 54 | 6.6 | 96.4 | 66.0% | 9.6 |   |   |   | 66 | 14.6 | 964 | 4 | 0 |
| | | 16 | 16 | 143 | 75 | 1078 | 14.4 | 8 | 77 | 4.7 | 67.4 | 52.4% | 7.5 |   |   |   | 75 | 14.4 | 1078 | 8 | 2 |
| | | 9 | 9 | 77 | 46 | 694 | 15.1 | 6 | 38 | 5.1 | 77.1 | 59.7% | 9.0 |   |   |   | 46 | 15.1 | 694 | 6 | 2 |
General Gambling News
Back to articles