Back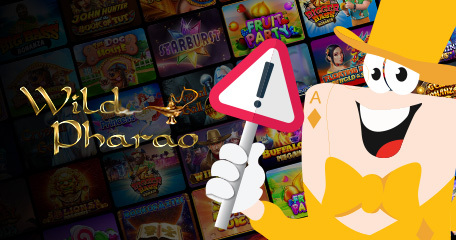 Relatively New Casino Miscarries 3 Months after Launching and Goes from Bad to Worse
One of the most prosperous online casino brands from 2021 that managed to win the hearts of a huge audience of visitors in a very short time, WildPharao, has misfired.
It's been brought to our attention that poor support, regular player complaints about delayed or slow payments and a suspended gaming license have led to an immense dissatisfaction among our players. Due to its new unresolved status, we had no other choice but to put it on the WARNING LIST.
'Absolutely Terrible'
Announced as a fresh crypto-ready massive iGaming station back in 2021, WildPharao soon joined our directory in March 2022 as a modern yet mysterious casino website, owned and operated by ProMedia N.V. This company is authorized and regulated by the Government of Curaçao.
Unfortunately, it didn't take too long for the first complaints to start appearing on our review page – our members' biggest concerns were founded on the casino's questionable integrity and slow responsiveness, but…
…it turned out that one thing led to another, leaving the operator with hands full of unresolved player complaints about delayed and slow payments as well as a suspended gaming license.
One of the first major complaints appeared on our site in May when a certain player stated there was no live chat on-site, while the RTP was quite poor it terms of returns, calling the entire platform 'absolutely terrible'. Another player claimed that the wagering requirements for the welcome bonus were x100, so he skipped signing up due to the negative feedback he had found online previously and advised other LCB'ers to look further…
Among the complaints is also a player who is still waiting for their money to arrive even after 3 months. On top of it, online support has not been helpful and left many e-mails completely unanswered…
Stay Away… for Now
After seeing so many complaints on the review page and on our forum, we didn't have a choice but to place Wild Pharao on our WARNING LIST and ask you to stay away for the time being.
We have escalated all complaints in regard to payment issues several times, but the casino rep has been silent for almost two months now. Due to the newly developed situation, we kindly ask all our members to stop playing here.
Until we get a logical explanation from the casino and figure out what has happened in the meantime, it is highly doubtful that you will get a response either; nonetheless, we do encourage you to keep updated as we will try to reach out to the casino rep in the future and try to resolve this unpleasant situation.
"we had no other choice but to put it on the WARNING LIST"
LCB News
Back to articles