Back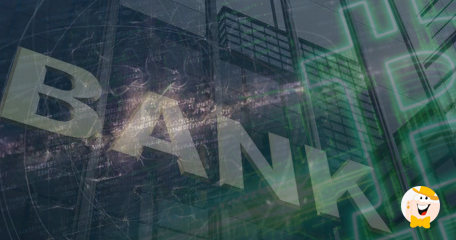 When you stop and ponder the road of cryptocurrency development over the years, the rise of digital money to the heights of mainstream and beyond, as they began doing business that is measured in billions of dollars, leads to the inevitable.
All of those once small startups and businesses that seemed far-fetched back in the day are suddenly buying bank shares, prompting the question: do crytpo exchanges, market makers and blockchain innovators have it in them to transform into banks themselves?
The Value of Bitcoin
As Bitcoin.com analysts estimate, the current value of the cryptocurrency market stands at more than $294 billion. That sure is a big leap from the original small community that started it all almost ten years ago.
Even though there are those among leading financial experts who are urging, 'get out while you can', it is admittedly difficult to ignore such a huge global movement that, despite its ups and downs, has shown serious resilience.
As business gets bigger and more complex, some of the market makers and cryptocurrency companies are dealing with growing amounts of money. Some of them have begun acquiring bank shares or even trying to transform into banks themselves.
Still Going Strong
Coinbase, for instance, is one of the digital assets firms who are still going strong and doing well for themselves. They have over 20 million users and so far, more than $150 billion worth of cryptocurrencies have been traded via this route. That's why the company's officials begun having meetings with US regulators in early 2018 as they look for banking licenses.
The cooperation between these bodies is quite close and successful thus far, as Federal bankers realize that Coinbase could offer plenty of banking options.
One of the largest cryptocurrency exchanges in the world, Binance, has acquired a 5% stake in Founders Bank based in Malta, a small Mediterranean country that is on the path to becoming the world's leaders in crypto technology and iGaming hotspot.
This is the world's "first global community-owned bank," as Silvio Schembri, Office of the Prime Minister of Malta's junior minister for financial services, digital economy and innovation has said. As of now, Binance and Founders Bank are opting-in for a EU license for full-on regulation.
The Role of Litecoin
Likewise, the Litecoin foundation has recently purchased 10% of stakes at WEG Bank AG from Germany. WEG Bank, with the help of Litecoin Foundation and Tokenpay will be offering cryptocurrency services to customers, as Litecoin will be also integrated with WEG Bank – something the German conglomerate agreed upon even though Litecoin's value has had a sharp and rather dramatic decline since its peak value in December 2017.
What are your two cents on these trends and developments? Does this mean that crypto assets are still alive and well? Or does becoming a bank present a way out for these firms should anything tragic befall the world of cryptocurrencies? Feel free to comment below…
Source:
"Powerful Cryptocurrency Firms on the Road Towards Becoming Banks", Redman Jamie, bitcoin.com, July 18, 2018.
"the company's officials begun having meetings with US regulators"
Bitcoin
Back to articles