Back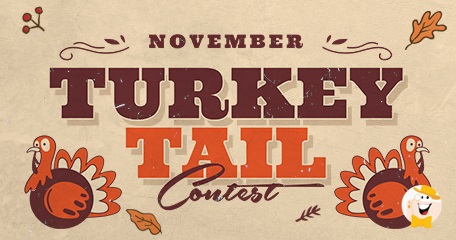 November is known for sharing and spreading happiness to your loved ones. Each year, LCB celebrates the Thanksgiving season by giving away valuable prizes to its members as a way of saying "Thank you for sharing all this special time together."
To help us spread the cheer this year, we invite you to participate in our Turkey Tail Contest and win extra play money as well as the means to improve your poker skills. The only thing you need to do is to post a picture of the most glamorous turkey on our forum until November 27th, 2019.
Gobble, Gobble
Before you post an image of a beautifully feathered turkey showing off its fancy tail feathers on our forum and officially enter the competition, let us enumerate a couple of details and rules first.
To participate in our Turkey Tale Contest, you MUST be an LCB member no later than October 12th, 2019. You must also be 21 years of age or older to qualify. Only ONE post per day is permitted.
The prize pool consists of $400 in LCB Chips and 3 Video Poker Apps. While the prize money can only be used to purchase merchandise in our store, access to mobile applications is permanent.
Since Thanksgiving is all about sharing and expressing gratitude, we divided the entire reward fund into seven categories. The best picture will be rewarded with $100 in LCB Chips, while the second and third place carry a $75 and $60 prize respectively.
You can take a glimpse at the entire prize pool under the Exclusive LCB Contests tab on our forum. Just look for the November $400 Turkey Tale Contest and check out Lipstick's entry – it contains all the information you need to start. Gobble, gobble!
LCB'ers are already posting pictures of gorgeous feathered turkeys in that topic, so hurry up if you want to qualify for the contest and win our holiday-inspired valuable prizes!
$330,671 Awarded and Counting
As a premium casino affiliate and reviewer of online casinos with over 124,329 members, LCB is dedicated to giving back to the player community. As you know, our very own growth and success depend on member input, endorsed through various activities such as daily online posting, commenting, rating and depositing.
For those of you who remember, last year we launched a series of holiday-inspired contests such as Trick or Treat to help you celebrate the spookiest month of the year by playing top-rated Halloween-themed slots and win 14 prizes in LCB cash.
Our previous Thanksgiving Day contest, Name our LCB Turkey, has also put many smiles on our members' faces by awarding them with 15 cash prizes for posting the best nickname for our imaginary pet…
This year, Thanksgiving is celebrated on the last Thursday of the month and this tradition goes back to the time of Abraham Lincoln, an American statesman and 16th president of the United States, meaning there are only two weeks to participate and win a prize before Thursday, November 28.
We wish good luck to all participants and don't forget to use your best research skills to find the prettiest turkey bird around before engaging in a new and exciting shopping spree from our catalog!
There is something for everyone at LCB, including casino spins, chips, BTC chips, bingo bonuses as well as tangible branded rewards such as coffee mugs and t-shirts!
Happy Thanksgiving, LCB'ers!
"participate in our Turkey Tail Contest"
LCB News
Back to articles