Back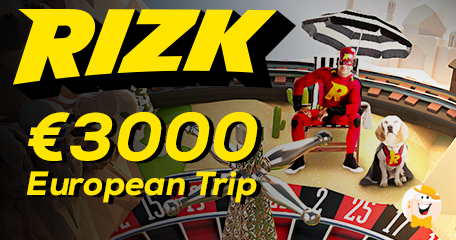 Here's some more amazing news to make this summer even better than it already is – Rizk Casino, a proud bearer of LCB's Seal of Approval, has a promo going on that will have you spinning—spinning around the globe, to be precise.
Every Monday, Tuesday and Wednesday, through August 30th, spinning in the Around the World roulette game can get you some amazing cash prizes – plus a €3000 voyage to the European metropolis of your choice: Athens, Lisbon, London, Amsterdam, Paris or Madrid!
Sounds great, doesn't it—packing up to visit those great cities brimming with history, culture and entertainment? This spectacular opportunity is not beyond your reach, thanks to Rizk, so here's what you have do in order to go from dreaming to travelling:
If you haven't already, register with the casino (we recommend it wholeheartedly) and don't skip the welcome bonus, even if you are excited to just get the ball rolling for the voyage. Then, go to 'Around the World roulette' and play a minimum of 10 real money spins. This will get you a ticket for a weekly draw that is taking place every Thursday. You can win 50 tickets per day, so spinning a lot is your best bet (pun intended). More tickets mean much better chances of winning the draw. Weekly winners will be announced every Friday throughout August.
If you miss out on the trip, don't be too upset, as there are consolation cash prizes up for grabs as well, which range from€50 for third place to €150 and €250 for second and first, respectively. A plethora of smaller cash prizes for places 4 to 50 will also be awarded.
We wish you the best of luck with the draw, and do let us know in the comments, which city you would visit…
"a promo going on that will have you spinning—spinning around the globe"
Promotions & Bonuses
Back to articles