Back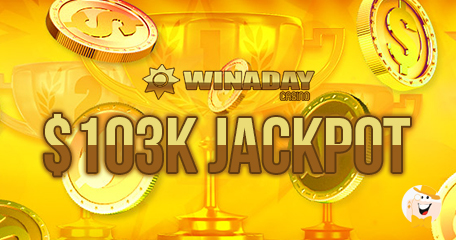 Celebrating New Year's Eve just got a whole new meaning for a lucky poker player, Steve M, who won a jackpot on Leprechaun Luck at WinADay Casino. The hefty prize kicked in just in time before the holidays and our winner got richer by hitting five Rainbows, worth $103.030 USD. The jackpot has been reset and the casino launched a bonanza bonus to celebrate the big win, valid throughout this whole week (January 8 – 14, 2018).
Although an IT worker by profession, Steve (and this happens to a lot of players, experienced too) thought the prize had to be a glitch of some kind or a bug. Now, we understand what a good rush of adrenaline can do to a man, especially before Christmas. Steve immediately texted his friends and his mom, who at first did not believe he had won so much money playing online.
Generous Steve, as he will be probably called from now on, bought them amazing gifts and made it last for a while, because the rest of the money is going straight back to his student loans fund.
Important to realize is that our lucky winner is actually a poker player! While taking a break between Double Bonus Poker games, he decided to spin the reels of his favorite slot, Leprechaun Luck, and, boy, was that a good decision to make!
This five-reel slot from Slotland with wild and double wild features also has 31 paylines and opens jackpot possibilities with bets as small as $5 USD! Regular spins allow players to collect the game's special symbols, which trigger a bonus mode with a pick & reveal feature for instant jackpot prizes.
Inspired by this great win, the casino decided to double deposit bonuses for slots and Keno, with the use of bonus code, BONANZA100. For a set of moderate deposits, additional bonuses with low playthrough terms are also available 4X a day. Even video poker games entered the promotion and offer rewarding 40% on wagers between $25 and $150 (go to the casino's promotions page for more codes).
Therefore, if you're wondering whether WinADay Casino is your cup of tea, here's a hint: it's been 10 years since it launched, and it is now equipped with an incredible collection of premium slots, poker, roulette and other casino games. Don't forget that the jackpot was re-set to $50.000 USD and is already approaching $70.000!! Furthermore, Bitcoin has also been added to payment options for both deposits and withdrawals.
"Steve M, who won a jackpot on Leprechaun Luck at WinADay Casino"
General Gambling News
Back to articles