Back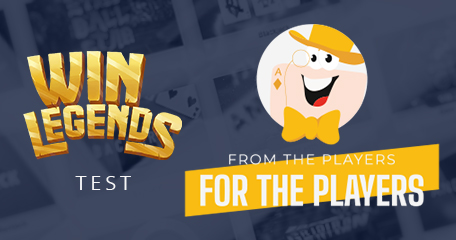 When Utility Bill Falls Short of Expectations
Not everything that shines is gold, says the old proverb. This time, we're back to do some more testing of online casinos whose number in our directory grows each month ever more rapidly.
One of the latest tests within the confines of our well-known project "From the Players, for the Players" took place last December, just as you requested. We're talking about a massive gaming station with thousands of slots from 90+ providers, packed with lots of fruitful promotions too.
We asked our player Cactus12 to once again give us their objective opinion of this place by testing each one of the steps on our checklist: registration, verification (KYC), depositing, playing, and of course, the withdrawal.
At the time of testing, WinLegends Casino had a mediocre rating 3.5/5 on LCB with 0 comments and 9 votes.
Let's check out the summary of each phase below:
Tester of the casino: Cactus12
Date of registering: THU, December 8th, 2022
Deposit: €250.00 / 0.0158 BTC via Bitpace on THU, December 8th, 2022
KYC: Passport screenshot, selfie, and proof of residence uploaded on the day of registering; some documents not approved until December 26th
Slots played: Dark Joker Rizes, Wicked Circus, Champion of the Underworld, The Great Conflict, and more, huge win of €121.10 on Beauty and the Best
Withdrawal: Requested €50 via Bitpace on FRI, December 9th, received on TUE, December 27th, 2022
Note: This entire test took less than 24 hours. The verification procedure, however, lasted from December 8th to 27th. Let's see what caused the hurdle and whether it could've been avoided or solved in a timely manner.
Registration
The test started on Thursday, December 8th. Our player signed up with WinLegends Casino by creating an account in three simple steps. To start their new journey, customers must enter the required personal data and country of residence, currency, address, as well as some contact details.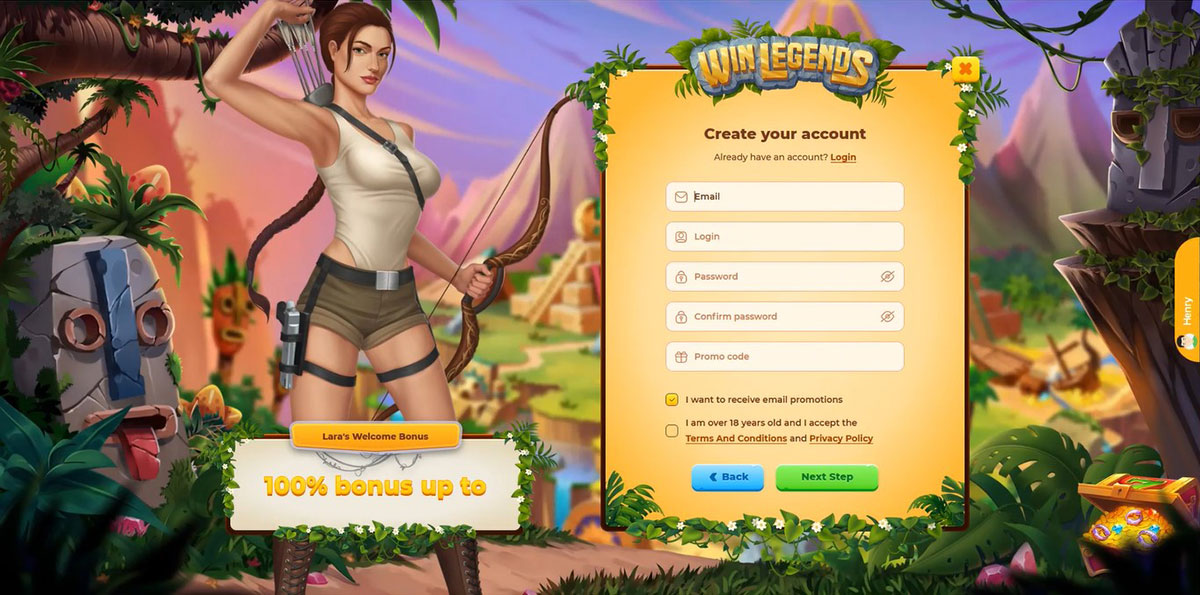 After that step, they are redirected to the cashier, where it is possible to instantly top up with default amounts of 20, 100, 250, 500, 600, and 700, or select something friendlier for the budget.
Among the available payment options are credit cards, e-wallets, and cryptocurrencies.
Depositing
Our player, rolling under the name of Cactus12, selected Bitpace as their payment gateway of choice. After typing in €250 in the deposit box and rejecting the initial bonus, WinLegends started to process their Bitcoin transaction.
Tip: There is an option to "Play without bonus" in the drop-down menu located under the deposit box.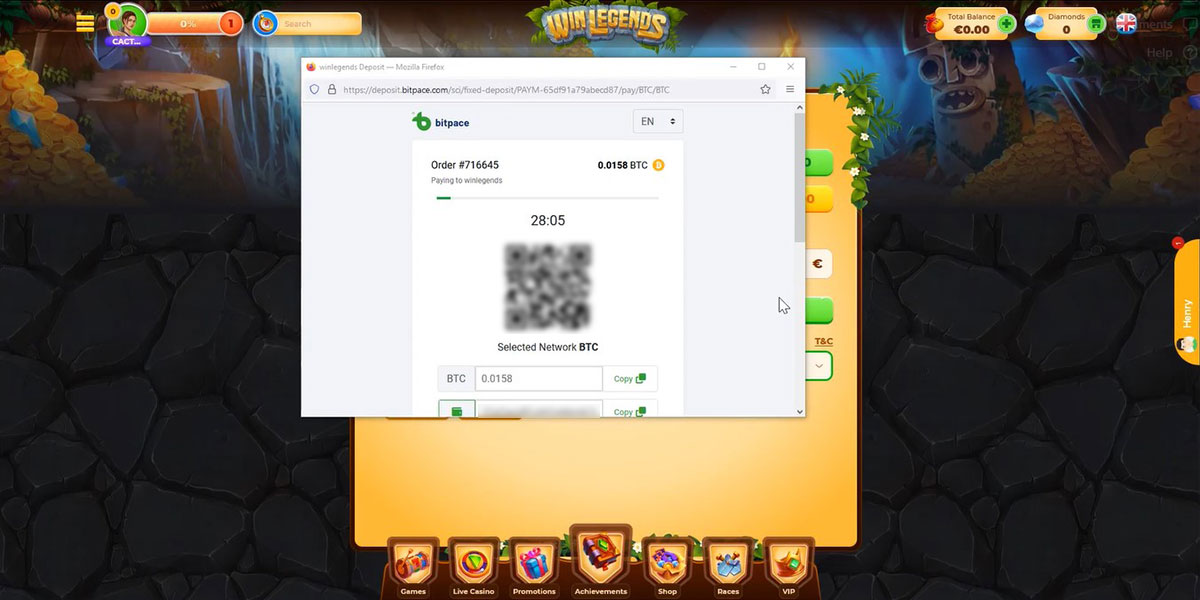 Within minutes, the transaction was sent to WinLegends and it amounted exactly 0.0158 BTC when converted on December 8th, the same day as registering.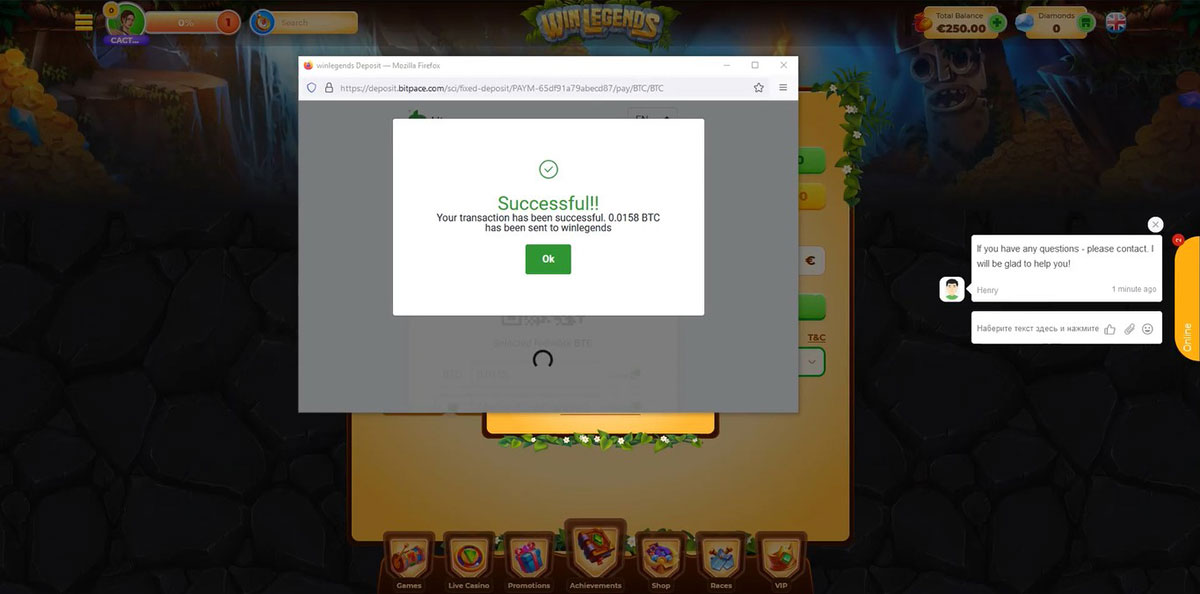 On this site, there is a minimum deposit of €20 and a maximum of €2000, as indicated in the cashier.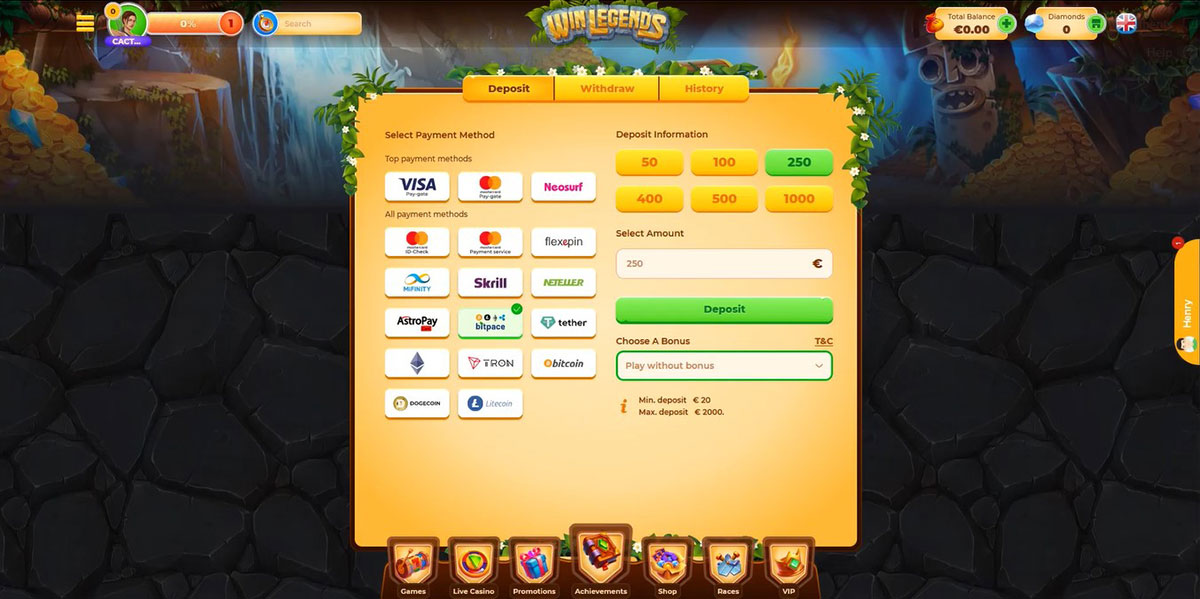 Gameplay and Verification
There are over 90+ software providers available on WinLegends, so making a pick isn't an easy task. Nonetheless, our tester started the gaming phase with Saint Nicked, a volatile naughty Santa-themed slot from Lucksome.
Since it served its purpose and "broke the ice", as players like to say, the game was quickly replaced with In the Rabbit Hole, another volatile Alice In Wonderland-inspired slot, only from Red Tiger.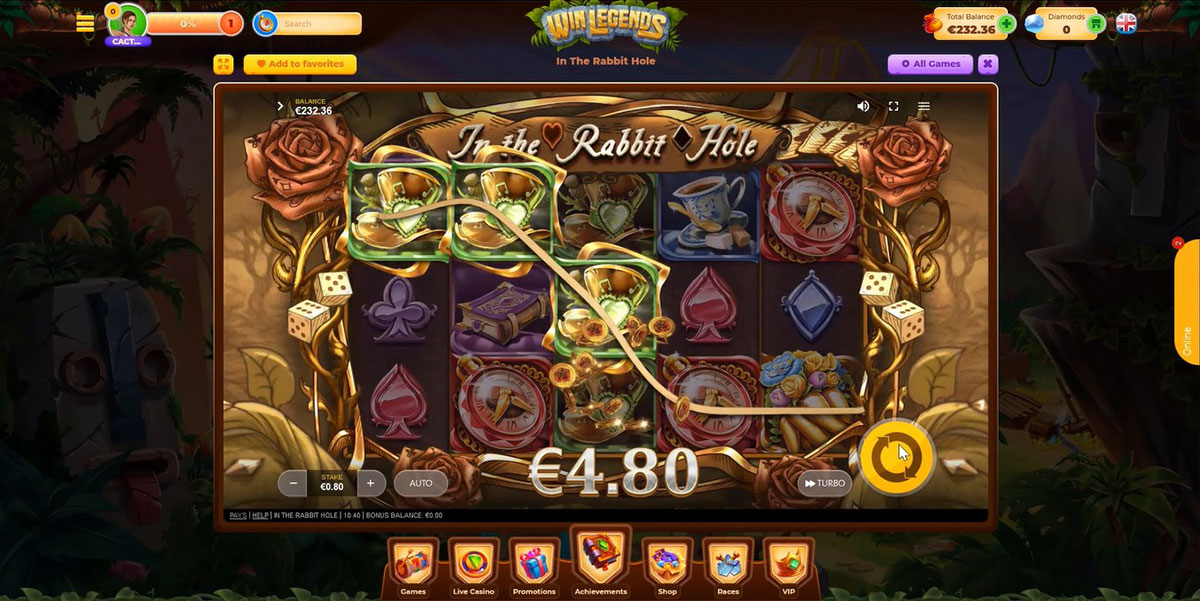 It didn't do much for our tester, but it managed to trigger a couple of minor wins as shown in the picture above.
Sensing that there might be more than just a bunch of petty wins during their stay at WinLegends, our player decided to slow things down and verify the account.
To become eligible for a payout, one must provide the following documents:
copy of passport or driver's license in color with valid expiration date
copy of the credit/debit card in color that was used to replenish the balance (both sides)
bank account number / IBAN - Bank ID / BIC
full address of the recipient party (zip code, street, city, country)
screenshot of electronic wallet that was used to replenish the balance (with wallet number and personal data page)
if necessary, your selfie with a passport or driver's license in hand
copy of the utility bill (not older than 3 months), which clearly shows the name and address of residence (it is important to note that nowhere does it say that mobile utility bill is not a valid document)
On top of that, this casino may occasionally request additional information or details regarding any deposit made by the player.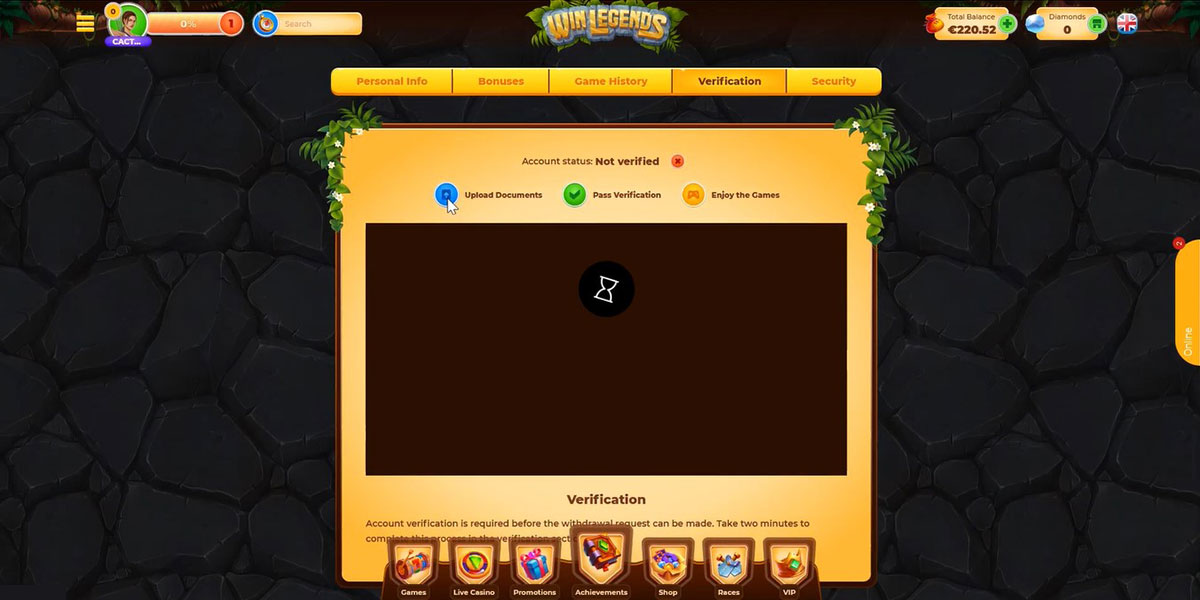 The procedure took place on Thursday, December 8th 2022. Our tester uploaded a screenshot of their passport, a selfie, and proof of residence.
On that note, Cactus12 never received a message about the verification process, which is usually a good sign.
Note: Selfie is an automated process where one must scan their entire face to complete. It is instantly accepted as part of the verification process.
WinLegends is explicit about what types of documents are allowed in the next step, however: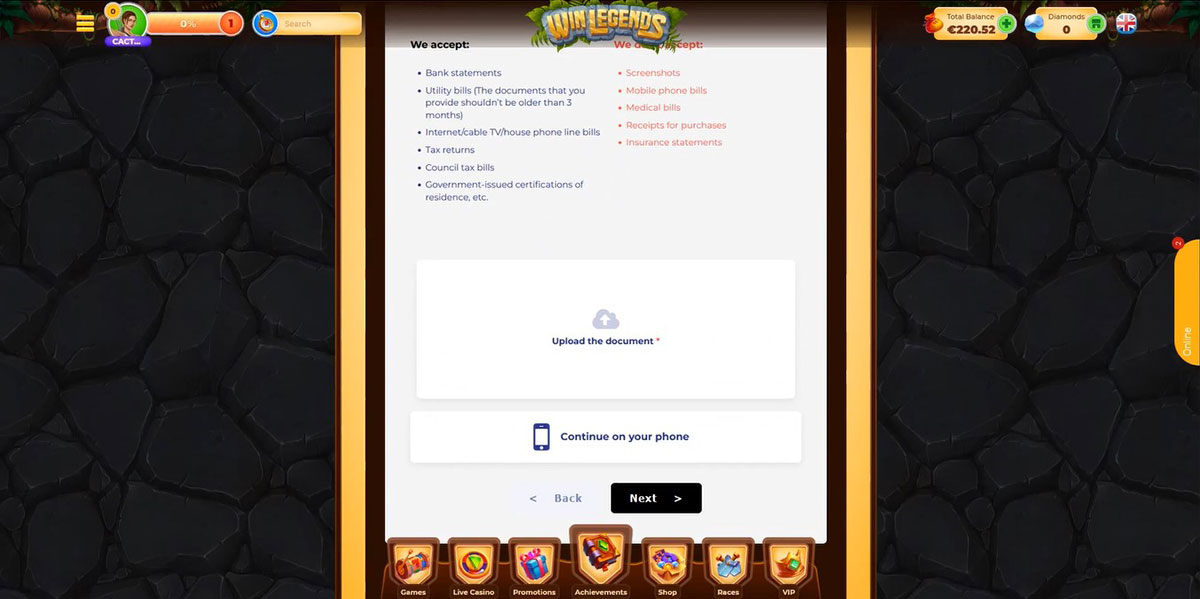 Once everything was uploaded, the casino informed our tester that the process of verification (also known as KYC) had started. The account verification can take up to 24 hours from the receipt of the necessary documents.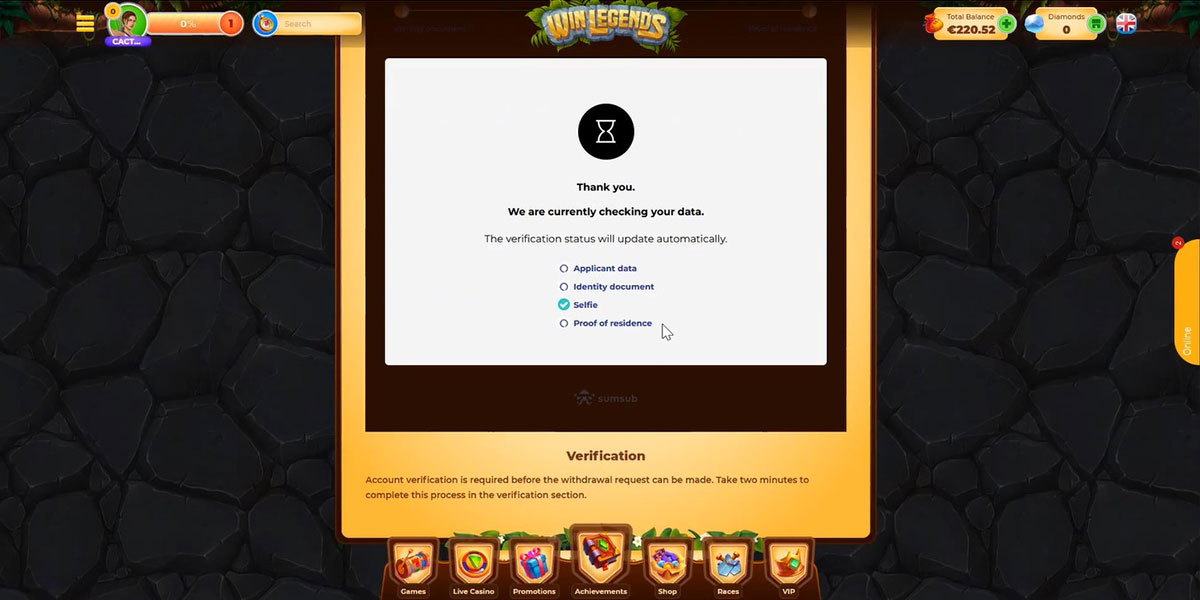 Our player and tester, Cactus12, returned to playing slots and continued to chase some wins with Dungeon Tower MultiMax by Yggdrasil (Peter & Sons).
In just a few spins, a win of €21.50 made the balance look quite untouched, as it was back at €243.12 after quite a few losses in between.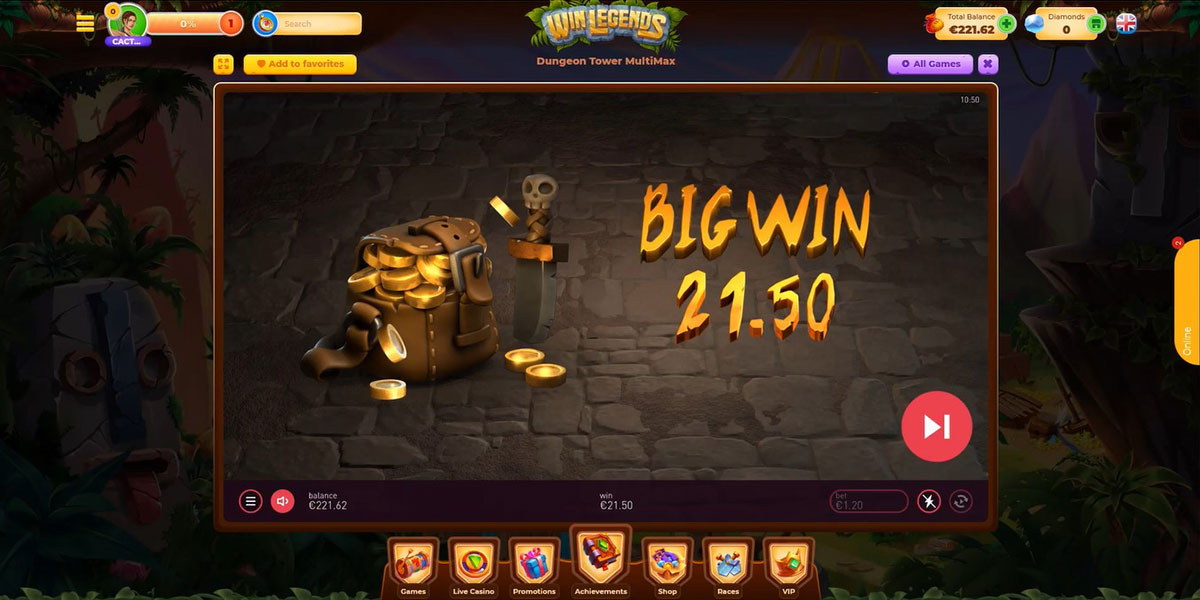 Since nothing else happened, our player gave chance to DIO – Killing the Dragon by Play'n GO. Nothing to declare here.
Among other slots with low or no wins were also:
Dark Joker Rizes by Yggdrasil
Wicked Circus by Yggdrasils
Tut's Twister by Yggdrasil
Champion of the Underworld GigaBlox WildFight by Yggdrasil
The Great Conflict from Evoplay
Lucha Legends by Games Global (Microgaming)
Snow Coin from Gamzix
Golden Dragon Mighty Cash by Triple Profits Games and so on
Unbelievably, the balance was still solid at €200.81 even after playing all these games. But, as luck would have it, things started to change with Beauty & The Beast, another great hit from Yggdrasil.
It is here that Cactus12 struck their biggest win of €121.10 only not the first and second time they played it, but the third!
Meanwhile, there were a couple of tries on Voodoo Hex, Wolf Hunters, Vikings Go to Valhalla, and Jekyllz Wild UltraNudge, but no luck.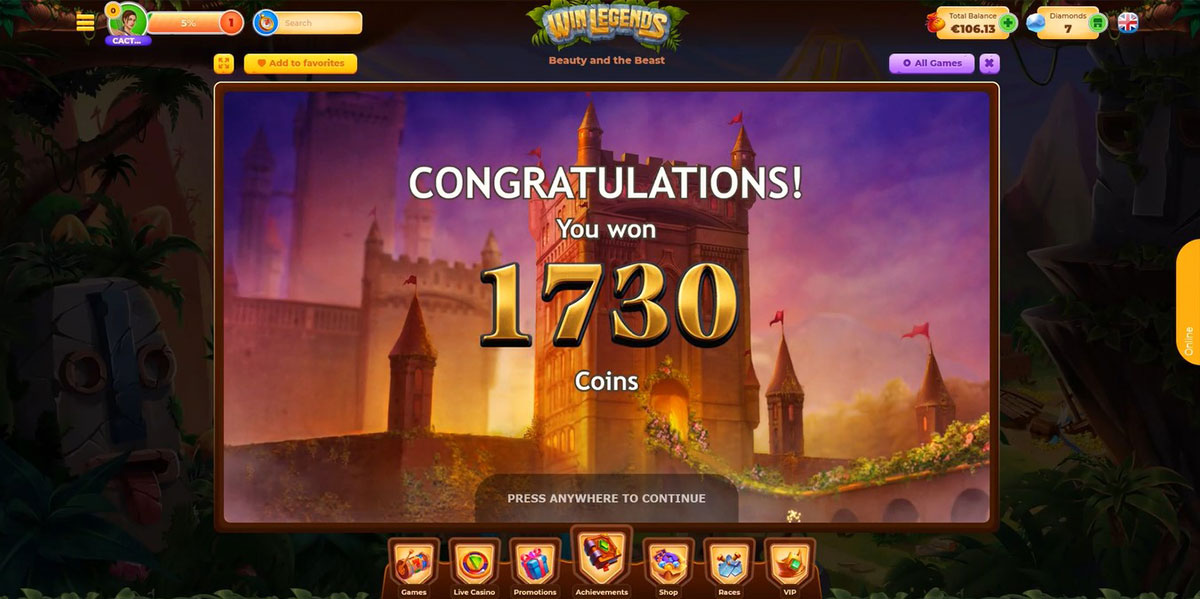 With budget almost at the starting point (€227.23) our player was once again ready to find some new wins.
Cactus12 tried with Fairy Gate and Wild Tome of the Woods by Quickspin, making some nice minor hits up to €16 or so. After a couple of rounds, the balance remained pretty much the same, amounting €226.12.
Unfortunately, other picks weren't so fruitful, and after playing Goldilocks, Lucha Maniacs, and Alchymedes, the entire budget fell to just €50.14, and you know what that means.
Twas time for the withdrawal.
Withdrawal and Verification
Before we continue, it is important to keep the track of time and remind you that the withdrawal was requested on the same day as registering, depositing, and playing, December 8th.
Our player wanted to withdraw their entire balance from the cashier by using the same gateway and cryptocurrency – Bitcoin. Once there, you will notice that the minimum limit is €50 while the maximum ends already with €1000, which is quite low.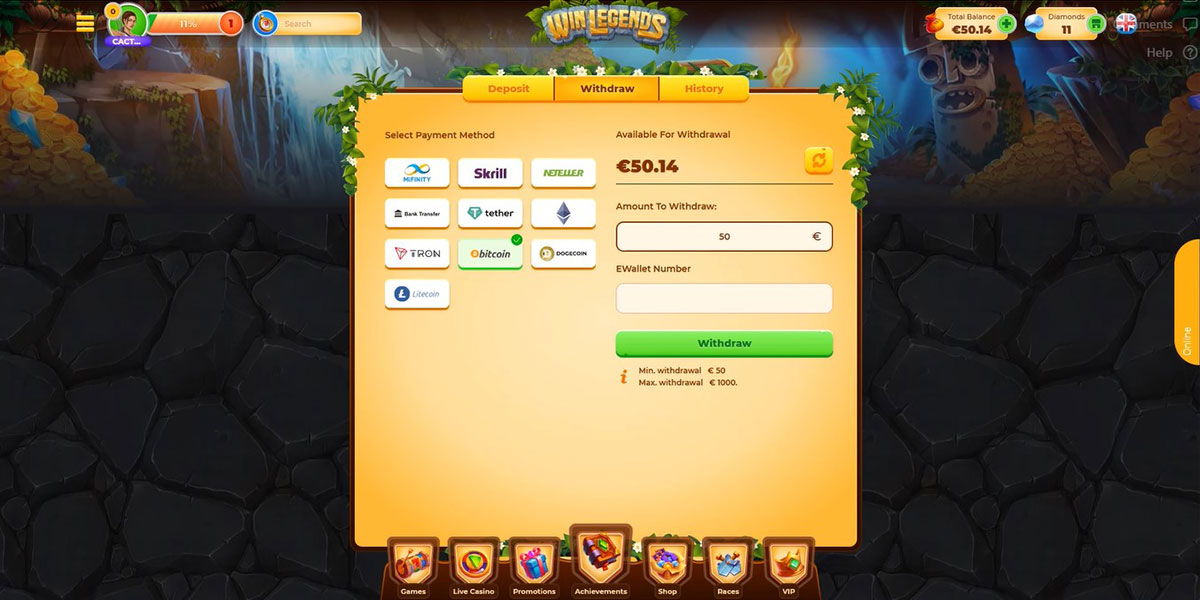 But, once our tester entered their EWallet number to complete the transaction, a pop-up message about verification showed up on screen, telling our tester that one of the uploaded documents (proof of residence) didn't meet the necessary criteria.
Cactus12 was asked to try another document and complete the verification process.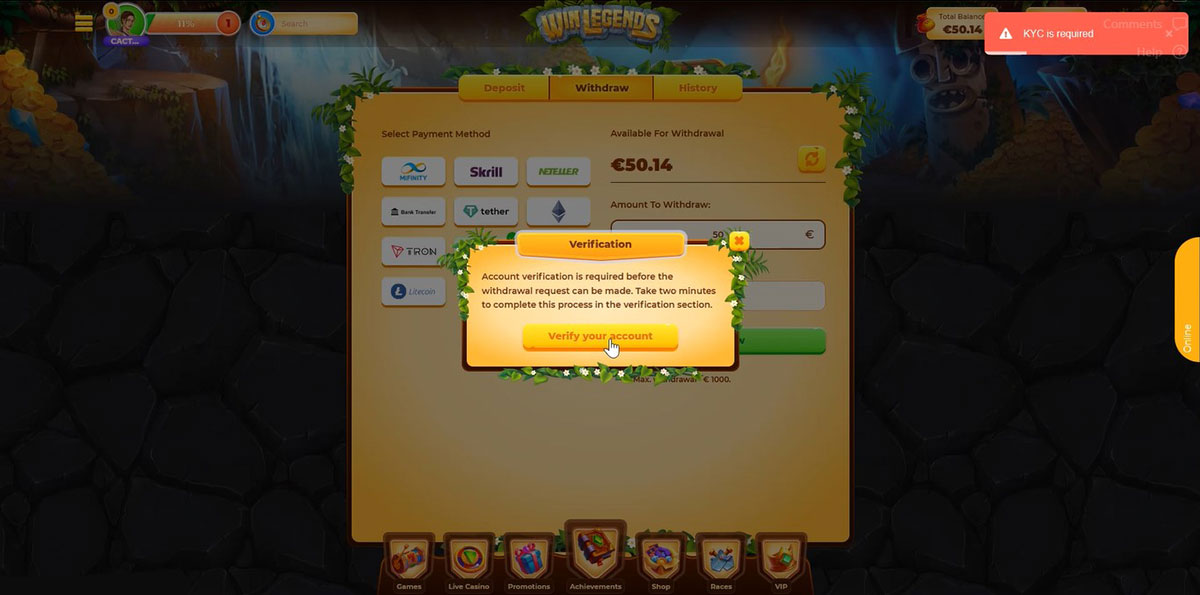 Our player contacted customer support to learn more about the problem, but was instructed to request a list of documents for verification from the casino, to indicate login in the game, and share their first and last name.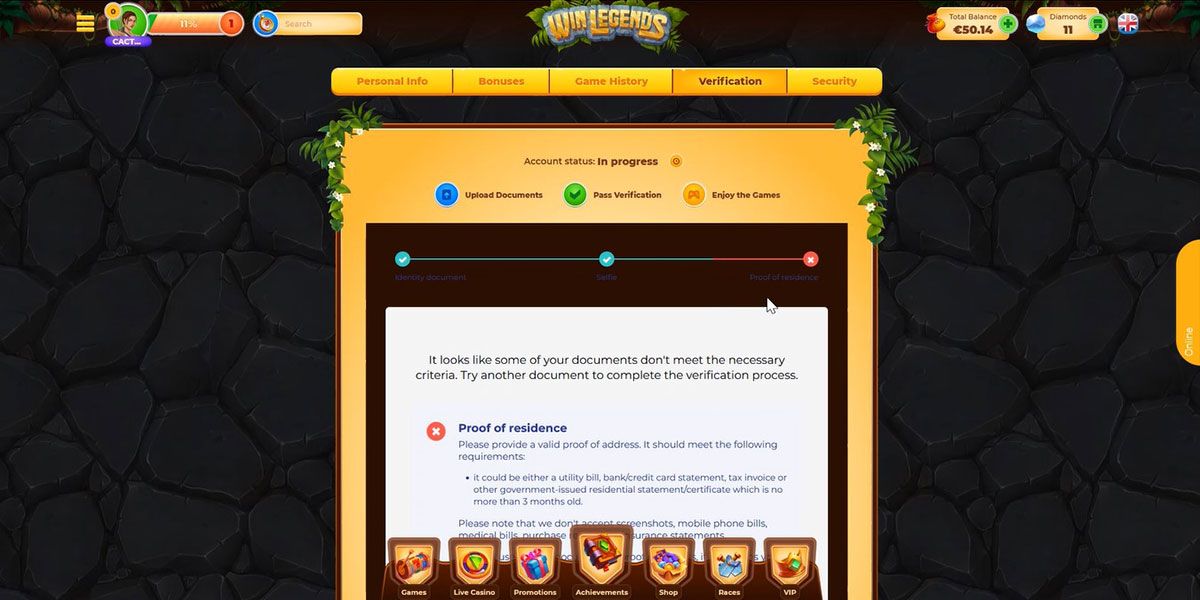 You can see that part of the chat here: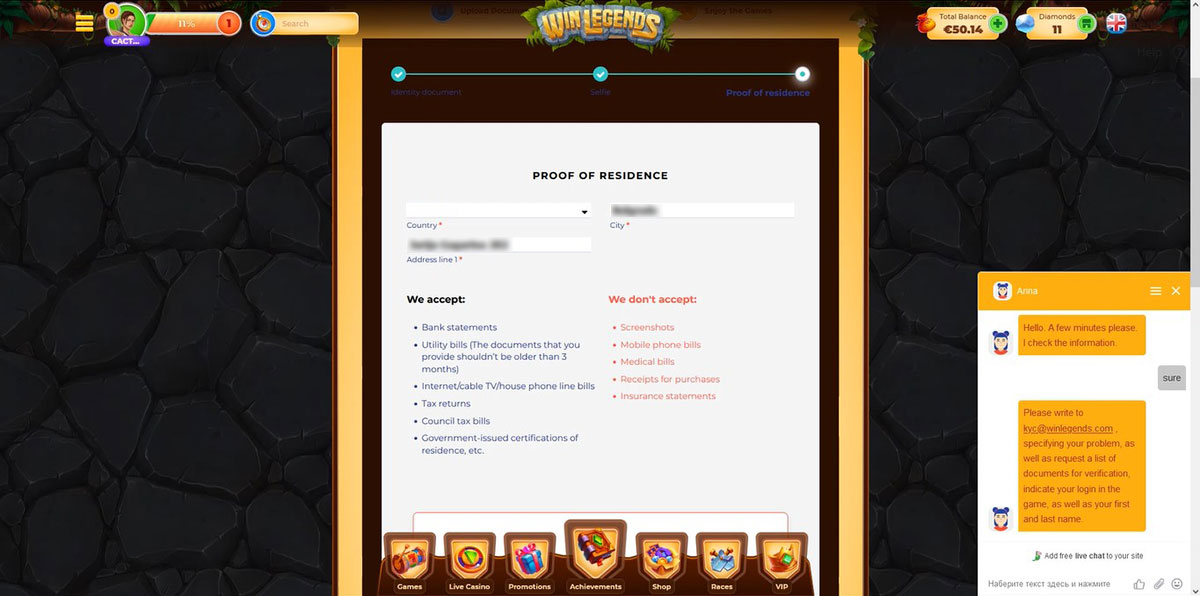 The email was sent on December 9th, 2022. In the attachment was a new bill for cable TV. It is important to mention that proof of residence was approved at the time of sending the email.
However, on December 15th, our player's proof of residence was, guess what? NOT APPROVED.
After exchanging several emails with the casino and its verification team, all documents were finally accepted and deemed acceptable on December 26th, 2022. That's 18 days after the registration!!!
IMPORTANT: It turned out that the mobile utility bill is not a valid document forverification. In case you use this data to get verified, avoid it at WinLegends to get your withdrawal faster.
The withdrawal of €50 in Bitcoin was finally completed on December 27th after receiving an email about a successful verification.
i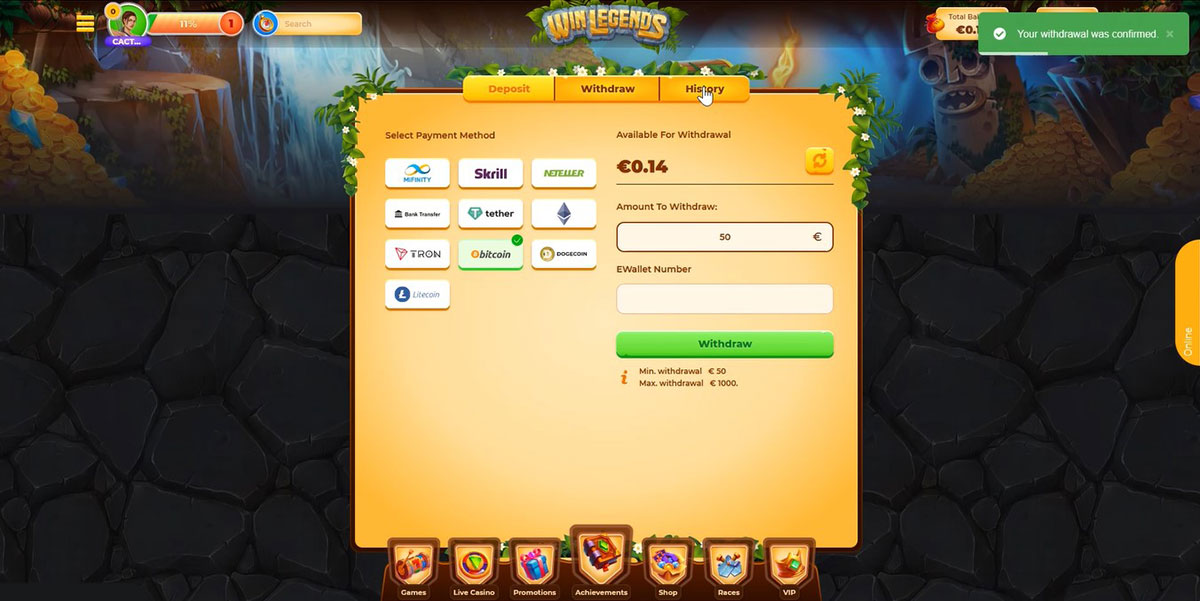 Conclusion
Long story short, even though the test was completed in less than 36 hours, so to speak, our player, Cactus12, had to wait 19 long days before cashing in a minor €50 withdrawal at WinLegends Casino.
Caused primarily by strict KYC policies and the casino's non-stipulated rule that a mobile utility bill can't be used for verification, both the withdrawal and the test can be considered a success.
Thank you for reading another comprehensive analysis of online casinos. Don't forget to take part in this month's $500 Real Cash Contest: Let's Test Casinos, vote, play responsibly and see you soon!
"a massive gaming station with thousands of slots"
From the Players for the Players
Back to articles