Back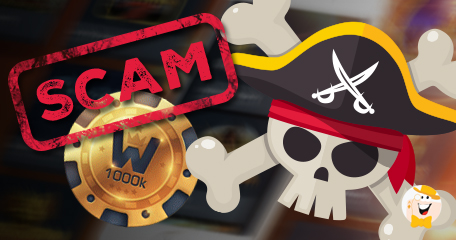 If you've seen one, you've seen them all. To experienced players, shoddy sites stand out like a sore thumb. You take one look and think: ''I'm outta here!' Which is for the best, as one can never be too cautious when it comes to internet casinos. WinnerMillion is one of those sites that feels wrong from the get go. The term ''rogue'' seems almost too mild a word to describe the things we found in there. From fake games and dubious license, to predatory terms and unresponsive interface, there's not a single redeeming quality to save them from the Warning list.
No License Proof
Launching in 2014, WinnerMillion reveals little, if any, background information. We don't know who owns it or where it is registered. Although they claim a Curacao e-gaming license, they do not offer any legitimate proof to support it. Every licensed casino should have a link leading to the official licensing certificate, but not this site.They only show a Master License number, 8048/JAZ, which in itself means nothing, and could be faked easily. Even the iTech Labs logo leads nowhere: when you try to click on it, nothing happens.
Pirated Slots
Take a look at the games, and you will quickly pick up something is very wrong. The first slot to come up is South Park, a title NetEnt withdrew from the market earlier in the year, but here it is somehow still available. This goes to show they have no contact with the provider, or else they'd surely be notified about discontinued products, had they obtained them in a lawful way and though a proper licensing procedure.
Further inspection of the software revealed a familiar fake domain - casinomodulle.com. We came across the same crooked source in our earlier investigations of rogue casinos, and we can say beyond a doubt that WinnerMillion is hosting pirated Net Entertainment slots.
This screenshot of the falsified Jack Hammer slot clearly shows the pirated domain, with two ''l'' instead of one a tell tale sign it is not the original source: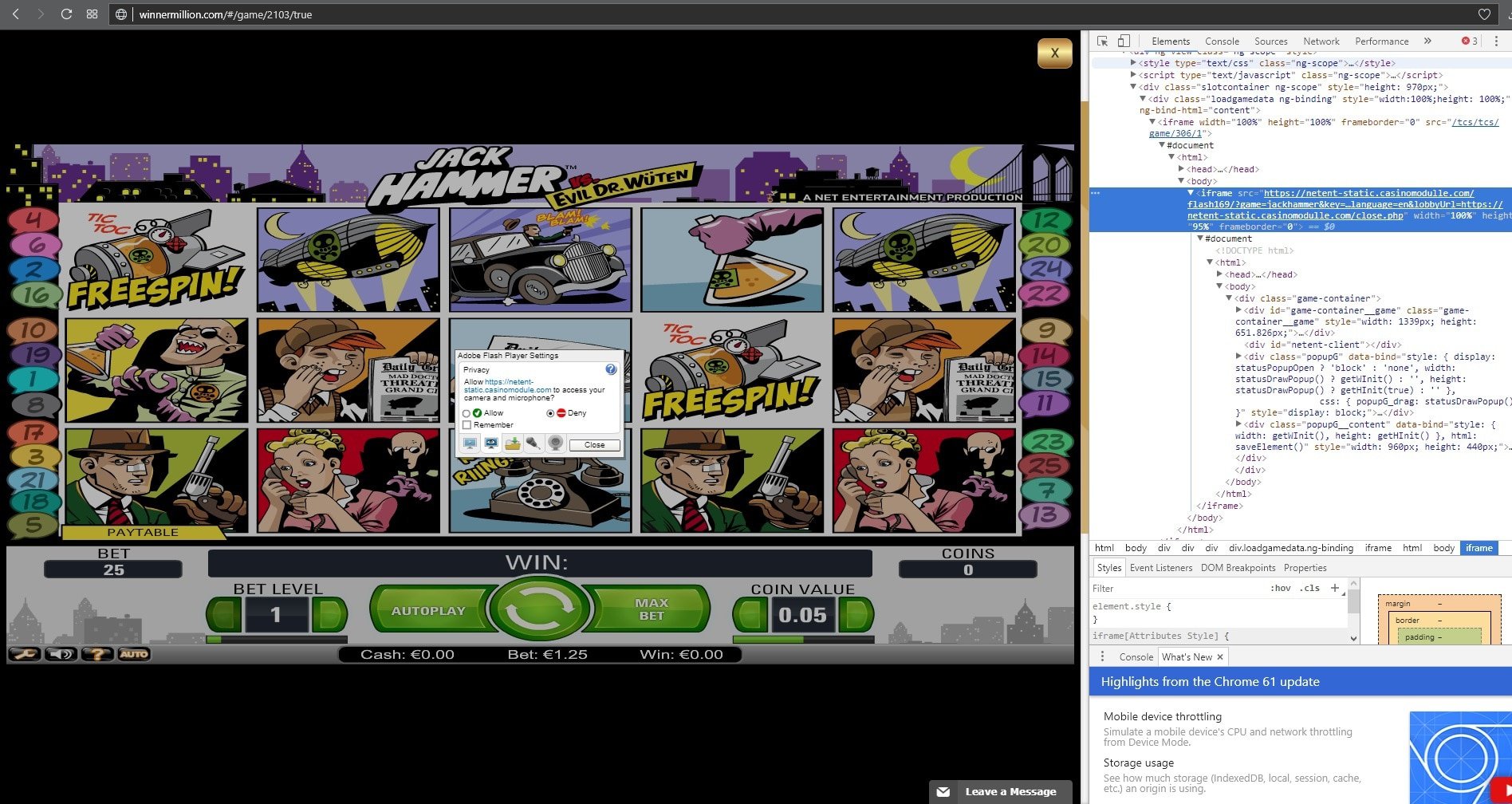 Predatory T&C
To make matters worse, the operator's terms and conditions are among the most nonsensical we have ever seen in all our years in this business. It seems the site doesn't even try to hide their predatory nature. In addition to being written by someone with a very poor grasp of the English language, the terms and conditions do not offer any withdrawal information or bonus rules, except to state outrageous restrictions on winnings from straight deposits. There are discrepancies and contradictions all throughout, leaving players in doubt over many aspects. We suggest you read them yourselves: seasoned players will have a good laugh; others, a valuable learning experience.
Off to the Warning List
Common in all sectors of the gaming industry, software piracy is a serious crime that seems all too easy to perpetrate. It affects both providers and players, at the same time undermining the economic stability of the market. While its consequences are never mild whichever branch it happens in, the problem is much worse this side of the fence. When gamblers are duped into wagering on fake products, it is always a losing game. At WinnerMillion, loss and disappointment seem inevitable. This is not a casino to take your chances with, and we urge you to avoid it at all costs.
Relevant links based on our report:
Warning! – Fake NetEnt Slots at WinnerMillion Casino
UPDATE:     11/18/2017 : We ( LCB ) have confirmed that WinnerMillion no longer offers pirated games.

UPDATE II: 11/28/2017 : Winner Million Casino Makes Good on a Bad Situation
"The term ''rogue'' seems almost too mild a word to describe the things we found in there."
Casino Warnings & Rogue Reports
Back to articles