Back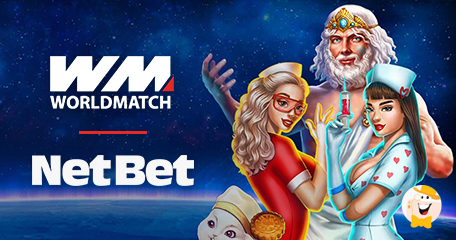 One of the leading players in the iGaming industry, WorldMatch, has decided to solidify its position in the highly competitive Italian market this July.
Thanks to the recently inked partnership with NetBet, this provider will launch a wide array of popular games on NetBet.it, bringing Italian players an extensive selection of thrilling online casino experiences.
Full Access to 200 Titles
The newly formed alliance between WorldMatch and NetBet will bring exciting prospects for avid gamers in the entire Italian gaming market. As part of this collaboration, NetBet customers will now have complete access to WorldMatch's vast gaming library, comprising over 200 titles.
The provider has grown quite a lot over the last two years and takes pride in its diverse content, which encompasses a wide range of themes, dynamics, and features.
Within WorldMatch's impressive repertoire, players will find beloved classics that have stood the test of time, such as BananaKing and Book of Pharaon. These perennial favorites never fail to captivate players with their engaging gameplay and generous rewards, but the gaming library now also boasts a premium collection of innovative novelties.
Apart from Jungle Olympics, which introduces a fresh concept and thrilling experience to players, the software supplier is also launching Shark Go, Pussycat's Valley, and DeepJelly.
The head of sales at WorldMatch, Xhuljana Demerxhiu, expressed enthusiasm regarding the partnership, stating:
"Through this deal, we further extend our presence in the Italian market with a trusted operator like NetBet."
She also said that the studio is well-prepared to provide top-class entertainment to NetBet players and is confident that they will enjoy many new upcoming titles.
A Huge Milestone for WorldMatch
This strategic collaboration between WorldMatch and NetBet marks a significant milestone for both companies. However, it also further solidifies WorldMatch's foothold in the Italian market, enhancing its visibility and reach among Italian players.
Simultaneously, NetBet will bolster its gaming portfolio by far and wide thanks to incorporating WorldMatch's exciting and diverse selection of titles.
Italian players who choose NetBet can anticipate an exceptional gaming journey filled with immersive gameplay, stunning graphics, and thrilling features.
With access to WorldMatch's extensive library, players can indulge in an assortment of gaming options tailored to their preferences. Whether they are seeking the nostalgia of classic favorites or the excitement of cutting-edge novelties, NetBet has something to cater to every player's desires.
As the collaboration between WorldMatch and NetBet unfolds, players can look forward to thrilling surprises like Unicorn Café, HENjoy, Olympus Reels, Goblin's Tavern, Fruit Punch, and an ever-evolving gaming landscape that's coming up in the weeks ahead of us.
Source:
"Partnership with NetBet", worldmatch.eu, July 5th, 2023.
"NetBet customers will now have complete access to WorldMatch's vast gaming library"
General Gambling News
Back to articles