Back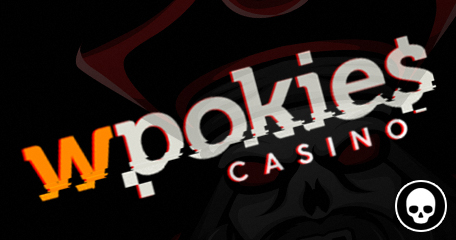 As our industry keeps growing, numerous markets enjoy in well-regulated iGaming ecosystems. Majority of casinos tend to offer a balanced mix of chances for skillful players' choices, the overall fairness of games, various banking options, and good customer service further compounded by patrons' protection and responsible approach to operations.
Supported by affiliates and governed by national regulators, online gambling environment keeps thriving — including facing inevitable challenges in a transparent manner — under the fecund conditions of sweeping and demanding worldwide legalization efforts in the last couple of years.
Sadly…
Every once in a while we meet with the casino which tends to distort such picture and use it for own benefits.
Staying true to LCB determination to proactively address this issue, whenever we notice verifiable suspicious behavior we report it to the global iGaming community.
This time, we follow up on our official warning issued on July 25, 2019, and elaborate on WPokies Casino.
Deployed under the usual rules of LCB's research engagement since the initial post at our forum appeared…
Our multifaceted team unearthed several interesting, if not questionable details, and one quite serious: fake games spotted in WPokies offerings.
Porous Foundations…
Targeting mainly Australian slots' players — which explains the brand name — this casino is, according to their website, a fresh addition offering "the absolute best online pokies and many other exciting casino games."
Marketed as "the best online casino in Australia," and governed by the primary goal to "aim for the players' choice and provide a safe and secure gaming environment," WPokies is "licensed and regulated with registered address [street and number]."
Looking forward to learning more, we checked the whole site and realized there is no data about online gambling license. Terms and Conditions state "WPokies casino is licensed and authorized." Our general online review of other internet sources pointed toward Curaçao license.
When we inquired about WPokies at the official and automated license validator of CIGA (Curaçao Internet Gaming Association), we were informed about the invalid operating status.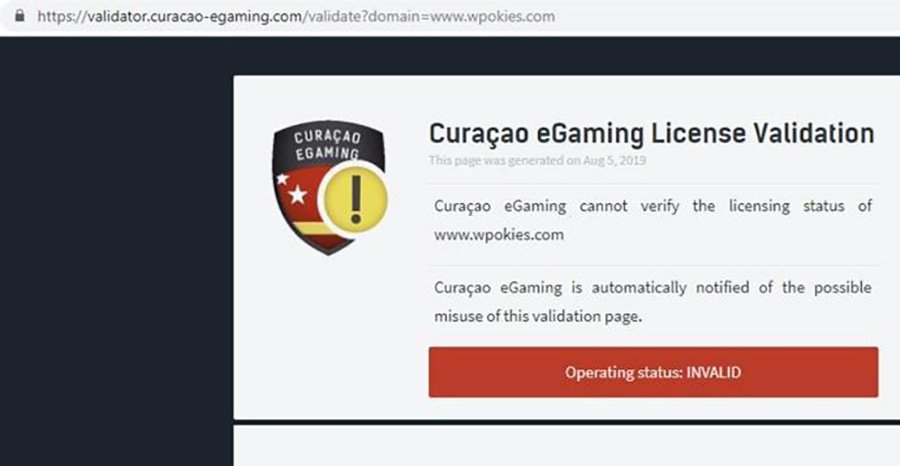 At the CIGA website, such status is set when "the operator is either not licensed by Curacao eGaming, or operation has been suspended due to non-compliance."
Online sift through CIGA notices of suspension resulted in zero feedback.
Short of apparently invisible license from Curaçao jurisdiction…
Content on other pages of WPokies website offers data worthy of issuing a public warning.
For starters, Terms and Conditions (T&C) — the usual cornerstone of any online hub — are rampant with a noticeable lack of any liability of WPokies. The use of the casino, including any foreseeable and unforeseeable consequences, is the sole responsibility of the player who indemnifies, defend and hold casino "harmless from and against any and all costs, expenses, liabilities and damages."
Now, some online casinos have such clauses but recompense in other areas of operations. Without such a sense of balance in place, though, and compounded with further questionable practices — restrictive T&C tend to stick out.
For instance, articles 3.2 and 3.3 of T&C state: "In addition to these Terms and Conditions, the Company reserves the right to institute certain rules of play which shall also apply to you and be binding upon you with respect to your participation at a Casino. You hereby agree to be bound by such additional rules of play, as if they were specifically incorporated into these Terms and Conditions. We reserve the right to limit or refuse any bet, stake or wager made by you or through your account for any reason."
…and Dubious Practices
These opaque conditions — anything and everything can be fitted under such a curtain, whenever and wherever necessary — cannot be experienced by players from the US or the UK, among other countries not accepted by this online casino (Israel, South Africa, Italy, Denmark, France, Spain, Bulgaria, Belgium, and Singapore).
Yet again, WPokies does not block IP addresses of residents in these countries whereas other, random selected states are precluded from accessing the casino's content.
Finally, in terms of general info, according to who.is, WPokies is registered in Scotland, UK (which corresponds with public address on their website) on October 26, 2017; details about ownership are protected.
While these foundations may be qualified as questionable, whenever casino compensate them with tested games (in terms of RNG and RPG) coming from reputable providers and run on proper servers — not to mention high-end business and clients' service — players are sometimes prone to give casino a try, expecting a quality time at least to the certain extent.
As it turns out, efforts by LCB engineers and games' Content Managers concluded WPokies does not fit such bill at all!
Games from six trustworthy providers, listed at WPokies offerings, are being hosted at fake servers.
To substantiate, they are:
Aristocrat: at casinomodules.co
NetEnt: at casinomodules.co
Novomatic: at grandx.pro
Playtech: at casinomodules.co
Amatic: at grandx.pro
IGT: at gamesapi.net
All of these sources are well-known and already confirmed fake servers. Snapshots from the three most prominent (Aristocrat, NetEnt, Novomatic) tells the rest of the story.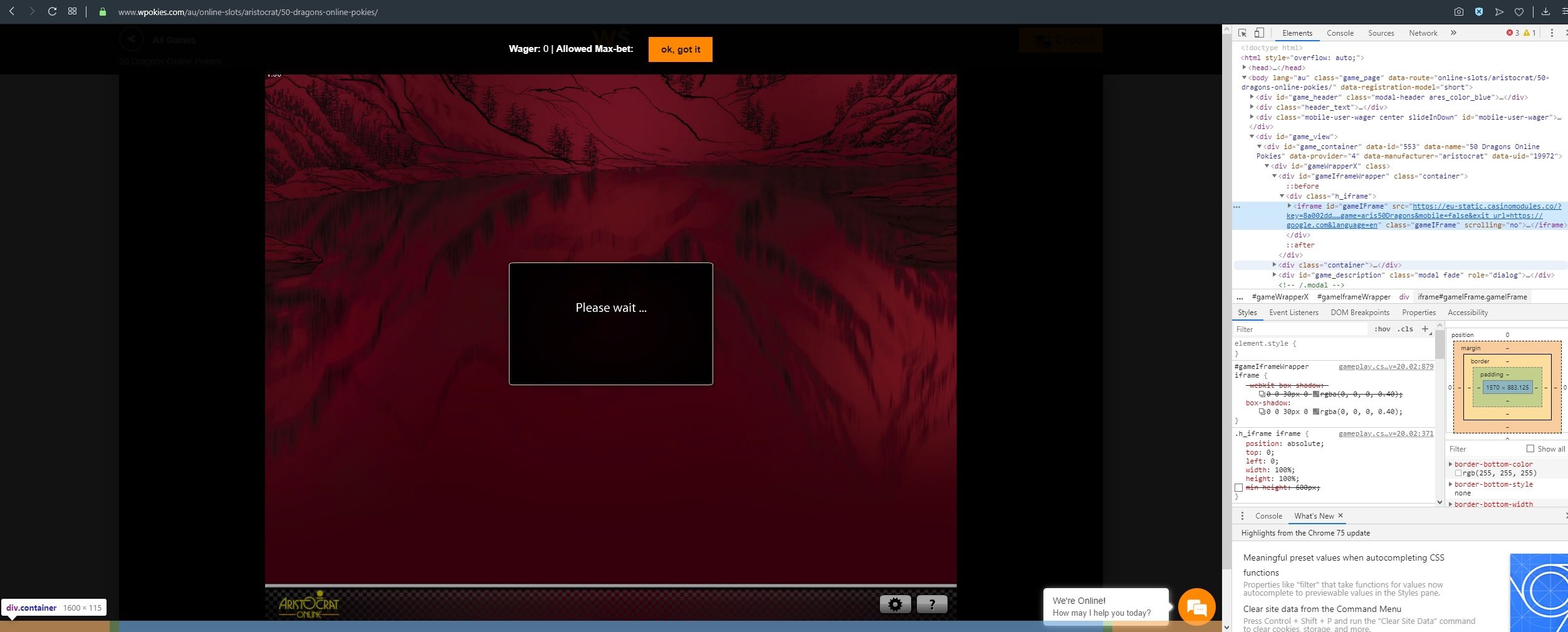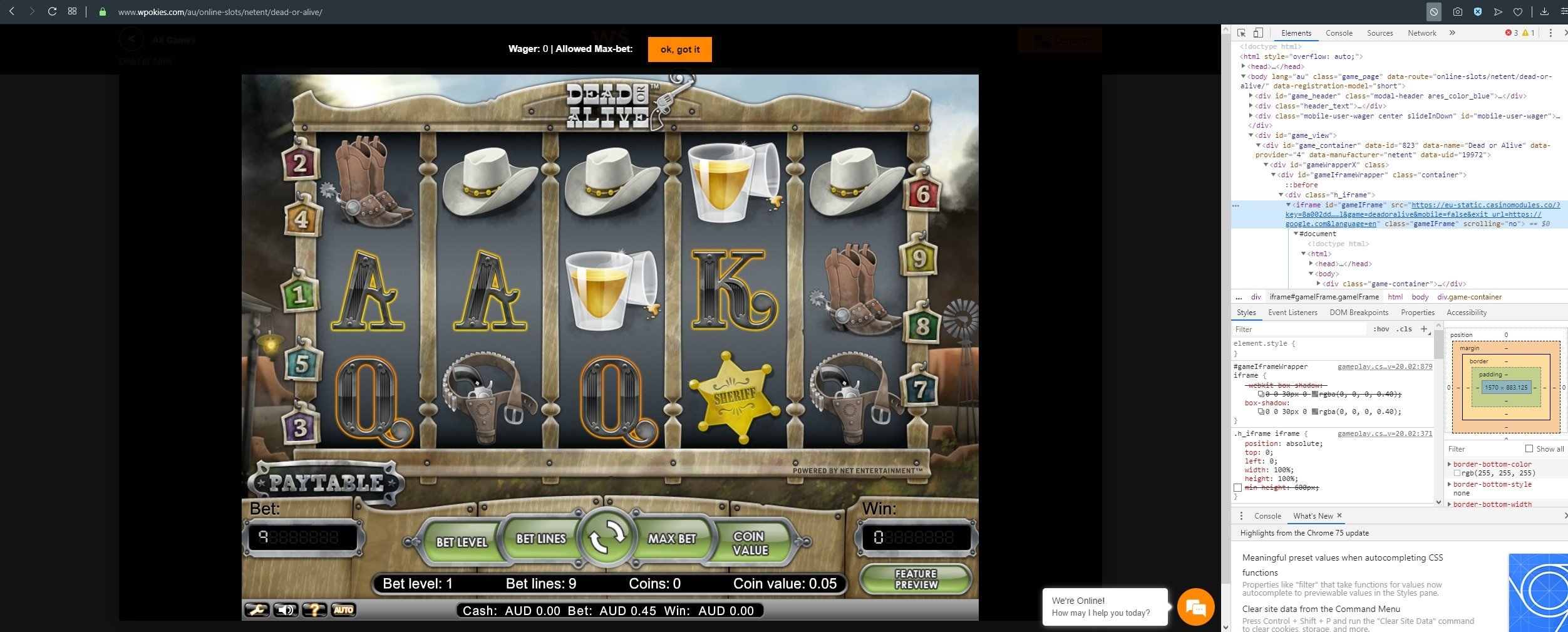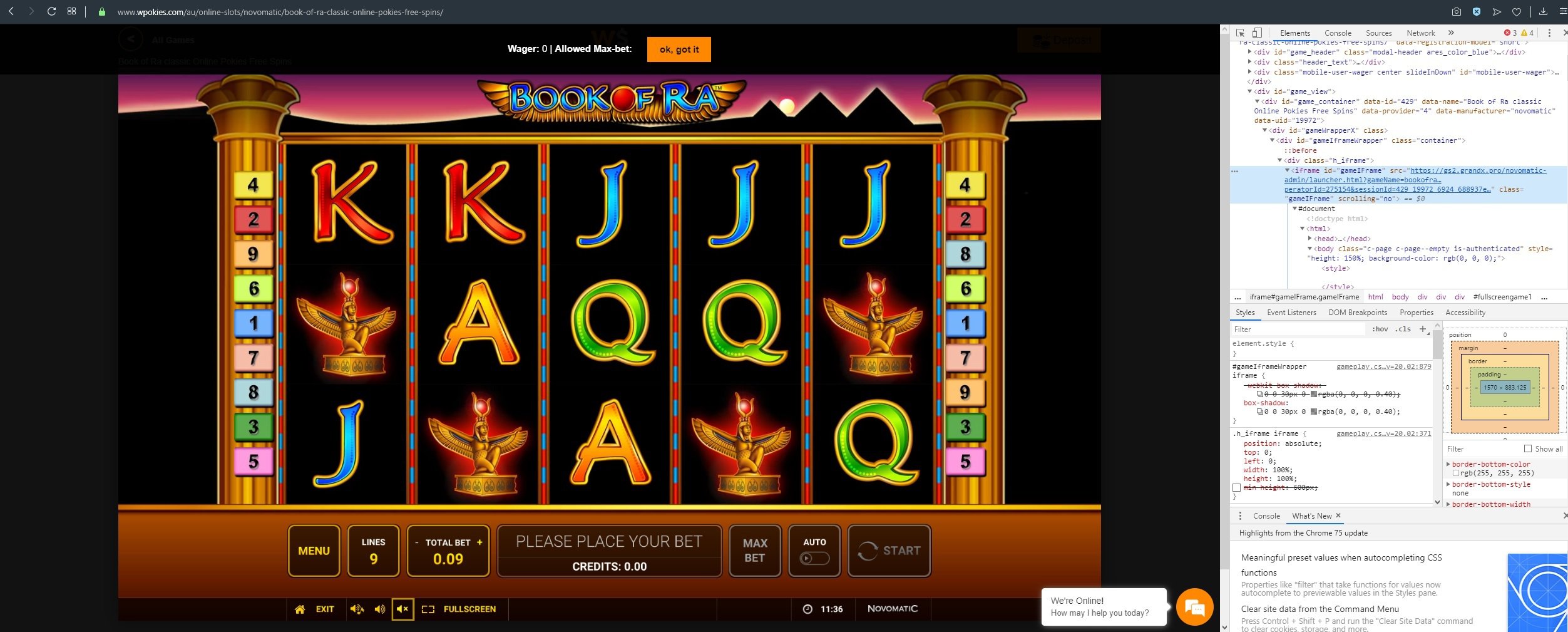 Final Words
The situation we encountered at WPokies, both in terms of general conditions for online gambling, as well as fake games, is yet another testimonial to the depth of players' awareness and responsibility required to play safely.
There are no less important details here.
Question of jurisdiction is in direct correlation with potential legal support patrons can expect to receive in case of any grievances. Only a trusted and respected regulatory authorities provide for such conditions when necessary.
Terms and Conditions are supreme interpretation document governing relations between casinos and players. To not study them extensively is the equivalent of trying to run across the high-speed highway without looking left or right; no one does that.
To be knowledgeable and responsible enough to distinguish between original and fake games, unfortunately, nowadays comes with the territory of prudent online gamblers. Accepting that games can be fake in the first place will already get you halfway there; the rest is in your diligent research, education, and evaluation of personal experiences coming from reputable online communities.
All other information at any online casino is a reflection of Terms and Conditions, online jurisdiction, and software quality assurance. To evaluate promotions and bonuses, wagering requirements, deposits and withdrawals, banking options, or customer support without a proper introduction to these triplets should be avoided at any cost.
Of course…
Looking for the best possible outcome always, we hope fake games infractions found at WPokies will be addressed swiftly by the ownership group. To correct them is paramount for players' experience and sustainable overall business growth of casino.
But until then, our findings are enough to label WPokies the rogue casino and warn worldwide players to be aware.
Meanwhile, we will remain on alert looking for similar cases. Since our success in such a quest is not possible without players' support, we are once more grateful to members of the LCB community. As we exercise the privilege to be part of such a group…
We're standing by in readiness to sustain the balance of well-regulated online gambling industry.
Relevant articles based on our report:

WPokies Casino Caught Faking License, Using Bootleg Games - by CasinoListings.com, 8 August 2019
"our official warning issued on July 25, 2019"
Casino Warnings & Rogue Reports
Back to articles