Back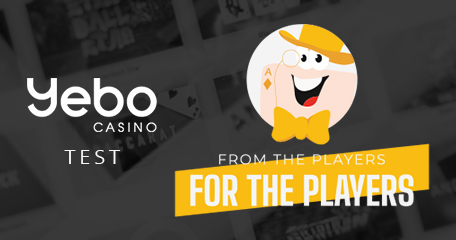 February has been quite a busy month for the LCB team, and it brought us tons of valuable insights from multiple online casinos. Wanting to give more first-hand insights and see how fast one more crypto-friendly establishment processes BTC payments, the newly joined tester ventured into Yebo Casino.
Mainly focused on iGaming markets of Africa, this non-US friendly operator is among the top choices for players from SA. Just like with all the previous reviews done as a part of our all-encompassing project "From the Players, for the Players", the tester was tasked to go through the entire procedure. As always, the special accent was put on withdrawal processing, one of the most widely discussed fields of iGaming entertainment sector.
These are the key moments of the investigation:
Tester of the day: BralasLT
Registration date: February 10, 2022
Deposit made on February 10, 2022, EUR 190 via Bitcoin
KYC documents submitted on February 10, and February 12, 2022
Account verified on February 15, 2022
Withdrawal request made on February 15, 2022, 4,401.42 ZAR via BankWire
Withdrawal approved and received on February 21, 2022, 0.00728074 BTC / EUR 250.55
On February 25th, tester's account was banned due to Lithuania, the country he registered and played from, is restricted at the casino
As far as these highlights hint, it took a while for the casino to approve the tester's documents. Also, the withdrawal was processed via a different method than the one he initially selected.
What went wrong during his investigation? Stay tuned and check out our insightful Yebo Casino test report!
Yebo Casino Overview
Yebo Casino belongs to betting venues that cooperate with Realtime Gaming- it's the only content provider featured in their lobby. Aside from slots, this Bitcoin-friendly casino operator offers a fine selection of Blackjack, Roulette, Keno, Craps, and video poker games, along with lottery.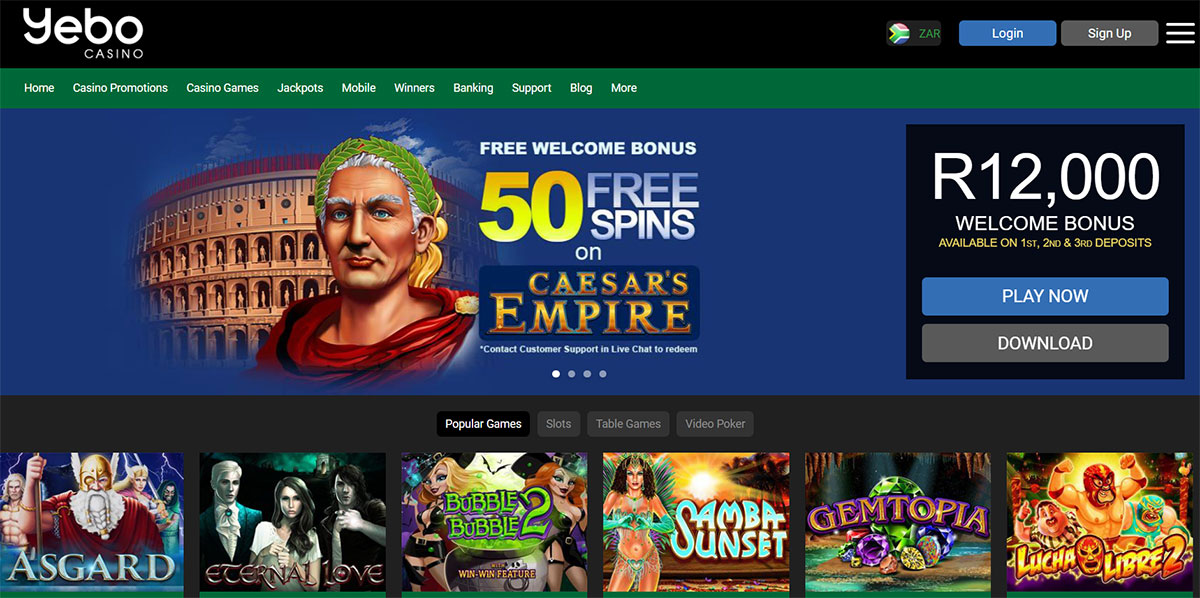 In addition to this, it has a well-equipped corner with promotional campaigns as well as a sophisticated Loyalty scheme. If you happen to be familiar with South African exclamations, then you probably know the meaning of its unusual name - it is used to show agreement or approval.
Registration
On February 10, 2022, our tester visited Yebo Casino aiming to create an account. To become a member of this betting platform, he had to complete a simple form and supply some basic info about himself.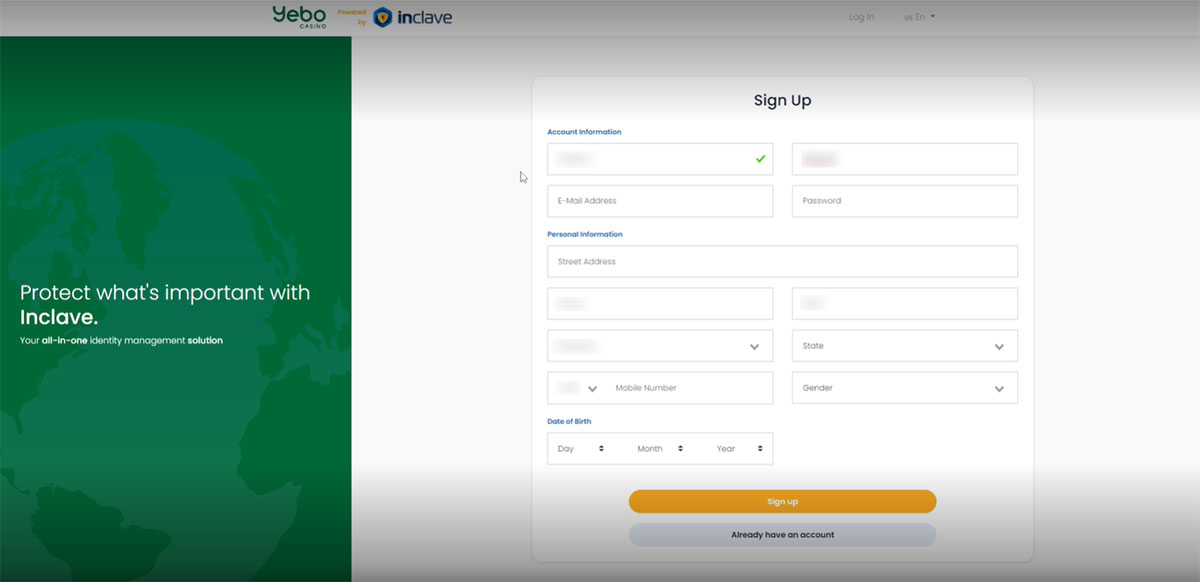 As soon as he completed it, he received a notification that required him to verify his e-mail address. He completed this step by entering a confirmation code supplied via mail. It's important to add that the code provided in the e-mail is valid for an hour.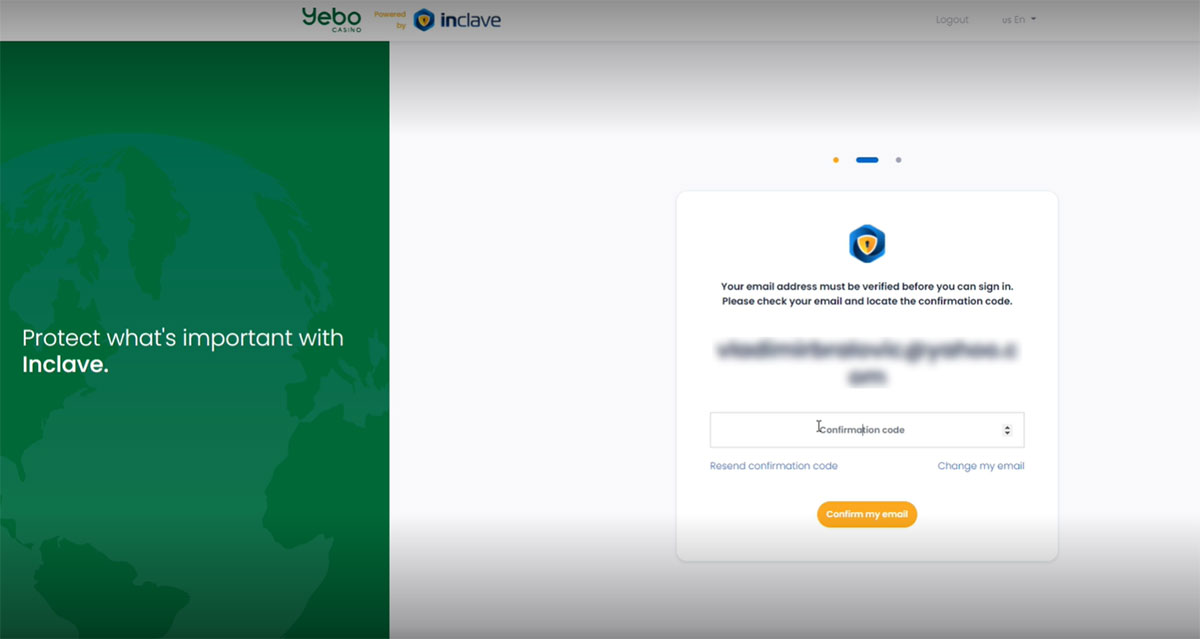 Having completed this step, he instantly received another notification that stated that he had to verify his phone number as well. Just like with e-mail, a 6-digit code was sent to the number he typed in during registration.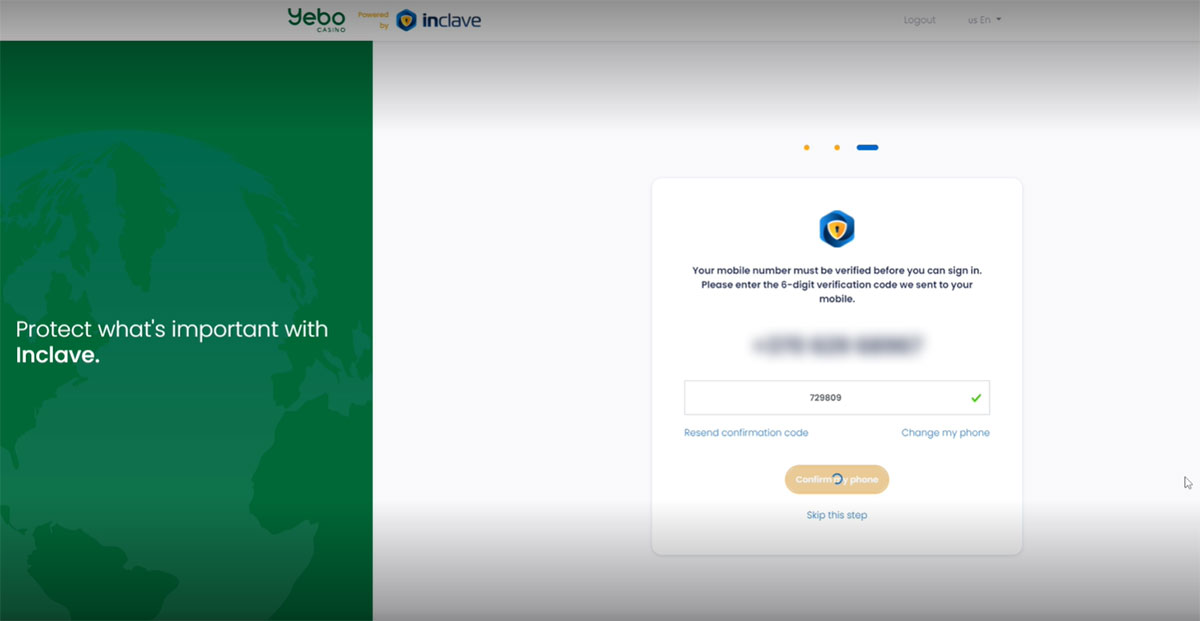 After a couple of seconds, the process was finalized, and the tester was navigated to the casino page. All there was left to do is confirm the e-mail address via e-mail sent from the casino.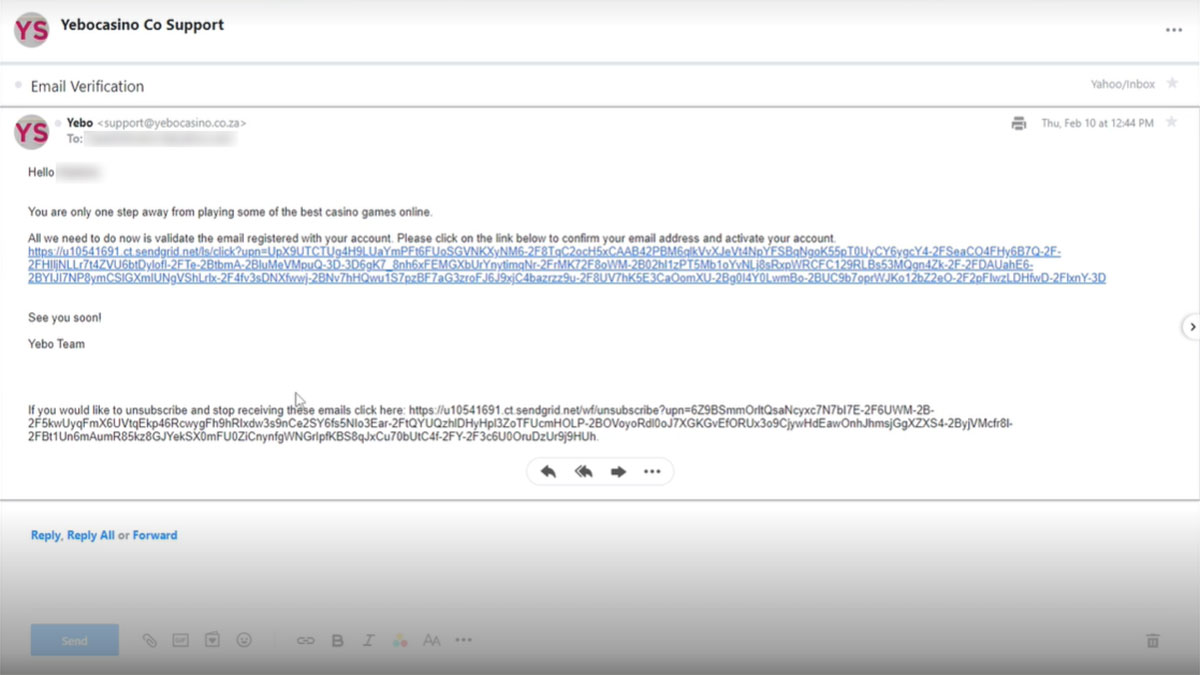 To eliminate the confusion, the above-mentioned mail and phone registration were required on behalf of Inclave, which is incorporated on the Yebo casino's official website. This is an identity management solution that ensures a higher level of password and data protection.
During communication with live chat support, the tester inquired about the available banking options and WRs on clean deposits. As far as the agent noted, there are no playthrough requirements attached to such deposits.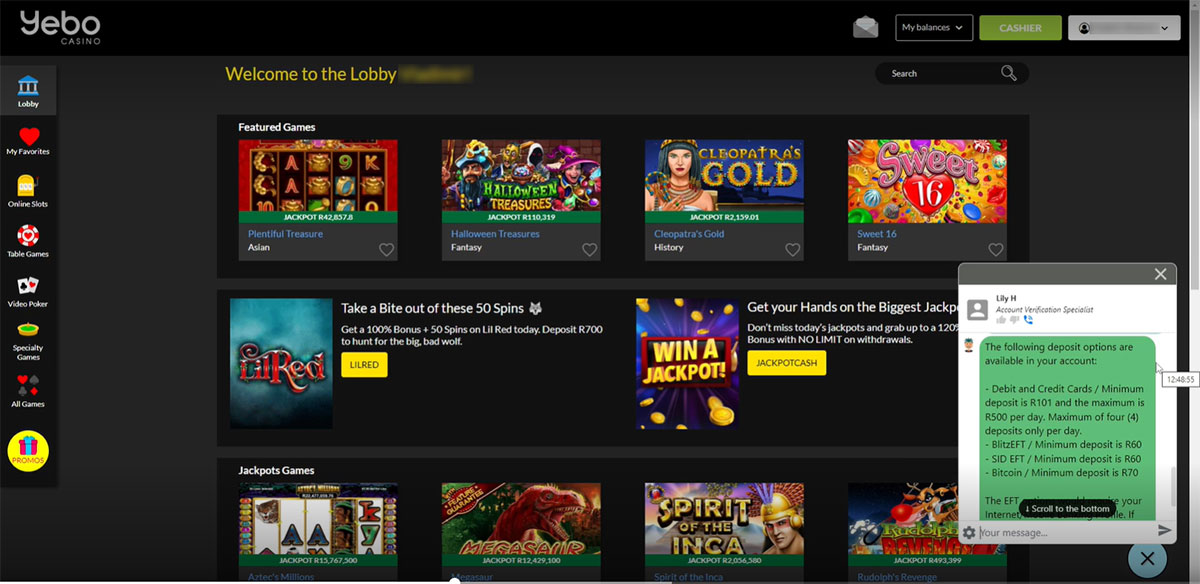 Also, the tester was informed that he would be able to cash out his winnings via Bitcoin. He also wanted to check if there would be any problems if his deposit and withdrawal method are not the same. The support moderator said he would be able to cash out via cards or BTC.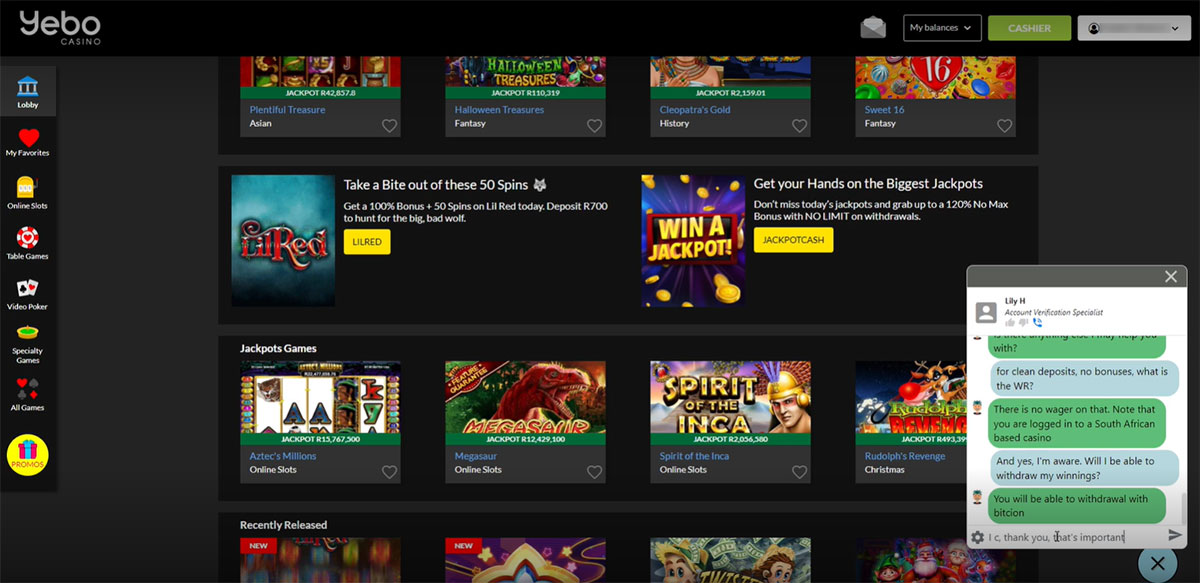 There's one rule registered players should be aware of:
"Casino accounts which are inactive for more than 180 days will result in any remaining balances in the account being sent back to the casino by default."
Deposit
After becoming a member of this South Africa-faced online casino, the tester headed to the cashier to fund the account. He wanted to replenish the account using Bitcoin on the same day, February 10, 2022. When accessing this option, the cashier notified him to make sure his deposit is more than $30.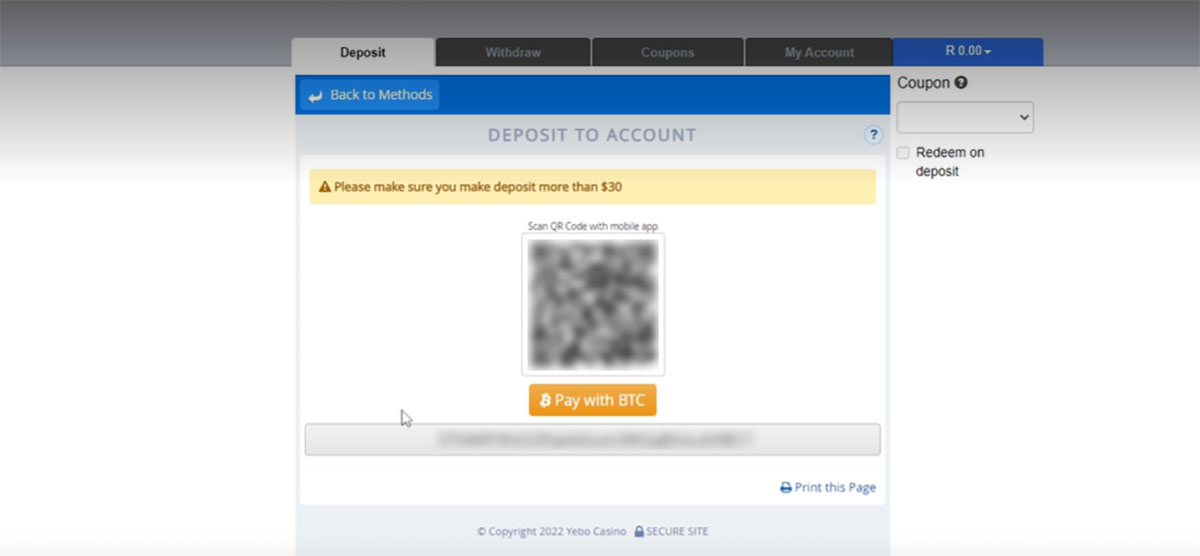 He visited the Coinbase page and entered EUR 190. Altogether with a network fee of 0.00000521BTC, the tester was charged EUR 190.20. Expressed in cryptocurrency of his choice, the amount was 0.00494659 BTC.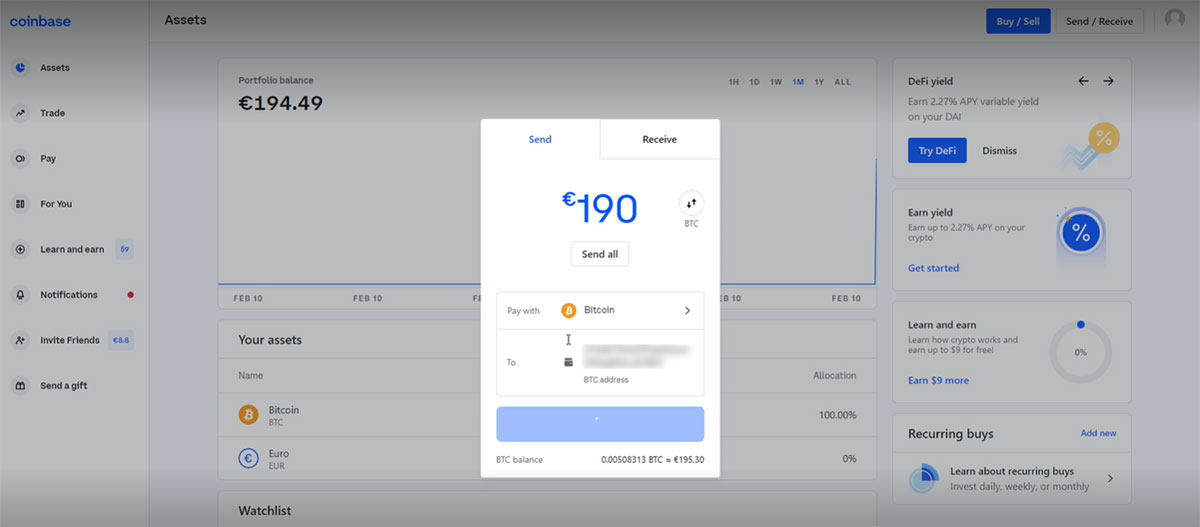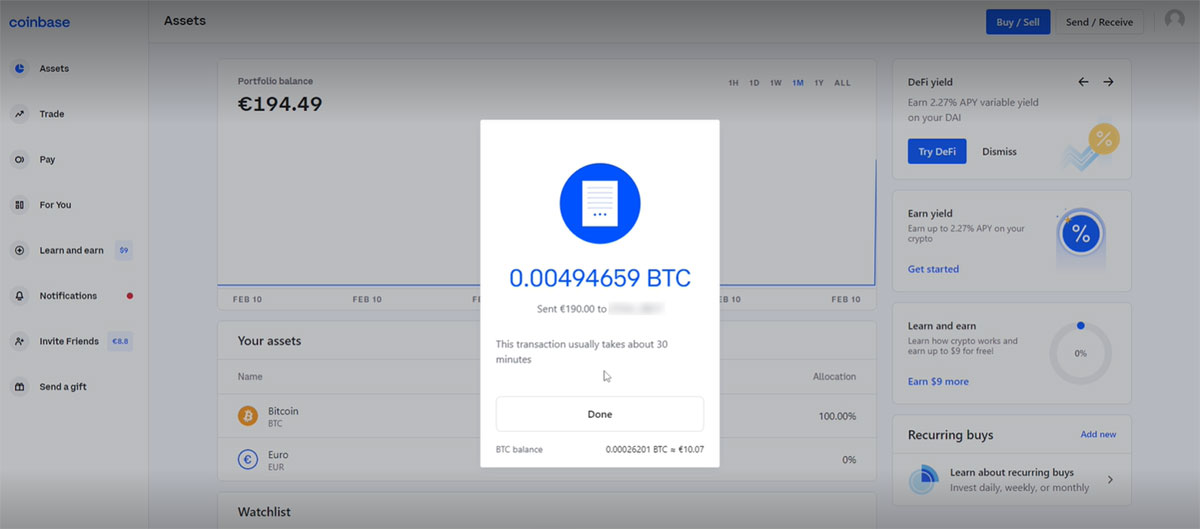 To confirm his intention to deposit, he had to enter a 2-step verification code sent to his phone. Approximately a minute later, the cashier displayed that his account was replenished with R 3,611.30. The e-mail arrived about half an hour later.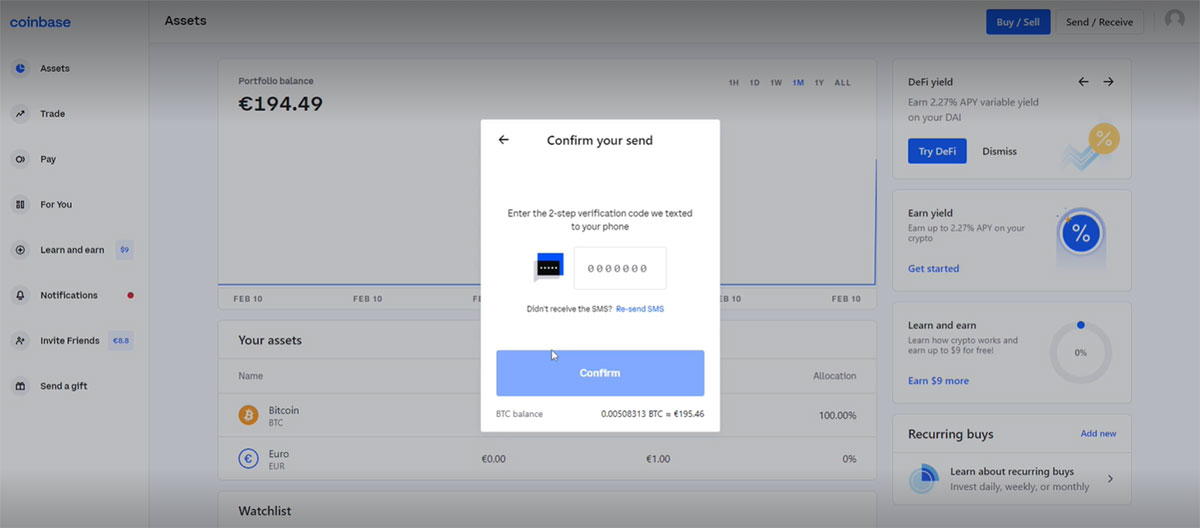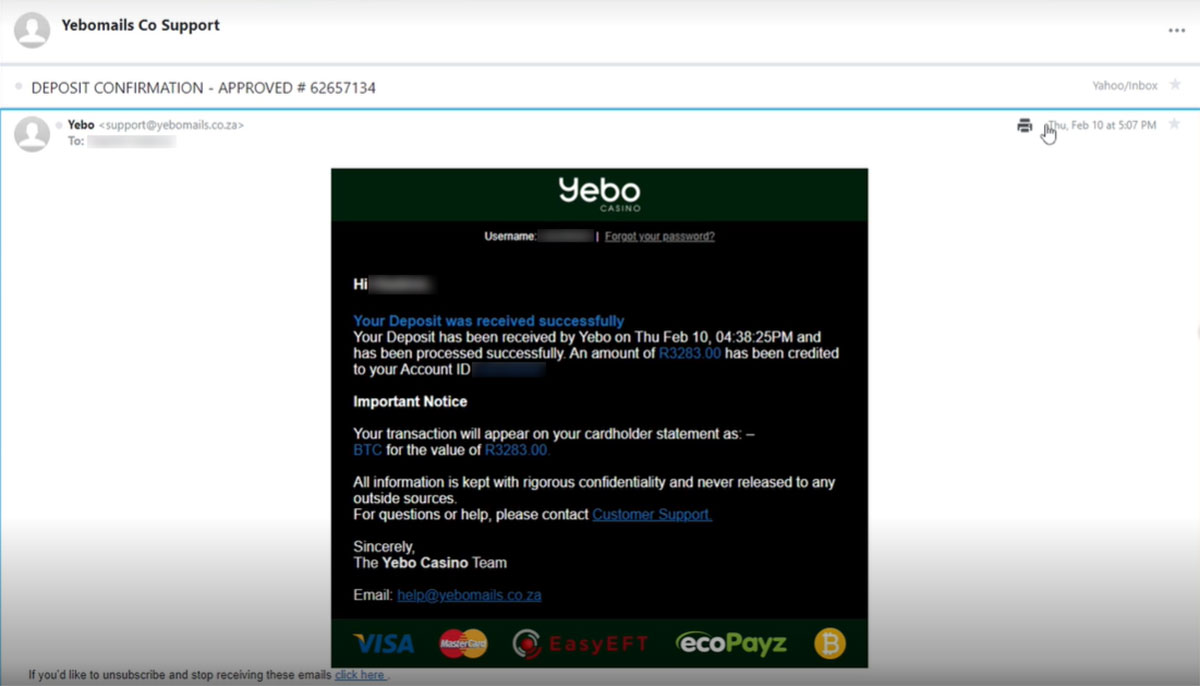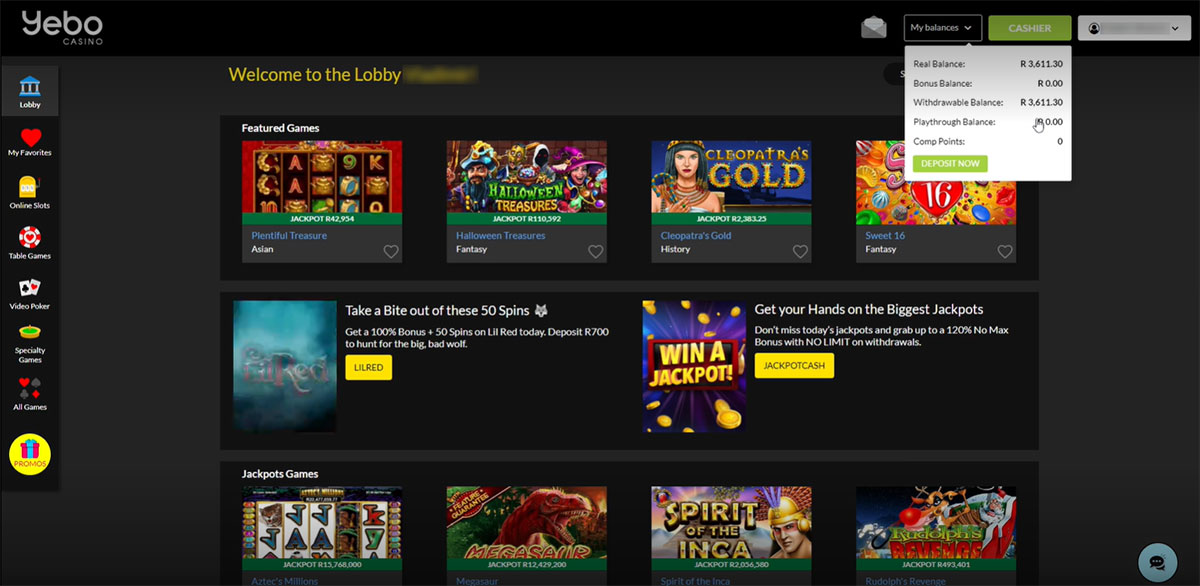 Having in mind that this venue's primary focus is the SA market, it doesn't come as a surprise that amounts are expressed in Rands. When it comes to available deposit methods, the options include Bank Transfer, Bitcoin, Litecoin, ecoPayz, Skrill, Neteller, VISA, EFT, and Mastercard. The available currencies include BTC, LTC and ZAR. The minimum amount to deposit is R 25 (ecoPayz/Skrill)/ R50 (Bitcoin)/ R150 (Credit Cards).
Gameplay
After successful registration and deposit, the tester paid a visit to the operator's lobby to explore some of the games. Having in mind that the casino is powered by a single studio only, the selection is somewhat limited but still decent.
His first choice was Lil Red, where he had a couple of noteworthy wins, one of R 661.50 (approx. EUR 38), the other of 1,219.00 (approx. EUR 71), both during extra spins.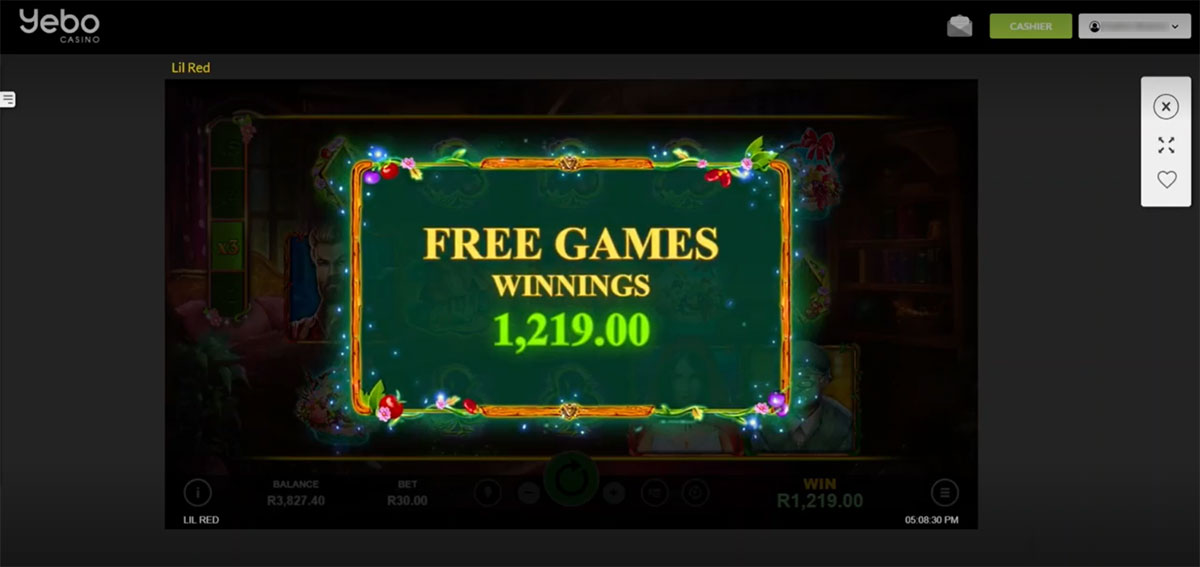 Following this, he launched Twister Wilds and then ventured into Nova 7s, where he had a Super Big Win of R 420.75 (approx. EUR 24). After that, he explored Frog Fortunes and Hyper Wins.
Later on, he launched Legend of Helios and triggered the Bonus Wheel on the first spin. The tester continued playing this game for a while and then switched to IC Wins, during which nothing particularly interesting happened.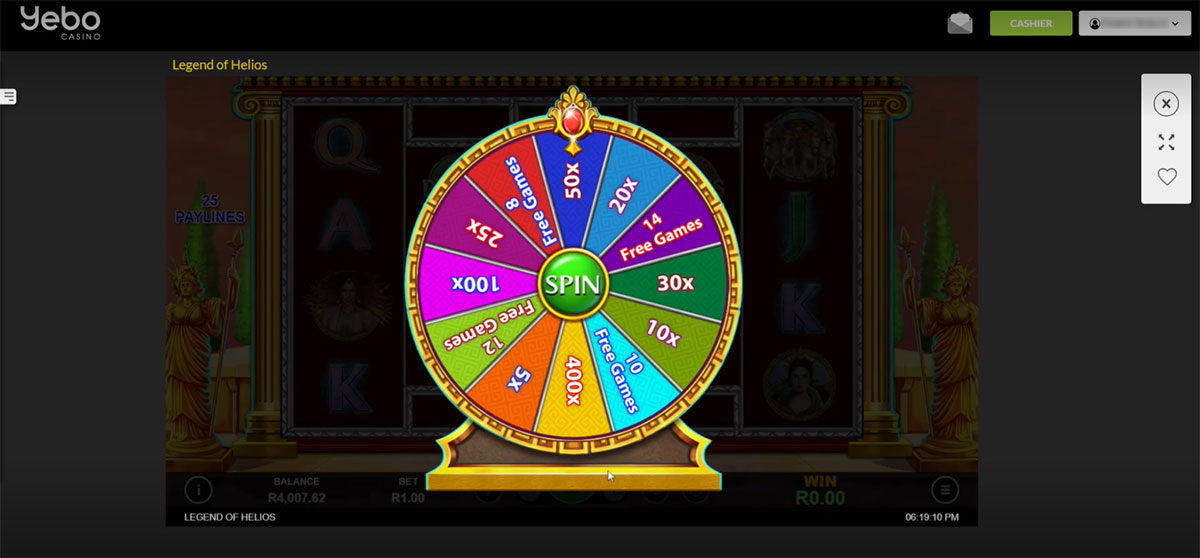 On February 12, 2022, he checked out Lil Red again. He had a win of R 330.50 (approx. EUR 19), after triggering a set of extra spins.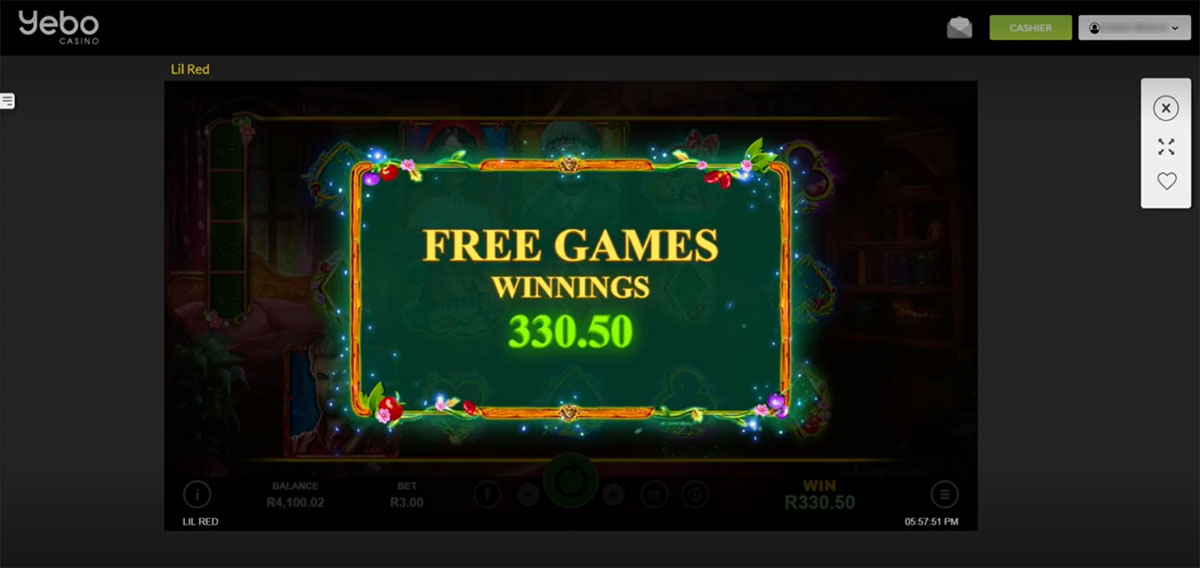 KYC Procedure and Communication with Support Department
Having explored multiple games, the tester wanted to request a withdrawal on the same day, February 10, 2022. However, when accessing the cashier, he saw a message that his account needs to be verified in order to proceed.

He clicked on the "Account Verification Form", however, this option was only for those who want to cash out via debit/credit card, which was not our tester's intention.
Worth noting is that when he checked the cashier on that very day, he spotted some bonuses credited to his balance with status "requested" and "approved". Our tester never attempted to claim any bonuses, neither was he eligible for any bonuses, as he was well acquainted with the bonus terms. He also never activated and used these credited funds.

When communicating with a support representative during registration, the tester was informed that he would be able to cash out via cards or BTC. For that reason, he turned to a live chat support agent to see which steps to take.
The agent informed him of the necessary documents for the KYC procedure. Those included a copy of the ID, proof of residence with a name and address along with a copy of both sides of the card used for deposit, and a completed "Card Authorization Agreement" available on the website.
After informing the agent that he was told by another live chat support rep that BTC withdrawal would be possible, the agent told him to wait a bit. A few minutes went by, after which the tester received instructions. As per the newest info, the tester was required to submit a government-issued ID with a picture and a photo of himself with that ID and the local newspaper of that day.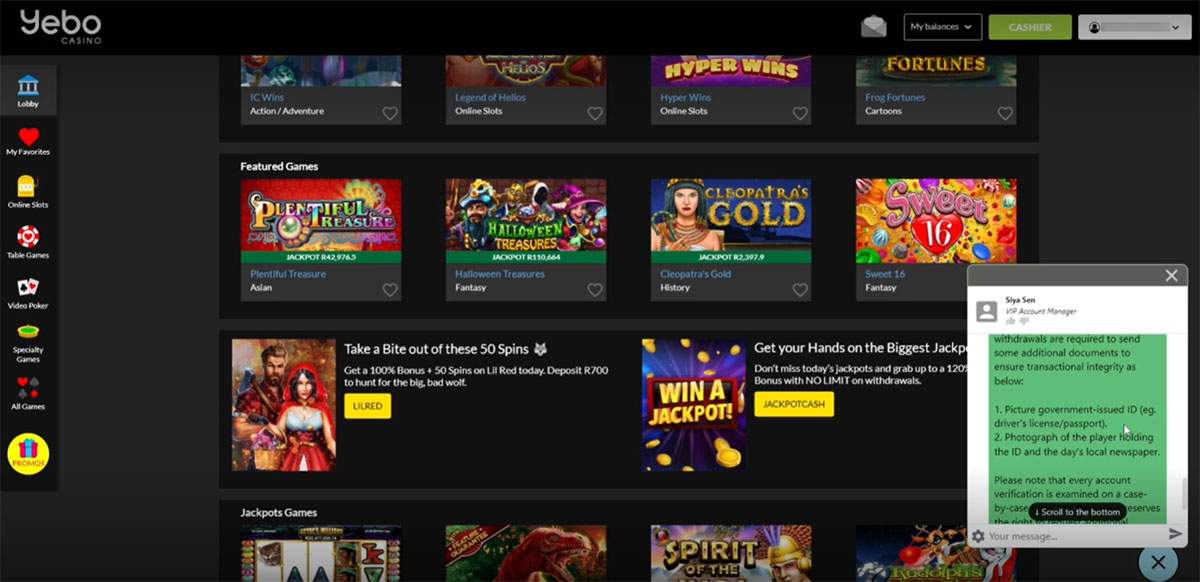 Those documents have to be sent via e-mail he received in chat, so if the verification is successful, the tester would be able to withdraw using Bitcoin. He followed the instructions and sent the requested documents on the same day February 10, 2022.

A day later, on February 11, 2022, he reached out to customer support to check the status of his request. He was informed that the documents are verified within 48 hours.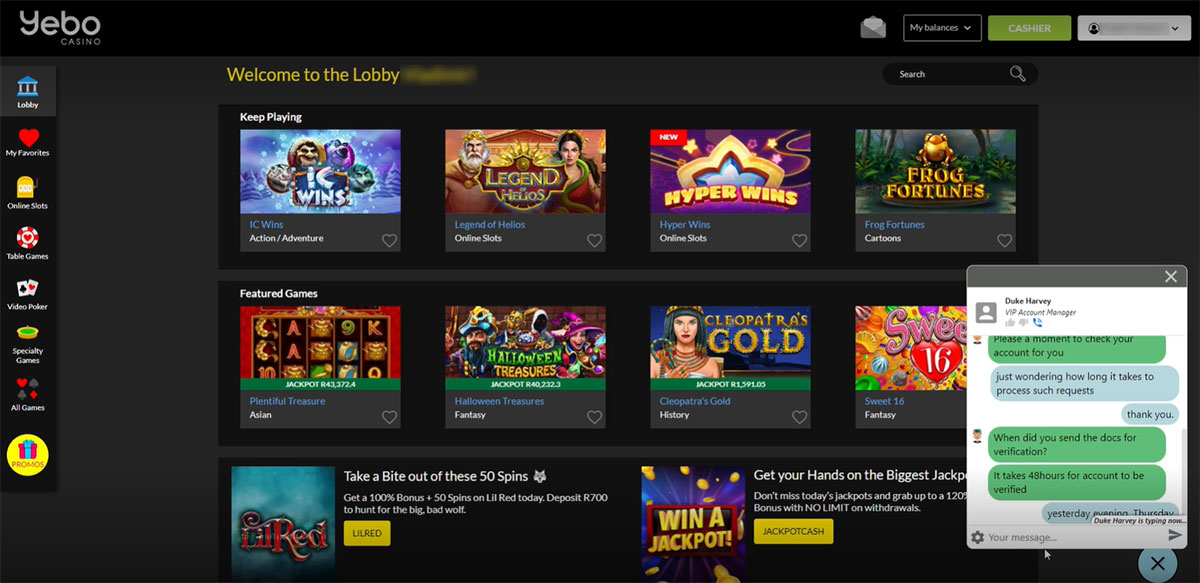 The very next day, February 12, 2022, an e-mail arrived asking the tester to supply additional docs- bank statement, electricity bill, water, or a tax notice, with a name corresponding to the one submitted during registration. Whichever option, it's important that it's not older than 90 days. He selected a telephone bill and sent it in response to that mail.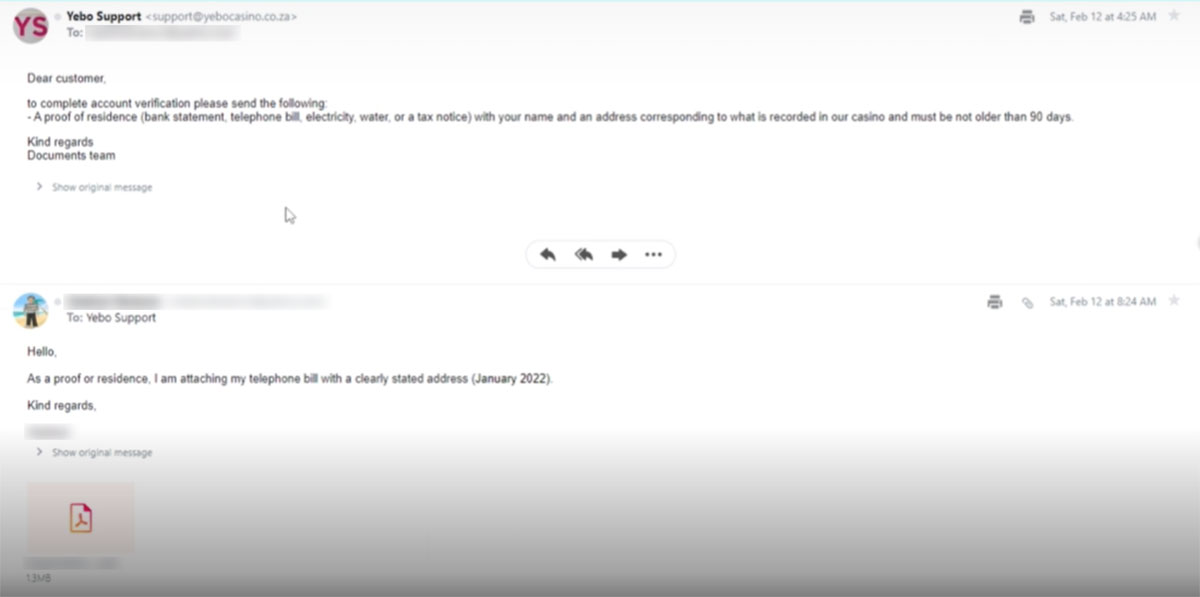 Two more days went by without any confirmation, so the tester got in touch with the live chat department once again on February 14, 2022. He was told that they (the casino) don't work on weekends, which is a bit strange, as the request for additional documents was sent on Saturday morning (February 12, 2022). As noted, the verification is expected to be finalized that very day.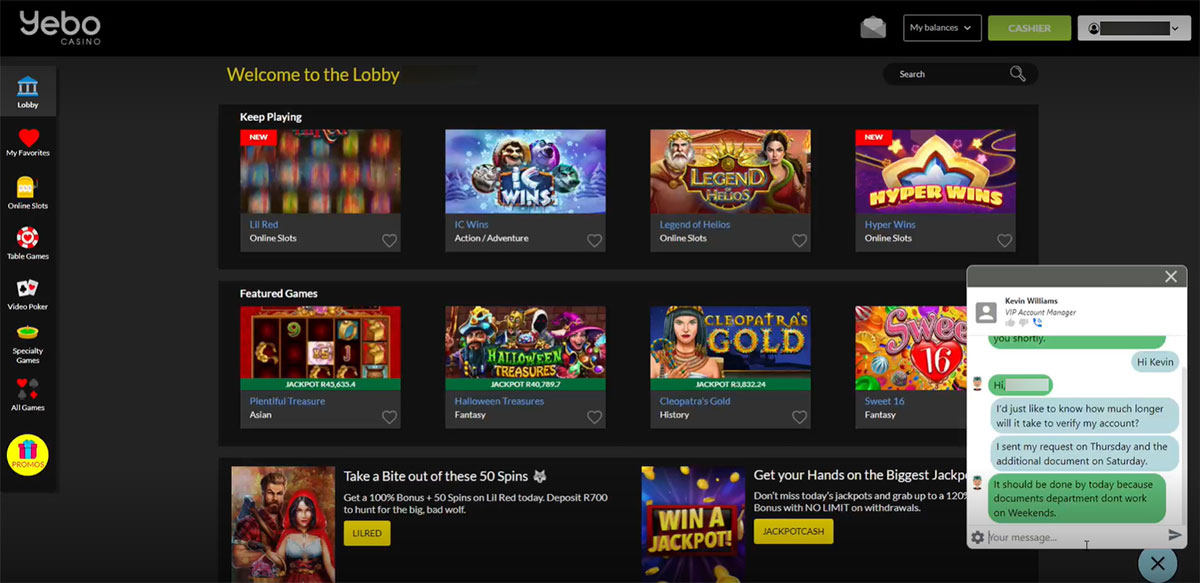 On February 15, 2022, the tester received an e-mail, which informed him that the account is validated, making him eligible to request a withdrawal. However, the very same mail indicated that the casino is available to players from South Africa, Lesotho, Namibia, Angola, and Swaziland, so after withdrawal completion, his account would be banned!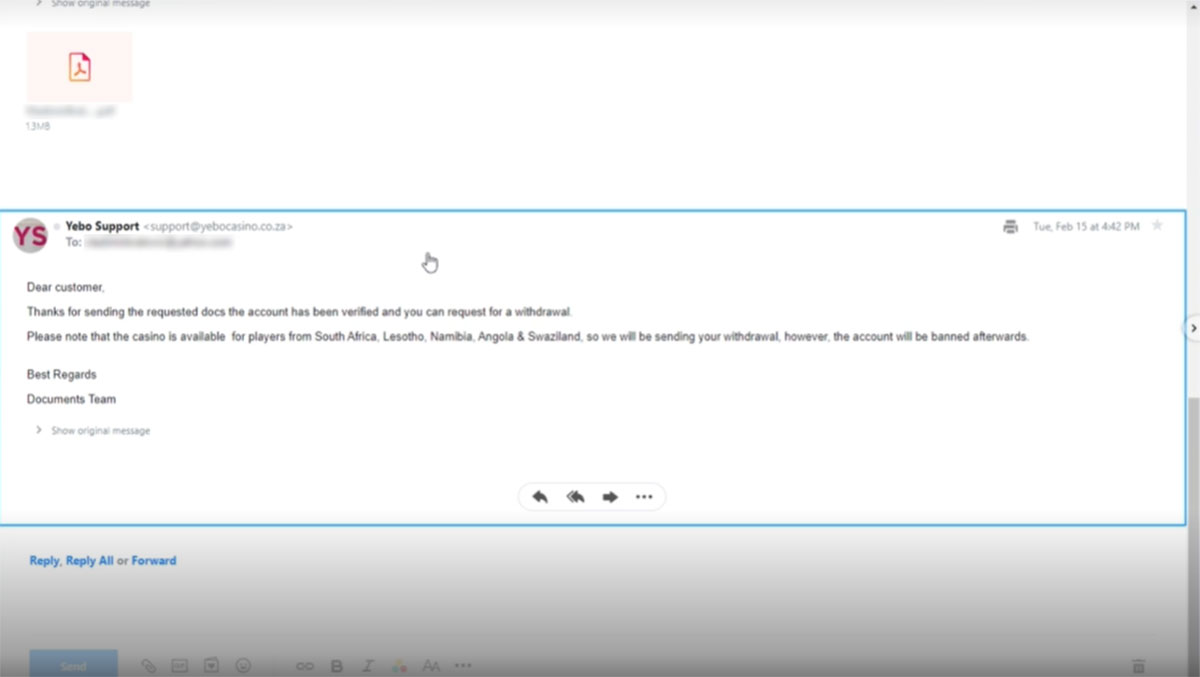 As per Terms:
"4.9) Under law, Yebo Casino is rightfully able to terminate the Player's membership or account at any given time. The Casino is not required to give any notice in advance of cancellation."
The next day, on February 16, 2022, he contacted the live support department to find out more on the matter. As the tester noted, it was unclear how he could register, deposit and play, and then have the account banned following withdrawal completion. On top of that, his documents were verified successfully.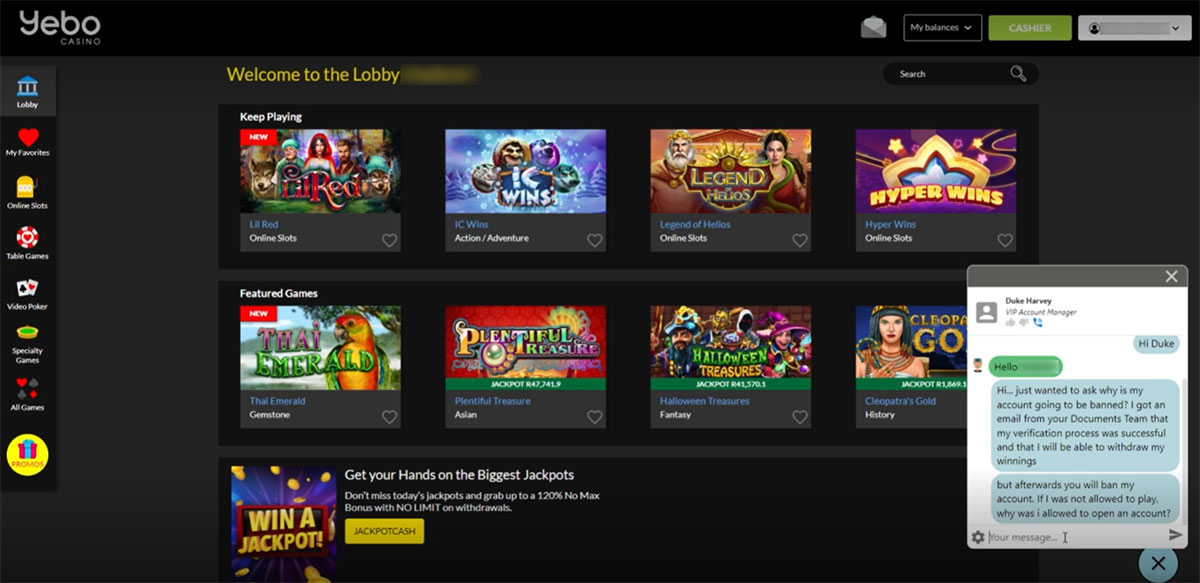 According to the agent, the reason could be "many accounts" opened in this venue, which wasn't the case with our tester, who became a member of this platform for the first time for the purpose of this test.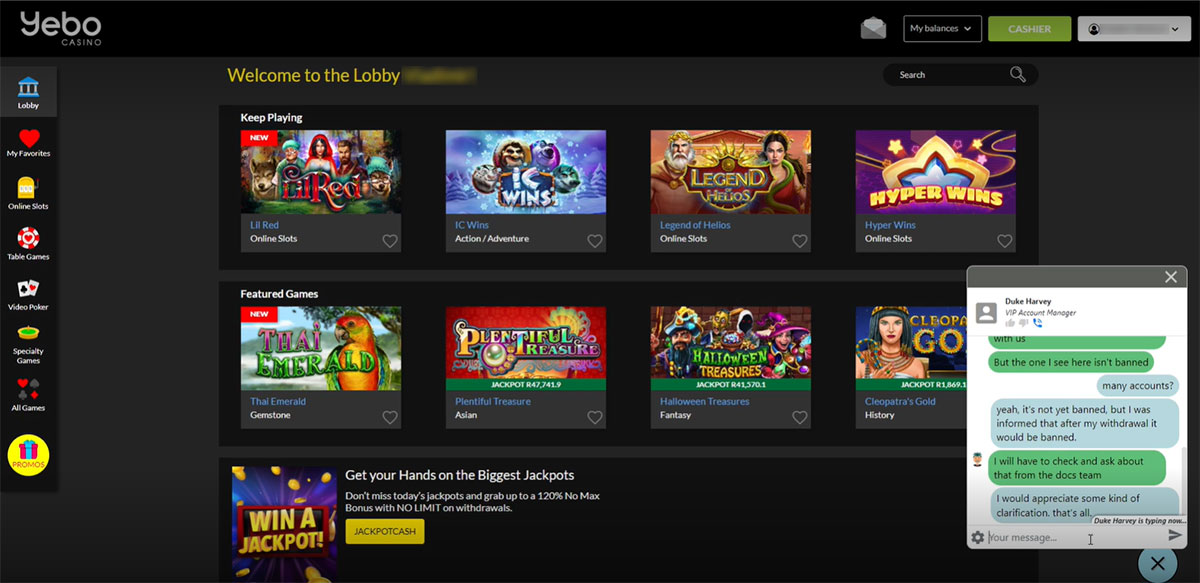 The agent noted that the tester should be notified in case some feedback on the matter arrives. It's important to mention that official Terms feature no information on restricted players. The only rules where countries are mentioned are bonus-related, stating as follows:
"9.6) Please be aware: To register to the online Casino's slot tournaments or to receive a free bonus, only Players who reside in the following countries will be eligible: South Africa, Lesotho, Swaziland, Botswana, and Namibia."
"10.2.1) In order to claim the coupon, Players must create a new, real Yebo Casino account and get in touch with our customer support team via the live chat system. Only Players from the following countries will be eligible to use the coupon: South Africa, Namibia, Lesotho, Botswana, Angola, and Swaziland."
Withdrawal
On February 15, 2022, the tester made a request to withdraw 4,401.42 ZAR via BankWire. According to the notification, the processing timeframe should be 3 days, and there's a processing fee of 100 ZAR, so the amount to be received was 4,301.42 ZAR.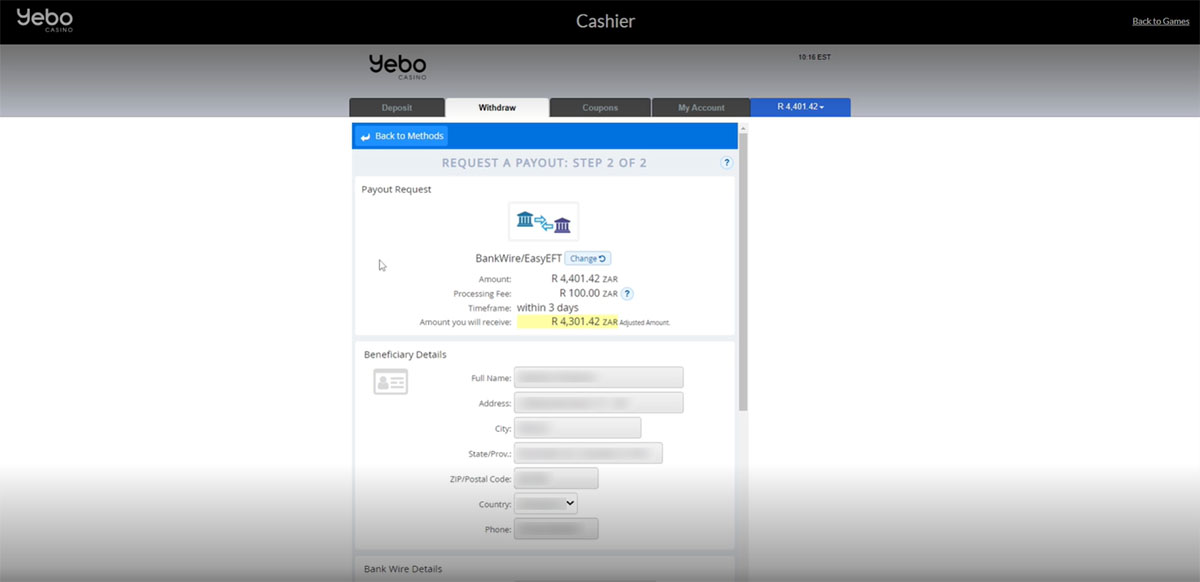 Two days later, on February 17, 2022, he saw a notification in the cashier which stated that his request was "Under Review". The status was updated on February 16, 2022.

On February 18, 2022, he contacted the live chat department once again to see what was going on with his request. According to the agent, withdrawal request processing takes 3 business days (weekends and holidays excluded). Payouts are credited on Mondays, Wednesdays, and Fridays.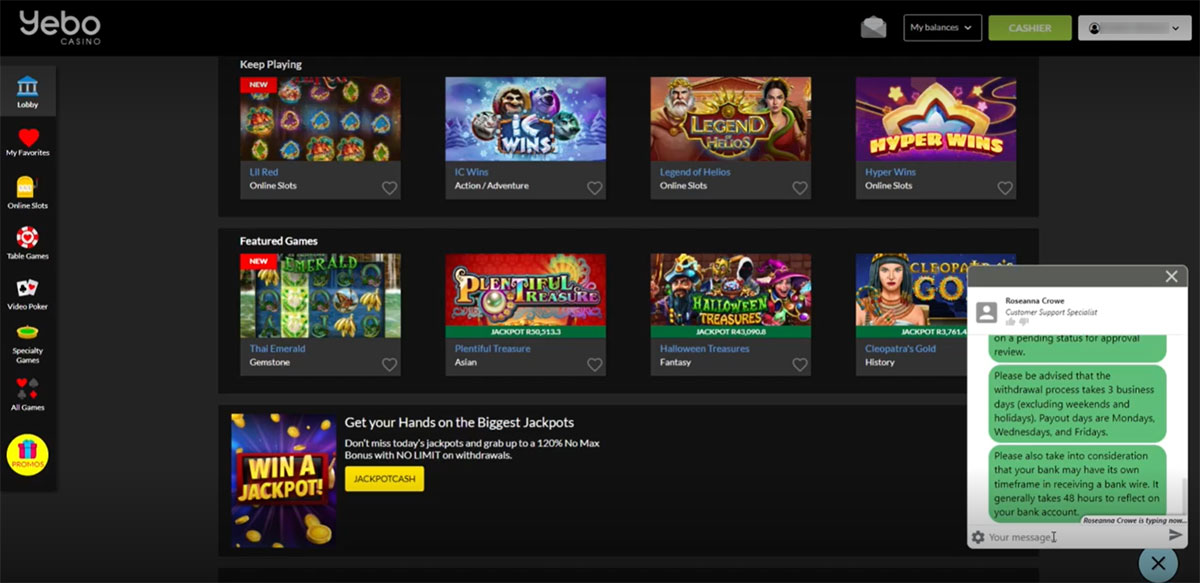 Three days later, on February 21, 2022, he received an e-mail that stated that he won't be able to receive the requested amount via bank wire transfer as he's in Lithuania. Instead, the request will be processed via Bitcoin, the same method he used to fund the account. As a reminder, this was given to him as an option in chat during registration.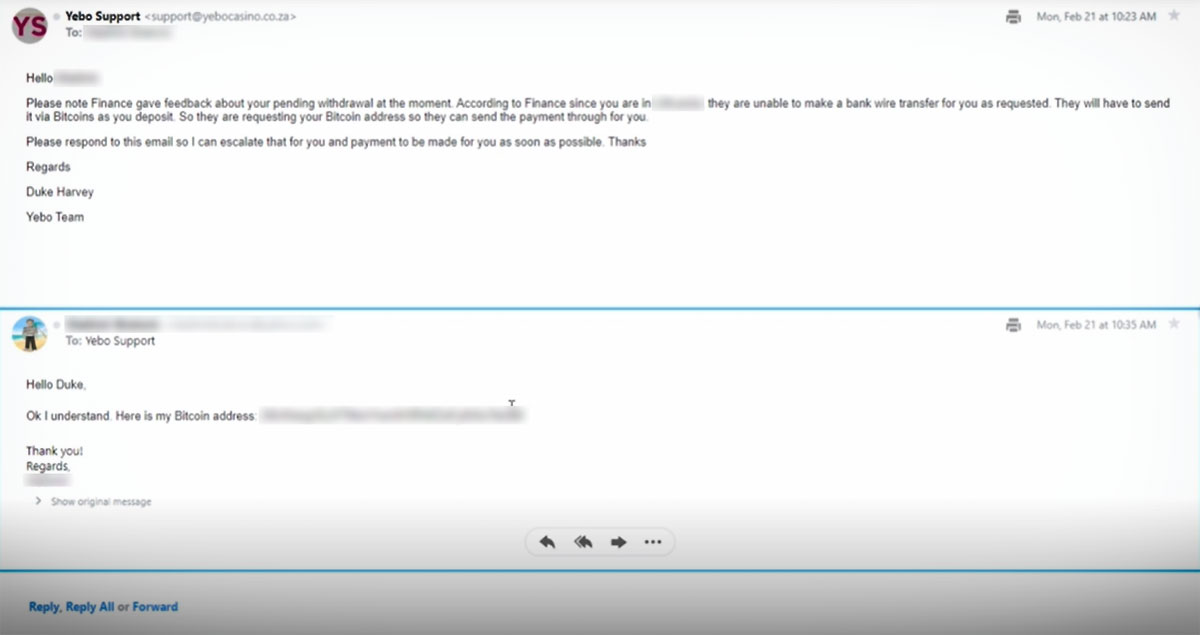 The very same day the transaction was finalized, so the tester received an e-mail from Coinbase which indicated that he received 0.00728074 BTC / EUR 250.53. He checked the cashier and spotted that his transaction was authorized.

20 minutes later, the payment was credited to his Coinbase balance. He received 0.00728074 BTC / EUR 250.55.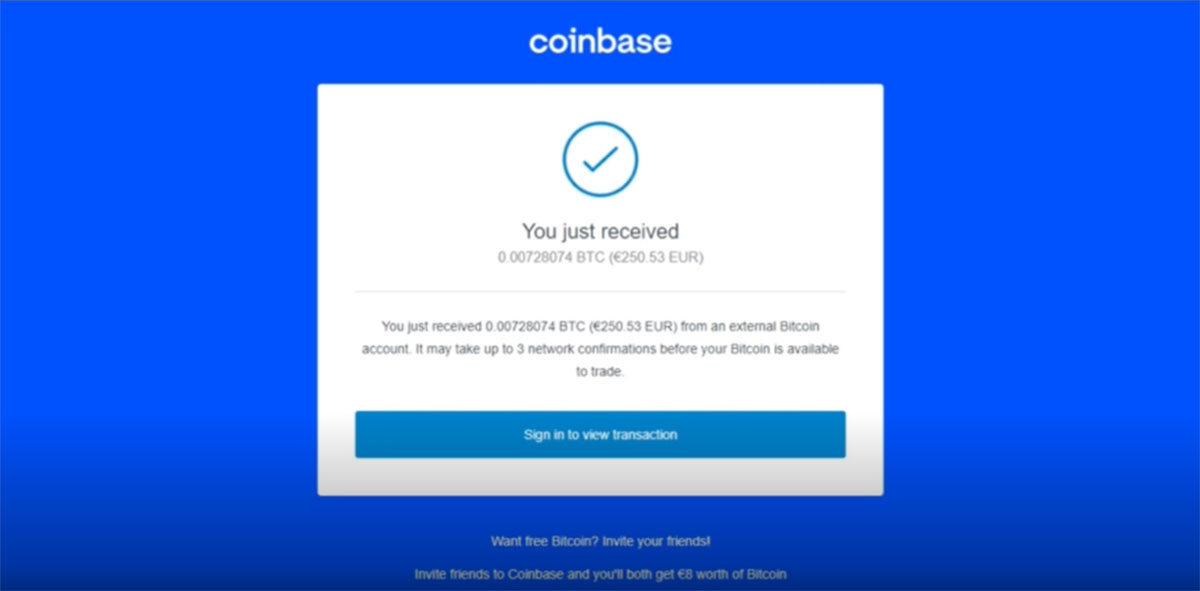 Available methods include Bitcoin, ecoPayz, Neteller, Skrill, and Bank Wire Transfer. Bitcoin transactions are processed within 24 hours, e-wallets require between 48-72 hours, while bank transfers are processed within 3 to 7 business days. The minimum amount to withdraw is R 500.
"6.6) All payments and winnings are processed within a mandatory period of 24 hours. The Player has full right to cancel his/her winnings during the period. Cash-ins must also be audited before they can be processed back to the account. Depending on Player class, all withdrawals are paid in increments of up to R10,000 and take between 5-10 working days to process."
Conclusion
Country restrictions in online casinos are a common thing. Each establishment has the right to determine the list of territories that are restricted or permitted to register, play games, deposit, and claim bonuses.
Taking a look at Yebo Casino's official Terms, players can spot no such list which explicitly indicates that players from certain countries are restricted. As written above, they only mention certain countries in regards to bonus eligibility.
On top of that, our tester registered verified his account by sending personal documents and played games without being warned that he wasn't allowed to do so. What's more, during one of the communications with the live chat support department (February 10, 2022) he mentioned that he was a resident of Lithuania, and the support representative had no comments on this.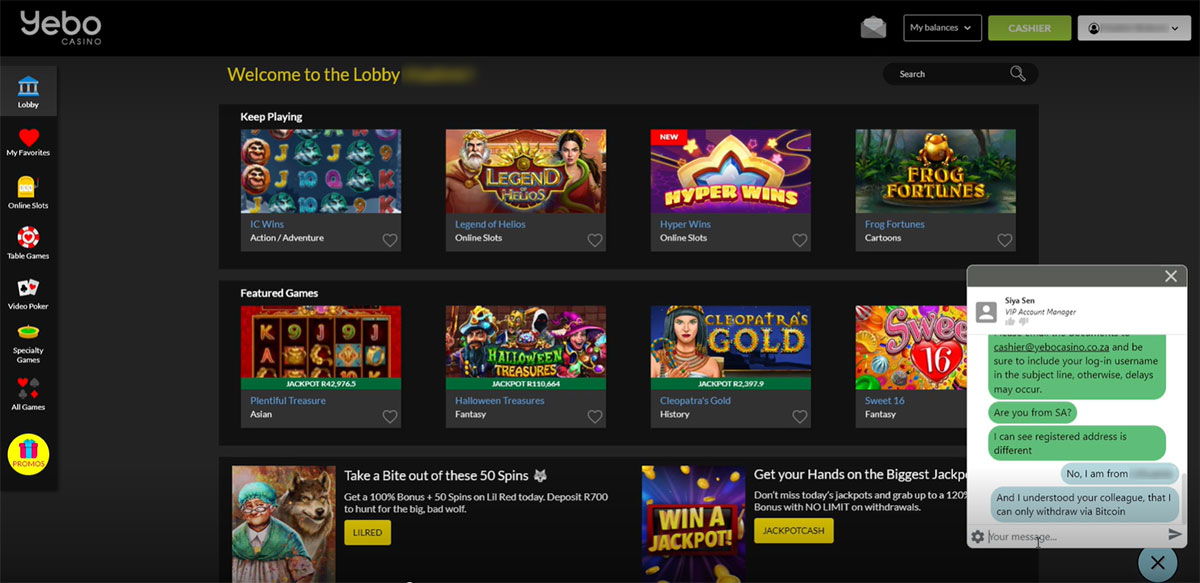 On February 25th, the tester's account was banned, just a few days after his attempts to find out more about this issue and asking via live chat whether or not Lithuania is restricted at the casino. He was told that he will be notified, however he had not received any additional info before he was banned.
According to Terms:
"4.2) Yebo Casino is unable to determine the regulatory laws associated with each jurisdiction, or any global gambling laws that are unrelated to the Casino. Therefore, the responsibility falls on the Player to identify the legalities that are applicable to their individual jurisdiction."
Online gambling is legal in Lithuania, so our tester wasn't blocked by the local regulator when trying to access this platform. So, he wasn't doing anything against the laws in place established by the relevant bodies in charge.
That's why the information that his account will be banned after withdrawal is finalized came as an utter surprise. Nonetheless, the tester eventually managed to withdraw the winnings. To this date, he has not received information that he breached some of the rules or abused the operator's system.
Have you been in a similar situation with an online casino? Feel free to share your experience with us in the comments section below and don't forget to play responsibly!
"the special accent was put on withdrawal processing"
From the Players for the Players
Back to articles