Back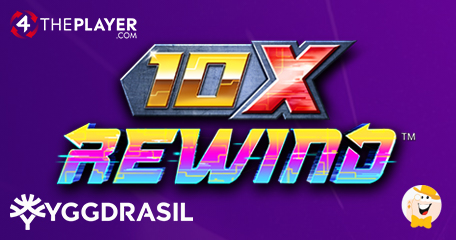 Who's up for Some Time Travelling?
Time travel has always been (and will always be) an all-time popular theme, which explains why online slot developers like to play with it as well. Scheduled to go live September 16, 10x Rewind is set to take players on an unforgettable journey through time.
Optimized in more than 10 languages and crafted to perform well across all types of devices, this work of art is developed by Yggdrasil Gaming and 4ThePlayer. Excellent visuals aside, this game is home to an abundance of rewarding features.
Keep reading to find out more about the 10x Rewind Slot!
Unforgettable Journey
Unlike any ordinary slot mission in which punters are taken to distant galaxies, this one gives them a unique chance to visit any epoch they want. From dinosaurs to ancient Greece to cars and astronauts, this story made sure to mark all crucial moments in our history so far.
A single glance at the characters…
…is more than enough to see that both teams, Yggdrasil and 4ThePlayer, gather the finest professionals. Every single character and detail is carefully illustrated and painted in the most vibrant spectrum of colors. Additionally, the game is enhanced with an upbeat soundtrack, which matches the atmosphere perfectly.
What's the Selection of Features Like?
Arranged as a 6x4 layout, 10x Rewind brings 4,096 ways to win. Female traveler acts as a Wild and serves as a replacement for all the other except for extra spins scatters. 3 Win Spin Scatters award Rewind Time Win Spins. Punters have the option to pick a Scatter and score 5,7 or 10 Win Spins.
Also, it is possible to replay past scatters and boost winnings. The said "boosts" can come in a variety of forms- multipliers, win spins, or cash.
Worth adding is that…
…the studios paid special attention to mobile consumers. When launching the game on mobile in portrait mode, punters can select to play either classic small reels or switch to BIG REEL Portrait Mode. When in this mode, reels are stacked on top of each other, spinning left to right, and paying top to bottom. Regarding the payout and the features, they remain the same as in basic mode.
As for the RTP, it amounts to 96.47%, while the variance is medium to high.
Curious to catch a glimpse of the 10x Rewind atmosphere? Take a look at the video and let us know how you liked it in the comments section below!
Fruitful Collaboration
Two companies started cooperating more than two years ago, in February 2019. 4ThePlayer joined Yggdrasil's YGS Masters Program to supply games via its platform.
Furthermore…
…their partnership was taken to the next level as the studio gained access to Yggdrasil's GATI technology that helps to accelerate its worldwide distribution. This powerful technology secures enables better and quicker positioning across multiple international markets.
On top of that, in April 2021 tow parties inked one more deal, allowing 4ThePlayer to incorporate the provider's proven mechanic GEM into its game development process. Namely, the forward-thinking mobile specialist can integrate Gigablox into its games.
Source:
"10x Rewind", 4theplayer.com
"this work of art is developed by Yggdrasil Gaming and 4ThePlayer"
Casino Games
Back to articles