Back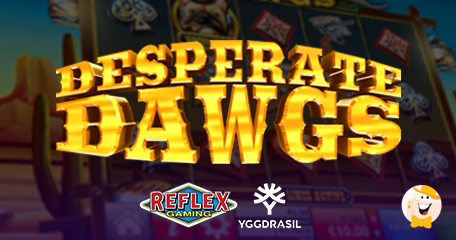 Reflex and Yggdrasil Set off Together into the Sunset
As Yggdrasil continues to present new YG Masters releases throughout March, another up-and-coming worldwide publisher of online gaming content joins the race and sets off into the wilderness of the American Frontier.
The latest title is called Desperate Dawgs, and it was developed in partnership with Reflex Gaming, a UK-based studio specializing in the design and production of market leading gaming machines.
Welcome to Kansas!
This time, the road is taking all cowboy slotters to Dodge City, Kansas where vicious dog gangs of the old West are up to no good. There's much bank robbing and cash claiming to do, so any of you potential gunslingers reading this article are invited to assist the band on the reels with their coveting heists…
The action takes place in a familiar setup with five reels, three rows and just 20 paylines to beat. Desperate Dawgs is stuffed with features, including three separate in-game modes, such as the Wagon Trail, Crime Spree and Bank Buster.
If you were eagerly waiting for a new Wild West title (doggo style) in the provider's portfolio, get ready for some fighting action in Wagon Trail, which is triggered by three or more 'Chumdance Kid' yellow character symbols. Players are given a selection of wagons to pick from during this mode and if successful, they will be awarded a hidden prize!
Next, it's the Crime Spree feature that will certainly get you going when awarding 10 honorary spins with an increasing multiplier on every spin if three or more green 'Dog Holiday' symbols emerge on the playboard. If the round is retriggered, the multiplier can even jump as high as 30x total bet!
Ultimately, the Bank Buster bonus is triggered when three red 'Josey Tails' characters appear on display, presenting players with three safes – bronze, silver, and gold.
Each safe comes with a unique code, which must be cracked before claiming a prize. To get started, select numbers on a keypad and reveal your precious loot or continue to pick until one safe is fully opened.
Desperate Dawgs is officially available on the market since 18 March, and it represents the latest release of Yggdrasil, created in partnership with Reflex Gaming. This UK-based developer has only recently become the latest YG Masters studio to incorporate the Gigablox mechanic allowing it to use the full potential of its mechanical framework.
Fun-Filled and Crazy
The game's engine is also developed through Yggdrasil's futuristic GATI technology, widely used by other studios on the network. Recently, TrueLab published a new title Viking Runes and ReelPlay unveiled Buster Hammer Festival, both dependable of this system.
It enables partners to employ the preconfigured, regulation-ready, standardized development toolkit and progressive cutting-edge content that is ready for rapid distribution once completed.
"Desperate Dawgs is a fun-filled take on some of the craziest crime capers in the Wild West and we're extremely happy to add it to our YG Masters offering. Our partnership with Reflex Gaming is going from strength to strength, and we look forward to more milestones together," added briefly Stuart McCarthy, head of partner programs at Yggdrasil.
Mat Ingram, chief product officer at Reflex Gaming, said that the company's latest hit is backed with plenty of bonus rounds and action, giving players multiple chances to truly enjoy a Wild West theme to the bone and experience numerous ways to win big loot.
Source:
"Yggdrasil partners with Reflex Gaming for daring heists in Desperate Dawgs", yggdrasilgaming.com, March 18, 2021.
"the road is taking all cowboy slotters to Dodge City"
Casino Games
Back to articles