Back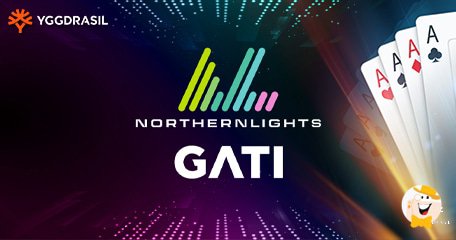 Northern Lights, one of the Yggdrasil YG Masters partners decided to create a more scalable route and maximize chances to grow even more rapidly across the world. This time, the forward-thinking studio has selected the supplier's game-changing GATI standardization technology to be its go-to market interface.
GATI is the enabler of the Yggdrasil Decentralised Aggregation Network (DAN). As such, it allows any global Yggdrasil Franchisee to cooperate using GATI and to share their respective game roadmaps.
Stuart McCarthy, Head of Partner Strategy and Sourcing at Yggdrasil, commented:
"This is a complete game-changer for our partners, giving them complete control over the rapid development and fully scalable deployment of their games onto our systems and standardized technology, that are fully compliant and packaged ready for distribution to our rapidly expanding operator and Franchise networks.
Unique Collaborative Business Model
NL is not the only developer to benefit from the inventive technology, as all YG Masters associates will have access to GATI. This will enable them to use the preconfigured, regulation-ready, standardized content development toolkit to design and distribute games anywhere around the globe.
Andrew Goodale, CEO of Northern Lights declared:
"We are very excited about developing our games on the GATI platform and taking our business to another level using this strategic and innovative technology and unique collaborative business model."
As a small reminder…
… Northern was the first independent game studio to develop on its platform as part of the YGS Masters program.
Goodale also added:
"This gives us complete control of the entire development process and how we design games without having to make any compromises, plus it will enable us to achieve our business strategy quicker and at scale, across global markets."
How Can Partners Benefit from GATI?
Revolutionary, language-agnostic and standardized GATI technology enables game producers to rapidly and securely build and share content across the company's global distribution network.
This unique model…
…enables all associates to rapidly scale distribution and boost revenue opportunities while developing completely new ways of working and collaborating.
Among the brands which have already experienced all these perks are Black Cow Technology, Flow Gaming, with more to come.
McCarthy also said:
"Studios can build content in any language they want with the knowledge that their math and mechanics IP is completely protected, while also benefiting from our full suite of BOOST™ marketing tools and our Partner Connect system that manages local market compliance and operator-specific integration requirements."
Moreover…
…the company has recently introduced a new feature, Jackpot TopUp. Enabling operators to instantly boost prize pools within its JP games, this solution provides better winning potential and further enhances user experience.
Source:
"Northern Lights selects Yggdrasil's revolutionary GATI technology as interface to access global markets", yggdrasilgaming.com, April 28, 2020.
"game-changing GATI standardization technology"
Casino Software
Back to articles