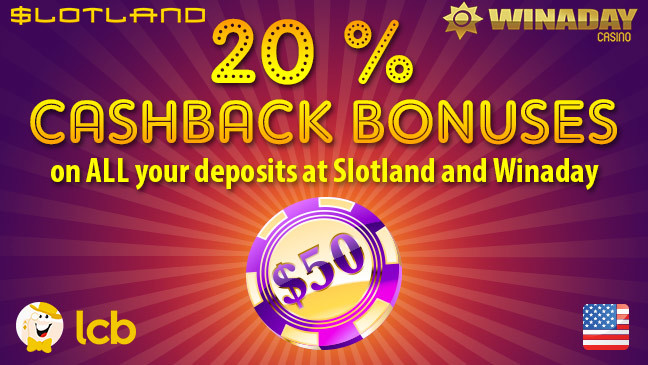 Exclusively for Latest Casino Bonuses members, Win A Day Casino and Slotland Casino (both USA OK) are proud to offer you $50 cashback for deposits totalling $250 at either casino (must be $250 at either one of the casinos and not split between the two).

Please see rules below

How to claim $50 cashbacks

1. Deposit a total of $250 (can be 10 x $25 or 2 x $125 or any combination) at Win A Day and/or Slotland. (You can do this as many times as you like)
2. Post your username, deposits, dates of deposits and casino below.
3. Wait for your $50 cashback
1. Deposit a total of $250 (can be 10 x $25 or 2 x $125 or any combination) at any of our brands, Win A Day, CryptoSlots or Slotland.
2. Post the brand name you want to have your deposits checked on along with your username, pref in this fashion: SL: username123, WAD: username234, CS: username345
3. If also depositing at CryptoSlots, remember to add which brand to ADD these to, pref in this way: CS: username345 @SL
4. Wait for your $50 cashback
5. Rinse-n-repeat by doing this for ALL your deposits ever made at any of our brands.

Rules

1. You can claim as many $50 cashbacks as you wish during the promotion - there is no limit
2. Only total deposits of $250 at each separate casino will qualify for the $50 cashback (the deposits cannot be split between the two casinos i.e. $175 at one casino and $75 at the other).
3. Only deposits of $10 and above are valid/can be entered for sake of taking part in this promo.
4. The $50 cashback has a general 25x wager requirement, which is lowered to 20/15/10x for bronze/silver/gold+ VIPs.
5. $50 cashback has a 10x maximum cash out. For players with a net win status over past 30 days this changes 2x max cash out.
6. Any cashback bonus of $100 or more is valid for slots only.
7. Deposits made for this promotion cannot be used in conjunction with any other promotion on any other forum.
8. Cashbacks will be made on Mondays and Thursdays only each week.
9. You must have signed up through LCB to qualify for this offer. If you are not sure, please ask and I will check for you.
10. If you show deposits of more than $250, you may carry the balance over for the next $250 total deposits.
11. Any member who had previously claimed cashback from 1st January 2014, your carry over will be valid in this extended promotion.
12. If you join this promotion for the first time after 29th May 2014, you may only go back 1 month in deposits from the date of your first post in this thread. Example: Your first post in this thread is 1st June 2014. You may only claim cashbacks on deposits made from 1st May 2014.
13. The casino reserves the right to change these terms and conditions at any time without prior notice.
News for CryptoSlots players
Starting from August 1st, 2018, existing members to this thread can list all their deposits made at CryptoSlots and have them added to their carryover for a sister brand of their choice (Slotland or Winaday). Only deposits made from July 1st, 2018, onwards can be added.
New members joining this thread will only be able to list their Cryptoslots deposits going back 30 days from their first post in this thread (rule 11 applies). No LCB cashbacks can be redeemed directly at CryptoSlots.
Last update: 22 Jan 2022.