We are excited to announce our biggest contest yet!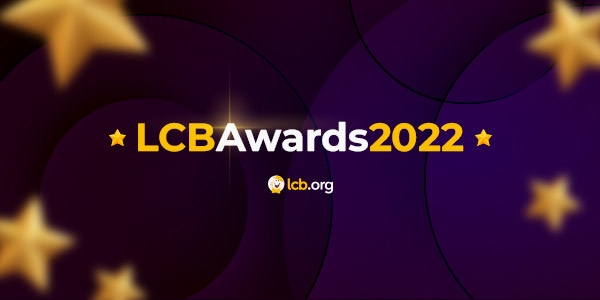 This contest comes with
a MASSIVE $12,000 prize pool ($10,000 main prize pool and $2,000 consolation prize pool)
 lasts until the end of September and is all about
LCB Awards
. 
Celebrating excellence in iGaming, LCB Awards is our signature event recognizing the best and most-deserving online casinos in 6 categories: 
Best Online Casino

Helping Hand

Rising Star

Prime Perks

Live Dealer Games

Members Choice
Due to great interest in the awards and contest, we have decided to introduce 2 more award titles in recognition of excellent online slot games and top-quality live dealer software brands. 
YOU get to decide which casino, software and slot candidates will be shortlisted to claim the award in each category at a gala event in Malta! Vote to support this event and your favorite brands and get a chance to win one of the cash prizes! 
Find out more about LCB Awards and vote for nominated brands in all categories HERE. 
Here's how to vote and take part in the contest: 
Registered LCB members can vote once a day, every day until the end of September
45 winners will be chosen among all qualifying voters in a random drawing from a drum at the end of September and awarded the following cash prizes:
1st prize: $2,000
2nd prize: $1,000
3rd prize: $1,000
4th prize: $750
5th prize: $500
6th - 10th prizes: $250
11th - 35th prizes: $100
Guests/unregistered members can also vote, however they will not qualify for the random prize draw.
You can vote up to 8 times (1 or all 8 categories) in one day: you will receive 1 raffle/ticket per 1 vote, so if you vote in all 8 categories, you will receive 8 raffles/tickets.
That's not all!
Members with the highest number of votes who DON'T receive one of the top 10 prizes in the random prize draw, will qualify for one of 10 consolation prizes from a total pool of $2,000:
1. $500
2. $250
3. $250
4. $200
5. $200
6. $200
7. $100
8. $100
9. $100
10. $100
This means that even those voters who receive one of 35x $100 prize are eligible for one of the consolation prizes. 
Consolation prizes will be awarded according to the number of votes.
Up to 2 members with a matching number of votes can share one of the 10 places and they will each receive a corresponding prize in full.
If 3 or more members have a matching number of votes, the corresponding prize will be awarded to the member who first reached the number of votes.
The remaining members who share the same place/prize/number of votes will be awarded the next lower prize.
General Rules:
Must be 21 years or older to qualify.
LCB reserves the right to void the contest at any time.
Available payment methods are: Bitcoin, PayPal, Skrill, Neteller and MuchBetter. No other methods are available at this moment. 
Prizes via Neteller and Skrill are issued monthly, prizes via other methods should be issued within several days. The fastest method should be BTC.
Contest ends September 30, 2022.
Make sure that the payment info you provide is valid and correct and that the method you provided is your definite choice - once the prize money has been sent, you won't we able to change the payment method unless there is "return to sender" option.
Double accounts and proxy users will be excluded from the prize draw. 
Good luck everyone! We are so looking forward to LCB Awards gala evening and the best brands getting the recognition they deserve. And you the members getting awesome prizes for your efforts of course :)
Let the voting start!