Canada shares the longest border in the world with its southern neighboring country, the USA, as well as a maritime border with Denmark (their autonomous territory, the island Greenland) and a shorter one with France at the island Saint Pierre and Miquelon.
Overview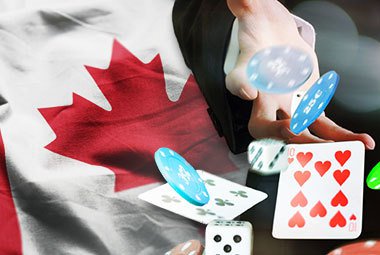 Throughout the years, Canada has been known as a grey territory when it came to the matter of its gambling industry legislation. Nowadays, the country has permitted the following types of gambling activities: casino gaming, slots, horse racing, lottery, video lottery, charitable gaming, some forms of sports betting and interactive gaming.
Back in 2016, the initial efforts have been made by Democrat Brian Masse to legalize single-event sports betting activities, as the MP presented Bill C-221, also known as the Safe and Regulated Sports Betting Act. A couple of years later, the Act took effect on August 27, 2021, allowing provinces to offer single-event wagering.
With regards to lottery gambling in Canada, as well as sports betting, the two operators catering to this player pool are the Atlantic Lottery Corporation and the West Canadian Lottery Corporation (the Crown Corporation).
Charitable organizations can apply for and obtain licenses to organize and hold charitable gambling events of various kinds – slots, casinos, poker, and lottery draws included. Each province is in charge of specifying the scope of gaming formats authorized on their provincial territory. Taxation policy is similarly handled, with the exception of charitable gaming – the surplus in such cases is distributed among such organizations and charitable causes.
In terms of licensing, the Kahnawake tribe with its Gaming Commission is in charge of handling applications and issuing licenses.
It has been licensing onshore operators since 1999…
… which means it is the oldest operating jurisdiction in the world so far. Some offshore operators have also been granted permission to offer their services to the Canadian player pool, considering they comply with the required licensing standards.
Each province can determine whether to authorize gambling and to what extent, meaning each of them has its respective body to handle the matter of licensing and regulatory compliance of operators. On the whole, both the Canadian Pari-Mutuel Agency and the Canadian Gaming Association are established authorities for the country's territory.
The following division into jurisdictions is presented for a clearer overview of the gambling operations authorized on its premises.
Alberta
Gambling in the Canadian province of Alberta is under the authority of the Alberta Gaming and Liquor Commission. The legal gambling age is set at 18 years, initially offering the chance to participate in charitable gambling activities at organizations of this kind. Slots are also allowed for this portion of the Canadian player pool at racing entertainment centers (RECs), as well as pari-mutuel betting on horseracing and simulcasting.
In January 2019, the AGLC authoritative body made an official request for proposals by interactive operators that would like to provide their online gambling solutions in this province. A year and a half later, in June 2020, the AGLC selected NeoPollard to supply interactive lottery and gaming products for its new online platform.
A couple of months later, in October, the AGLC launched its interactive gaming and lottery platform PlayAlberta.ca offering online casino slot games, instant lottery games, and traditional draw sales.
In March 2021, six live dealer games by Evolution were added to the platform as well. May brought the addition of online lottery sales for a range of national and provincial lottery draw games, while sports betting was launched in September. This follows the legalization of single-event wagering in Canada on August 27, 2021.
British Columbia
Offline casinos, race and sports betting, lottery, and interactive gambling products have all been legally authorized for residents of British Columbia. The key responsible body for the industry is the British Columbia Lottery Corporation (BCLC), along with the Gaming Policy and Enforcement Branch at the Ministry of Finance.
So far, players from this province can gamble at 17 casino establishments, 6 bingo rooms, and 19 Community Gaming Centers. As for interactive gambling, the BCLC as a government agent holds a monopoly as the sole licensed interactive gaming operator, providing such services through the PlayNow.com website. In August 2021, single-event wagering was added to the platform as well.
Players need to be 19 years or more in order to legally engage in any of these gambling formats. The BCLC issued a request in January 2019 for new online and mobile operators; processing time has been estimated to be a total of 18 months from this date, after which players would be able to enjoy gambling at these respective platforms.
In December 2019, The Government announced plans to replace the Gaming Policy and Enforcement Branch with The Independent Gambling Control Office (IGCO) a new regulator with greater powers to oversee the industry.
Wanting to channel 'high rollers' onshore, away from illegal operators, the BCLC increased its weekly deposit limit from C$10k to C$100k on its online gambling platform, PlayNow.com in February 2020. The BCLC also increased the cap on the total amount customers can hold in their account at any one time from C$10k to $250k.
Manitoba
The situation with the Manitoba province is similar to that in British Columbia – a monopoly on offline and online gaming has been established by their respective Manitoba Lottery Commission. Through a partnership with the aforementioned BCLC, residents of this province can enjoy interactive gambling through the same PlayNow.com platform. The legal age for this territory is 18.
Both land-based and interactive gambling activities have been regulated under the province laws in 2013, allowing the Manitoba Lottery Commission's platform to offer interactive poker and casino content, as well as sports betting.
New Brunswick
The legal gambling age in New Brunswick is set at 19, and eligible players are thus able to enjoy land-based lottery, VLT, and sports betting. Interactive gambling is also an option for this player pool, provided exclusively at the PlayNow.com platform of the New Brunswick Lotteries operator. Just like in other provinces, this has been made possible through a partnership with the BCLC, while the overall monopoly is held by the Atlantic Lottery Corporation (ALC).
Nova Scotia
Residents of Nova Scotia are able to legally engage in gambling from the age of 19. The Nova Scotia Provincial Lotteries and Casino Corporation obtained two licenses for land-based casinos.
Offline sports betting, lotteries, and proline wagers are available through the ALC. Interactive gambling is offered by this operator, as well as at some licensed offshore interactive platforms.
Ontario
Land-based and interactive gambling for Ontario residents has been provided exclusively by the Ontario Lottery and Gaming Corporation (OLG). The former includes casino and racetrack gambling options, while the latter covers interactive casinos, slots, blackjack, roulette, and lottery games. Charitable gambling is also allowed in this Canadian province.
On the whole, gamblers need to be 18 years of age to participate in such activities. However, establishments with serve alcohol can only accept players which are 19 years or older.
A turning point for the iGaming sector took place on April 4, 2022, when commercial online betting and gaming markets started operating. 888, American Wagering, Bet365, BetMGM, FanDuel, LeoVegas, PointsBet, Rivalry, Rush Street Interactive, Score Digital, and Unibet were the companies that received licenses to offer games upon the launch.
Ahead of the launch, the Alcohol and Gaming Commission of Ontario (AGCO) announced that operators who have not received a license by the launch of the online gaming market must cease all activities in the province. In addition to this institution, iGaming Ontario (iGO) was established in June 2021, as a subsidiary of the AGCO. Its duty is to conduct and manage the province's online gambling operations.
Just like other provinces Canada-wide, Ontario welcomed sports betting in August 2021, with the launch of Proline+. In October 2021, the OLG added live dealer content to its portfolio, as a result of a strategic agreement with Evolution.
Quebec 
Offline gambling is permitted throughout this province in the form of casinos – slots, table games, bingo, sports, and race betting shops. Charitable gambling is additionally licensed, as well as interactive casinos, poker, sports, and race betting, as well as video lottery.
The Mohawk Territory of Kahnawake is a sovereign jurisdiction and Tribal operators are certified to operate poker establishments, with both tournaments and cash games.
In July 2020, Quebec's gambling monopoly added live betting to its online sports betting offers. Loto-Quebec announced the agreement with Inspired in October 2021, allowing the company to operate a number of lottery games through Loto-Quebec's lottery website and app.
All this is provided by the monopoly position of the Provincial Lottery Lotto-Quebec, although some offshore interactive operators are also allowed to offer their set of online gambling products to the Quebec player pool.
This final point regarding offshore operators has been explicitly debated during the summer of 2018 – the Superior Court of Quebec ruled out ISPs blocking of select offshore operators as unconstitutional, despite continuous appeals to prevent them from catering to this player pool. Attorney General Stephanie Vallee appealed against the ruling of the Superior Court.
Saskatchewan 
Prince Edward Island and Newfoundland and Labrador do not have gambling regulations, leaving Saskatchewan as the final Canadian province with a set of gambling laws.
The Saskatchewan Liquor and Gaming Authority (SLGA)...
... is the main body responsible for regulating the range of offline casinos, racinos, lottery, and sports betting establishments available for legal gambling practices in this province.
As for interactive gambling, there is no licensed onshore operator, although some offshore platforms agree to accept players from this province. Since this is not explicitly prohibited by Canadian laws, the player pool would solely need to respect the legal gambling age limit – 19 years in order to engage in such activities.
On the whole, each province has clarified its position regarding the gambling industry operating on its territory. So far, it is evident that they have mostly recognized the benefits of this industry, tax revenue, and charitable gambling for the most part, and continue to work on introducing the proper laws.
Further Reading
Canada shares the longest border in the world with its southern neighboring country, the USA, as well as a maritime border with Denmark (their autonomous territory, the island Greenland) and a shorter one with France at the island Saint Pierre and Miquelon. Overview Throughout the years, Canada has been known as a grey territory when it came to the matter of its gambling industry legislation. Nowadays, the country has permitted the following types of gambling activities: casino gaming, slots,...
Read more
Nearby Restrictions
United States
Similar Restrictions
Andorra
Argentina
Australia
Belarus
Cote d'Ivoire
To save you time, we are only displaying casinos that are accepting players from Canada.
If we have jumped the gun, you can remove that filter by clicking here.