Back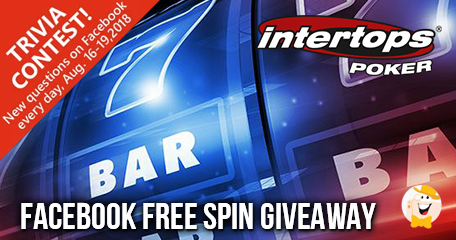 You might want to get ready to take notes before proceeding, so make sure you have a pen and a piece of paper next to you, or simply turn on the calendar app on your phone. This week, Intertops is running a trivia contest on Facebook from August 16th to 19th, awarding a total of 4,000 extra spins…
Additionally, the operator is giving away 2,000 more to five players who enter the final draw, so get that grey matter working, and jump over to their profile if you want to win a share.
The questions are about Intertops' casino games, and since their portfolio consists of Betsoft, Worldmatch and Lucktap, it should be quite easy to answer, even the slightest details…
50 Extra Spins Every Day
Intertops will post new questions on Facebook each day, and participants who answer the questions will be able to see their posts the next day. Therefore, the operator will award 10 players with 50 additional rounds each day!
However, since there can be more than one correct answer, winners may also be chosen at random. At the end of the trivia, players will enter the final draw and five of them will scoop another 2,000 spins! How awesome is that?
Know Casino's Favorites
Intertops is also known as a poker room, so it is very important to concentrate on its casino section and notice the popular releases first. For example, Betsoft has recently launched Ogre Empire, a Shrek-like creature that terrorizes a fantasy kingdom. Furthermore, under the Worldmatch tab, you can find classic slot, Hercules, which is highly liked among regular customers.
Digging through the catalog can take you further to Lucktap's editions, but also open a path towards table games such as Blackjack or Baccarat. Take a look around and you might see a pattern that could help you answer as many questions as you can! After all, the most attractive poker platform is known for offering only the best deals, and this one is definitely a smacker.
Have fun!!
"Intertops will post new questions on Facebook each day"
Tournaments, Promos & Bonuses
Back to articles