Back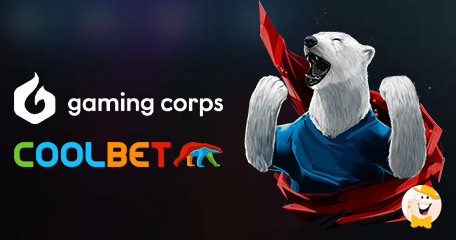 In an exciting turn of events, Gaming Corps is expanding its horizons and solidifying its position in the world of online gaming.
The company announced that it has concluded a major distribution agreement to reach an even greater number of players and strengthen its position on the online gambling scene!
The latest agreement will bring many benefits to the brand, which just a few days ago joined forces with another B2B brand, Play North, to reach an even wider audience!
Bolstering Global Reach!
Gaming Corps has joined forces with the well-known operator Coolbet for further launch! Following a triumphant market launch in Estonia, the company now joins forces with the esteemed operator Coolbet, further cementing its presence in key regulated markets.
Coolbet, boasting licenses in multiple territories including Sweden and Estonia, presents an invaluable partnership opportunity for its latest partner. This collaboration marks a momentous stride forward for Gaming Corps' operations in Estonia, following the recent green light issued by the local authorities.
Enthusiastic gamers will now have access to Gaming Corps' diverse online casino and video games portfolio that consists of Crash, the exciting Mine titles, the enticing Table games, as well as outstanding Slot games. And that's not all; the developer's certified Plinko game will also take its part in distribution!
Among the extensive catalog of games, every player will find something interesting for himself. In the sea of games, you will find Coin Miner, Penalty Champion, Jet Lucky 2, Aztec Bonus Pot, Raging Zeus, as well as many others!
Premium Gaming Experience
The new partnership between these two giants will deliver an unforgettable iGaming experience to players within these key markets, thanks to the distribution of extraordinary games that are packed with engaging features and great prizes!
Mats Lundin, Gaming Corps' Director of Sales, said: "Coolbet is all about momentum and innovation, with management bringing more than 90 years of online gambling experience to the table. Coolbet has demonstrated success across its 10 active territories, and this partnership is more positive news for us following our launch in Estonia. We are delighted to be working with Coolbet and look forward to bringing our premium games to more players.''
Coolbet President, Endre Nesset added: ''With Gaming Corps providing an exciting suite of casino and video games, this will be an ideal partnership for us. We look forward to working with Gaming Corps and I'm sure our players will enjoy making the most of their games.''
Source:
''Gaming Corps strengthens in key markets with Coolbet sign up'', europeangaming.eu, May 15, 2023.
"Coolbet to offer Gaming Corps' diverse online casino and video games portfolio to its players"
General Gambling News
Back to articles