Back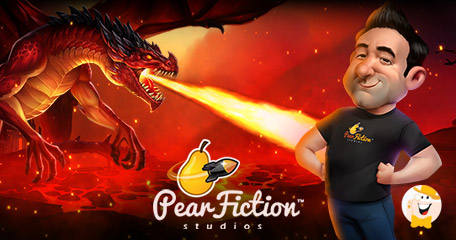 Award-winning PearFiction Studios creates online slots to fully immerse players in an experience. Since its launch in 2014, the team has taken on a storytelling approach to making casino games. Although the portfolio is small, the games pack a big punch! Look out for new slot titles this year, including Granny VS Zombies, GVZ, and Blazing Piranhas throughout 2023. Learn more about the developer in our exclusive interview with Thierry Semoff Founder & CEO of PearFiction Studios.
Q: Please begin with an overview of PearFiction Studios and its 'mission statement'.
PearFiction Studios was founded in 2014 with a focus on developing casual mobile games for iOS and Android devices, publishing around a dozen small to mid-sized casual games.
Mobile casual games were fun to develop and we see that some of our most successful games were casino games; their popularity led us to make the switch to online casino games in mid-2016.
From the beginning, we tried to create each game with a unique character, a story it can tell, and a mark that reflects the PearFiction style.
Our games combine humor, amazing artwork, a variety of features, a high level of survivability, and potential for high bonuses - but most importantly, an enjoyable gameplay experience.
The emphasis in our games is placed on players and the journey they may take to reach the bonus round. Our aim is to provide players with an experience that is as diverse and thrilling as possible. It is important to remember that bonuses are only one aspect of the game, the player must be entertained and engaged as throughout.
Q: Congratulations on your 'Rising Star of the Year' Award at the International Gaming Awards, London 2023. What's your approach to game development?
A: Thank you! We're so excited and honored at winning such a coveted award! It was an incredible experience being called up there, and it's amazing for our team's hard work to get the recognition it deserves...
We are a relatively new studio with a smaller portfolio. I think that what we lack in numbers we make up for in creativity and unique games and the way in which we approach game development.
We try to develop games that have a personality, games that tell a story, that have that PearFiction signature. They're a mix of humor, amazing art, depth of features, high survivability, and high potential bonuses.
It might sound cliché, but it's with a great team that you make great games. Kudos to our phenomenal team of mathematicians, developers, artists, and managers that are trying to make each game perfect. We take the time to playtest, playtest, and playtest our games some more to make sure that the math, hit rates, and feature balances are just spot on.
With so many games coming out each month it's important to develop unique games that have a high production value and quality. Both the market and operators are demanding this and we're delivering on that demand.
Q: For those that weren't able to catch up with you at ICE 2023, what can we expect from the company this year?
A: Where to begin! For starters we're gearing up for our next upcoming smash-hit launch, 'Granny VS Zombies'. We teased and showcased the game for the first time at ICE 2023 and the response received was beyond our expectations. Everybody loved the game, the story, the characters, the features. It's something we're excited to unveil and seems like everyone is as excited as we are and that's just scratching the surface.
We have a roadmap packed with equally as amazing games as GVZ in the pipeline for release throughout 2023. Blazing Piranhas will follow GVZ, and we are just as excited about this game. Blazing Piranhas is packed with features like LockNWin ™, Free Spin and a Jackpot Wheel, but the star of the show is the Piranha Wild. In true B Movie fashion, when a Piranha Wild lands next to a character, the Piranhas will chase the character and after the feeding frenzy, an additional wild will be left behind.
We have plenty more to look forward to in 2023 that we will reveal soon.
Q: We're anticipating the release of Granny vs Zombies™ on April 4, 2023. Tell us about the features and mechanics of this new online slot.
A: Granny Vs Zombies™ is absolutely packed to the brim with features; in the base game we have our protagonist Granny pitching Molotov cocktails at zombie wilds and adding more wilds to the screen. The zombies also come in waves with three sizes of stacked walking zombies wilds.
The LockNWin™ feature is triggered by landing six LockNWin™ coins in the base game. We've also taken our LockNWin™ feature to the next level by adding additional rows, multipliers and even a trigger to the new Jackpot LockNWin™.
LockNWin™ coins are also collected to the progress meter which will trigger the jackpot wheel where the 5000x Mega jackpot can be won.
The star of the show is the free spins. We wanted to bring the feeling of an old school side scroller to Granny Vs Zombies™. When the free spins start the player chooses Granny's weapon to battle the waves of zombies. Each weapon has a different power and when Granny hits the zombies with the weapon, the multiplier will be increased. As she passes from one level to the next, additional free spins are also awarded. The additional free spins and multiplier in the free spins bring some really big win potential to the free spins bonus and will surely leave players wanting to try out the different weapons.
Q: In terms of slot development and bespoke games, how do you manage the varying online gambling regulations in the markets you serve?
A: We began in the industry as an independent studio. Our primary focus was developing our own IP and licensed titles, while developing bespoke games was done as a means of covering the costs. As developers, we have learned that creating great games is only half the battle. The second component is getting top-notch distribution that is capable of generating decent revenues.
As a result of our exclusive partnership with Games Global, our games are now available through their global distribution network to hundreds of licensed operators worldwide.
I will answer your question by saying that Games Global and their affiliates have played an important role in our achievement. We have no doubt that we made the best decision for our studio. It has exceeded our expectations. In partnering with them, we are able to focus on developing high quality games while utilising the company's extensive distribution network.
Q: In closing, what would you like players to know about the company and your games?
A: Watch out for PearFiction! We have a lot of exciting games coming out exclusively on the Games Global platform in the coming months. We are truly looking forward to seeing players enjoying our games throughout 2023 and beyond!
Keep up to date with the latest from PearFiction by following our socials.
Back to articles