Back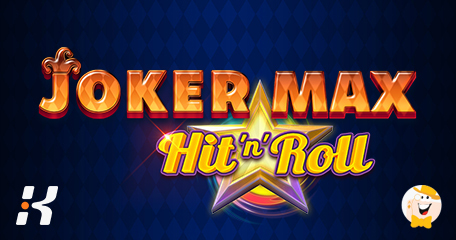 Kalamba Games, a creative developer of casino slots, has enriched its catalog with another game. The company has decided to upgrade its well-known franchise by adding a brand-new release, Joker Max: Hit 'n' Roll.
The latest title comes with high volatility and different improvements such as the Hit 'n' Roll bonus wheel feature. This includes a Cashpots feature both in the main game and bonus spins round. If you land three Hit 'n' Roll elements, you will activate a prize wheel.
If you spin the wheel, you can claim different prizes such as six Cashpots, Bonus Spins, which are accessible in multiple variations or in the form of cash prizes. Bonus Spins are distributed into three types of casino spins with 2x 3x or 5x Wild Multipliers linked to them.
Joker Max: Hit 'n' Roll also involves a HyperBonus, which enables users to instantly purchase the Hit 'n' Roll feature with two options up for grabs. Firstly, they can win Cashpots or the Bonus Spins round. Secondly, they can get a fixed cash award instead of this.
The Joker-inspired game is yet another addition from Kalamba which comes right after the inclusion of Super Size Atlas, Legend of Senteng, and Vegas Blast. The company already had more than 50 games in its portfolio and they stand out with high quality, good payback rates, and performance.
Commenting on the new addition to the catalog, COO and Co-Founder at Kalamba Games, Alex Cohen, said:
"Updating Joker Max, one of our fan favorite titles, with added features, improvements, and further increasing the volatility of the game is something we are incredibly excited about.
"The original's longevity to keep players engaged years after its initial release is a testament to our thrilling and innovative games. Players who enjoy traditional themes with massive potential wins will love Joker Max: Hit 'n' Roll, an update to a now-classic hit."
What Else Was Announced
Kalamba Games continues enhancing its suite with innovative games. The company has added a slot inspired by Greek mythology. Titled Super Size Atlas, the game allows players to see the gods and land expanding wilds with variable winning ways.
This slot includes a 6×3 payout and takes players to the mythical world, where you can search for riches. Just match combos of ancient Greek-based elements and trigger a win. The max win potential of the game is s 50,000x bet and there is also a HyperBonus Feature for added entertainment.
Source:
"Kalamba Games updates a classic in latest release Joker Max: Hit 'n' Roll", europeangaming.eu, April 14, 2022.
"upgrade its well-known franchise"
Casino Games
Back to articles