Back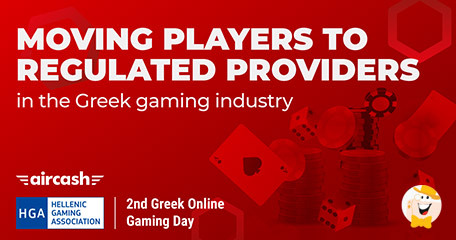 Greece Votes for Transparency and Opens up for New Payment Methods in iGaming
At the second conference of the Greek Online Gaming Day in Athens, the organizers have introduced a new payment partner in the gaming niche – Aircash.
Its mission: to channel customers to licensed and regulated gaming providers, develop a wide range of services and products, as well as to keep existing players and bring in new ones.
Aircash to Streamline Further Regulation of the Greek Market
The conference 'Greek Online Gaming Day' was organized by the independent administrative authority of the Hellenic Gaming Association (HGA).
This event brought together some of the most prominent participants of the online gaming sector in Greece.
Among the many renowned experts from Europe were Dimitris Dzanatos, president of the gaming supervision and control commission (GSC), Thomas Tzokas, CEO of winmasters and Panagiotis Skyrlas, chief compliance and information security officer of Novibet, a sports betting site.
To provide financial support, Aircash joined the conference as an EU regulated and authorized e-money institution.
The country's latest payment partner in iGaming primarily specializes in services such as instant cash deposits and withdrawals but it also runs innovative promotions to attract players on multiple gaming platforms.
According to the conference brief, its main objective was to promote a safe and well-regulated gambling market in the country.
To push quality regulation of the iGaming industry and lower the threat of black market for all stakeholders, Aircash has even included severe KYC and AML processes, as well as an in-house built AI system.
It is designed for fraudulent transactions and can ensure a verified user base, providing complete payment protection to any party onboard.
Aircash also offers a safe way to transfer players to a legal market. This includes services like money transfer, payment of transportation services, and prepaid vouchers.
Greece Heading in the Right Direction
As balance and streamlined regulation are the main success factors for the developing Greek market, Aircash has also ensured an extra layer of protection thanks to the direct payment transparency through KYC and AML.
"The second Greek Online Gaming Day confirmed that Greece has taken significant steps towards a well-balanced and well-regulated online gaming market," explained Aircash representative Josip Tolić, who also acts as head of regulatory and government affairs.
According to Tolić, the online gaming market in Greece is finally heading in the right direction.
While it has a long way to go before achieving its high goals in Greece, Aircash is proud of becoming a reliable and safe option for all gaming partners.
The fintech company will continue its dedicated work in regard to compliance, but also improve the intuitive payment offering as fraud protection and safe gaming are the two biggest challenges in the digital era.
Source:
"Fintech ensures transparency in the gaming sector in Greece", en.jamma.tv, March 14th, 2023.
"Aircash joined the conference as an EU regulated and authorized e-money institution"
General Gambling News
Back to articles