Back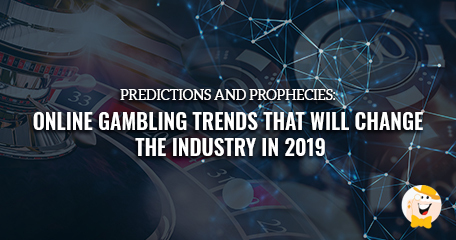 Springtime is when the world of iGaming enters a talkative mode: various discussion panels, conferences and events that include industry veterans and experts of all facets are about to take place. And during these, as a way of adapting to evolution in technology and player behavior before it even happens...
...a large portion of these talks will be devoted to analyzing big ideas that are about to be adopted, hints at directions to be taken and, in general, preparing for going down roads less traveled.
With a certain confidence in their accuracy, there are certain forecasts that are standing out as the most likely to reshape iGaming no later than before the current year ends.
In-depth research has been conducted by the iGaming authority, H2 Gambling Capital and the gist of their results – kindly provided to us by sister site, Key To Casino – is here for your reading pleasure. Ready to take a look at the crystal ball?
Customized Slots and Evolved Table Games
The point of the global market's oversaturation with slot games is, in the eyes of certain analysts, quite nigh. Not content with experiencing a deluge of slots with similar features, the consumers are demanding more.
Gaming providers and producers are also getting more and more plentiful by the minute. In this situation hazardous to the vertical itself, it's imperative to reinvent in order to catch up with players' rising savvy.
Hence...
...it is expected that a trend of gaming crossovers between slots and video games will culminate in 2019. Games with progress bars, levels and customized interfaces are becoming the norm. NetEnt has already taken the plunge with their blitz slots series. Also, popular TV shows are getting adapted to reels, putting the emphasis not so much on bonuses, but on storytelling itself.
Table games still remain the larger source of income for operators. In 2018, H2GC reports...
...table games generated 34% of total gaming gross revenue, far ahead of slots' 21%. This, however, should not make producers complacent: tides turn quickly and if no significant changes are made, this vertical could suffer the blow of becoming stale, too.
Innovations are starting to appear, however. Swtich Studios, who is supplying its parent company, Microgaming, with niche products, is reworking the entire genre – from Classic and American Roulette, to new takes on blackjack that will be out soon.
Live Dealer Games Will Bloom
In close relation to the table segment being ripe for reinvention is the live dealer vertical which is massively gaining in popularity. In 2018, it was already evident that games with virtual dealers will be the new craze...
...and in 2019, Pragmatic Play – one of the trailblazers in this business – were among the few relaunching its live dealer suite in a completely revamped package.
With the diversification of games from the original trio of roulette, blackjack and baccarat long gone, it is now time to rethink the gameplay experience. Lightning Roulette has cool special effects and modifiers – something that is in no way possible in any land-based venue, no matter how advanced.
With the advent of technology and speed of connection, producers are adding in more camera angles, a more realistic environment and even drastic interactivity with dealers. Even brick-and-mortar properties are getting in on this by streaming live dealer games from their lobbies – although, it's really the Asian market that predominantly leads the way in this still.
Mobile Reigns
Researchers say that we are very near the tipping point when users of mobile devices placing wagers and playing games will constitute the majority. This is expected to become a reality in 2023...
...when 53% of clients will be logging in their online casinos to place wagers via smartphones and tablets.
Most recent figures show that Europe's total annual gaming win was $27 billion - $13 billion of that was won on mobile phones. This is symptomatic of the European continent where consumers are particularly fond of playing on the go – Asia and the Middle East are trailing behind with $6.9 billion in wins generated and North America sitting third with $2.3 billion.
Conceptual Casinos
With consumers looking to personalize their gaming experience and find a niche that best reflects their own personality, online casino operators are forced to diversify their visual and thematic approach.
Original looks are strongly valued by players who are waging the appeal of the casino when deciding to devote themselves to it. Also, a rising level of competition and the expansion of the industry...
...pushes operators to new heights. Casinos that are visually captivating, like Heroes, Ninja or Duelz, and have a plethora of side-missions, maps, rewards and other ways to engage players in unique concepts are becoming beacons for the rest who are looking to make their mark.
Simplified Registration
One of the perks of cryptocurrency emergence in iGaming is that it introduced way simpler procedures of signing up – this proved quite popular with players who desire to be free of any hassle most of all.
This enticed operators to go a step further and integrate the Pay N Play methods for even quicker player registration. Trustly was the first payment system that offered this method of not having to sign up in order to use the casino's services. Players need simply deposit and the rest is taken care of by the system.
Entercash is another payment brand that is jumping on this bandwagon and enabling this for players in Finland. More countries will, undoubtedly, adopt this convenient service and rid their consumers of lengthy, tedious sign ups.
Independent Studios and Startups Galore
The B2B segment is growing unstoppably – more small studios are trying their luck in breaking through to greatness, but what is also trending is that larger and well-established brands tend to form independent studios with the single task of developing content for a parent company.
This delegation of duties is mostly notable with Microgaming who in 2018 formed no less than FIVE standalone brands as their manufacturing partners. More companies are following their lead and already some of them have announced identical projects of their own.
Informed Gambling Makes the Stand
Regulating gambling in such a fashion that it poses the least possible threat to players is a big thing right now. Two of the most dedicated regulators in Europe right now, the United Kingdom Gambling Commission and Sweden's Spelinspektionen, are going to great lengths to enforce that operators' bonus policies are as clear as possible.
Online casinos are now including much more detail information about promotions' wagering requirements and other terms that are of vital importance to users eager to partake.
Some sites are even beginning to offer extra spins with zero wagers so that players can test the site before deciding to become registered customers. Also, operators are encouraged to use gimmicks and enticing bonus announcements in much less volume than before.
Do you agree with these predictions? Do you have some of your own? If you do (or don't), let us know in the comments section below!
Source:
"Online Gambling Trends in 2019", keytocasino.com, April 4, 2019.
"In-depth research has been conducted"
General Gambling News
Back to articles