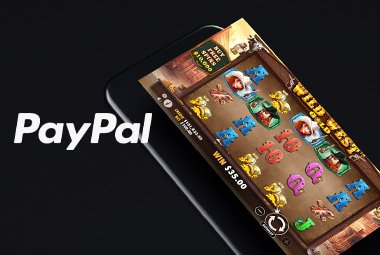 These days, online casino gambling is becoming more popular than ever before – with millions of daily users and billions of dollars in annual revenue, the industry is popular with practically everyone.
Still, it's not usually associated with a household name like PayPal.
At least, it didn't used to be.
These days, savvy gamers have good reason to pay close to attention to PayPal. Though this company was part of the 'dot-com bubble' of the late 1990s, it has survived and thrived since being acquired by eBay in 2002. Though it is among the first online payment methods to meet with widespread use, PayPal has somehow remained flexible throughout the rapid technological changes of recent decades. Today, they're more relevant than ever before…
… especially for casino gamblers who appreciate the many advantages of this payment system! 
Why should you consider PayPal for online gaming? Here are six reasons worth every player's attention.
1) Pre-Approval
As a rule of thumb, banks and credit card companies are happy to do business with just about anyone. This is because a big part of their profit margins come from transaction fees – volume is a huge part of their business model.
In contrast, PayPal is surprisingly selective about the businesses it allows to use its services for commercial purposes.
Why?
Because, unlike traditional financial instruments, PayPal's success depends wholly on the trust and good faith of its users. Bad customer experiences (and the bad PR that comes along with them) are devastating to their business model.
As a direct result, PayPal puts potential merchants through a rigorous testing and verification process. This means that, when players see the PayPal logo on a casino's site, it's an excellent indicator that the casino in question is a reliable place to play.
2) Buyer Protection and Security
PayPal is immensely well-regarded for its top shelf buyer protection policy. Because customer loyalty is so important to them, this company routinely goes to bat for players if and when disputes arise.
And in a gaming world where casinos sometimes seem to be looking for any excuse to not pay winners due to technicalities, this is no small advantage for players!
Similarly, their approach to security stands head and shoulders above that of most banks and credit card companies. All PayPal transactions leave behind a comprehensive paper trail, making fraudulent activity nearly impossible to get away with.
(Though the technological application is nearly opposite, this advantage mirrors some of the strong advantages for gambling with Bitcoin.)
3) Fast Transactions and Low Fees
Compared to traditional payment methods, PayPal is vastly superior in terms of transaction speed…
… while most processing times for players using banks or credit cards often takes several business days, PayPal customers often receive their payments on the same day as making a withdrawal.
(Though both are much faster than traditional payment tools, Bitcoin actually has the edge when it comes to speed. Players who want to know more can read our in-depth comparison here.)
Both methods also enjoy very low transaction fees – which leads directly to our next item…
4) Exclusive Bonuses
Those low transaction fees? It's not only players who enjoy them!
Casinos also benefit from much lower transaction fees when players use PayPal instead of banks or credit cards…
… which means more profit for casinos…
… which means they will often structure their bonuses to incentivize the choice of PayPal instead over old-school payment methods.
Players who know the tremendous value that exclusive bonuses can provide won't need to hear this news twice!
5) Top-Notch Customer Support
This might not seem like a tremendously important element of online gambling, but in the event of any issues, ready access to quality customer support is a massive asset…
… and the lack of same can be a major problem!
Fortunately, PayPal continues to pride itself on building one of the most capable and committed customer care contingencies out there. The team is available 24/7 in most languages, and are usually much, much easier to get a hold of than more than a few casino's support desks.
6) No Credit Cards
Even if none of the above advantages were in place, it would still be advisable to use PayPal rather than a credit or debit card for online gambling.
Why?
The level of credit and debit card fraud out there should be terrifying, as should be the ease with which such crimes can be successfully committed.
Defrauding PayPal users is so much more difficult that few bad actors will even try it. And if, theoretically, players get taken advantage of while using PayPal, their Buyer Protection policy will protect them from any serious exposure.
Put that together with the borderline predatory interest rates that credit cards may charge when customers find themselves carrying a balance, and there are two strong reasons to avoid using them on gambling sites altogether.
Add the various bonuses and above advantages to the mix, and it becomes a downright no-brainer!