Back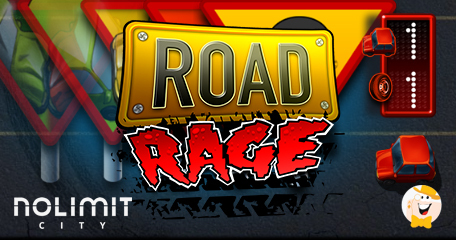 Get Ready for a Ride on the Wild Side of the Road!
After transporting players to a frantic underground party in The Rave, Nolimit City has returned with chaos on the roads. If you can handle the traffic, detours, and super slow grannies, give it up for Road Rage!
This month's release might be the ride of your life, so forget about any anger management classes you took – it's time for the rush hour!
Rage Buff, Wild Cars and Insane Wins
If you can make it through the traffic jam without your morning coffee, get ready to fight a triple RTP setup in Road Rage, seeding at 96.03%, 94.16% (DX1), and 92.17% (DX2).
According to the supplier, this title puts the player right into the rush hour. Road Rage also captures the frenzy thanks to its comic book aesthetic, which is typical for Nolimit City which was recently acquired by Evolution.
The game is even packed with crazy characters that one could see in their morning commute.
Technically, Road Rage is a 5-reel, 3-row slot by default, but its grid can be expanded to 5x5 during various bonus levels. To make things interesting, look out for the cars, as they represent wilds and come with different functions depending on the color.
However, before you enter any bonus, Rage Buff will determine additional spins and multipliers that affect the Wild Cars.
Further drive through the hectic streets may even cause your Wild Cars to break down and become sticky. This fortunate event may result in heart-pounding wins thanks to the snowball effect of the sticky wilds.
Still, once you find your way through that traffic hell, summoning your inner Ghost Rider and bagging a maximum payout of 36,000x the bet will be at the tips of your fingers!
"We've all been there; struggling, gnawing, and swearing in one way or another - Making enemies with your fellow drivers and asking yourself how they're still alive…" commented Sebastian Hovenberg, product owner at Nolimit City.
If you want to truly live these moments Road Rage will be available on all Nolimit City partners from August 16th, 2022. The characters in it are angry, drive recklessly and nothing's going their way, so make sure to always fasten your seatbelt!
You can see the official trailer here.
City Mayh3m & H1ghway Jam
Once you get through the Morning Rush by landing 3 scatters, make sure to get 4 scatters and enter H1ghway Jam, or 5 to initiate City Mayh3m. During these incredibly exciting bonus modes, 1/2/3 of the Wild Cars will be selected and act as a sticky wild.
In the meantime, 1 or 2 scatters in Morning Rush will upgrade the bonus mode to City Mayh3m and H1ghway Jam, respectively. In some jurisdictions, players will even be able to use the Buy Functionality and purchase their way straight into one of the different bonus modes.
However, this commodity will cost them from 66x to 666x the base bet.
Source:
"Nolimit City is revving up with their latest release, Road Rage.", nolimitcity.com, August 16th, 2022.
"Nolimit City has returned with chaos on the roads"
Casino Games
Back to articles