Back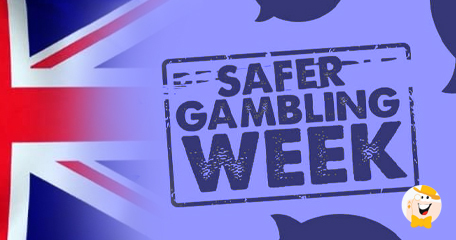 Safer Gambling Week 2020 is an annual event dedicated to one of the most delicate questions the iGaming industry has been continuously tackling with- safety. Uniting the entire UK and Irish gambling scene, this campaign aims to initiate a discussion about safer gambling.
In addition to this, the participants will drive more awareness, and promote the tools that are available to help people gamble safely all year round. Also, they will direct consumers to various useful sources for additional support.
Aside from online establishments, the campaign is supported by other entertainment providers, such as land-based facilities, amusement arcades, bingo clubs, and bookmakers. The event takes place from 19th - 25th November.
Which Topics Are to be Discussed during Safer Gambling Week?
The field of safety is a broad one, and that's why it requires a comprehensive approach. Modern technologies brought more immersive games, but they also brought numerous tools that could successfully keep players on the safe side.
Some of the crucial topics which will be addressed during Safer Gambling Week 2020 include:
Questions about gambling behavior
Highlighting five key behaviors of safer gambling
Providing details of where and how to obtain further information and help if needed
Numerous online entertainment portals have already incorporated an assortment of helpful tools into their websites. Some of them include a time limit, as well as loss or deposit limits. There are options to cool off or self-exclude.
Almost all of them have some sort of questionnaire where punters can evaluate their behavior and see if it is necessary to get in touch with some professionals. Also, they are equipped with links to relevant institutions such as GamCare or GambleAware.
How do Venues Promote and Ensure more Safety?
Gambling venues are actively included in Safer Gambling Week activities. This promotion takes place not only around and during the event itself but throughout the entire year.
Via informative banner ads and pop-ups…
…they will draw players' attention to this burning issue. Aside from informing them on what is necessary to approach gambling in a responsible manner, they are also organizing special campaigns.
Social networks have immense power in reaching out to consumers, which is why they will also contribute to safety enhancement. Both land and online organizations will advertise the event on Facebook, Twitter, and Instagram.
In addition to this…
…key support organizations like the National Gambling Helpline (which started operating on October 1, 2019), GamCare, and YGam will also be part of the Week. These institutions are more than well-prepared for increased numbers of inquiries due to the national campaign.
In August 2019, as a part of the collaboration with Gambling Therapy, LeoVegas, one of the most prominent operators, launched a special tool called LeoLine. This live chat service is designed to offer punters immediate live help to manage their gambling by connecting them with professionals.
Take a look at one of the many informative videos and tell us- what's, in your opinion, crucial for keeping a high level of safety in the online gambling industry? We'd like to hear your thoughts and impressions on these important topics, join us for discussion!
Have fun, gamble responsibly, and stay safe!
Source:
"Safer Gambling Week official website", safergamblinguk.org, https://safergamblinguk.org/about
"this campaign aims to initiate a discussion about safer gambling"
Gambling Law & Society News
Back to articles