Back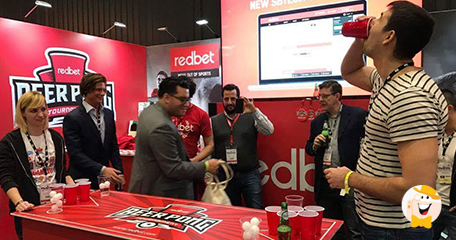 Another London Affiliate Conference has flown by and LCB was representing in a major way. The event was held at ExCeL London, a massive venue located on a 100-acre site, which was the meeting place of industry professionals for two days of networking and exploration. All work and no play doesn't really seem like our style, so read on to find out how Zuga fared against Ask Gamblers in Redbet's prestigious beer pong final.

We walked up to meet with our brother from another mother, Marius Fillip, nominated for an iGB 'Best Affiliate Manager' award. Surrounded by a crowd of spectators, including our very own Melcb, MelissaN, the Admin and even yours truly, Feelin froggy, the tension mounted as the two prepared for battle. Each was presented with a triangle of cups with a shot of beer in each and some ping pong balls.

The goal here is to toss or bounce your balls across the table with impeccable aim to land them directly into your opponent's cup and if you're successful, they must toss back the contents. The first to drink all of their beer loses – at least that's what we thought.

We hurled strategies and words of encouragement Zuga's way as he represented LCB in the face off against fellow iGB 'Best Casino Website' 2017 award nominee and ultimate winner, AskGamblers.com, but he wasn't having any of it. Our excitement turned to competitive confusion as he casually sipped a bottle of beer and seemed to welcome rival balls. At one point Melcb was shouting to pull him out of the game and sub in MelissaN. Instead, he argued, (yes argued) that the winner is the one who is drinking the beer, so to make a long story short, he won in his own way.

It's not whether you win or lose that counts, it's how you play the game. Well played my friend. Well played.
"LCB was representing in a major way"
LCB News
Back to articles