eCheck vs. MasterCard Credit
When browsing online casino payment options, players often run into eCheck and MasterCard. These services are staples in the online gaming industry at this point, so it's hard not to encounter them when going through this internet niche. There's a reason why these methods are such a big success in the online gambling world. Both are popular options for more than just gambling purposes, they're well-established, and they're some of the most secure banking options currently on the market! While this is enough to distinguish them to a degree, it doesn't make them unique. Plenty of other payment methods have similar traits, and some even perform better in the areas listed! All of this leads to the one question we'll try to answer in this text – Why use eCheck or MasterCard online casinos?
About eCheck and MasterCard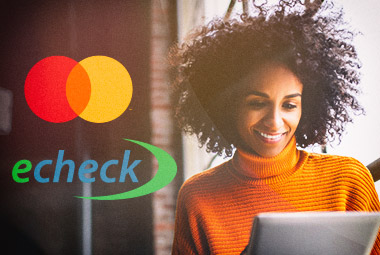 eCheck and MasterCard share many similarities. First, both of these methods are recognized and used worldwide for all kinds of purposes. Their global reach is a big part of what makes them so desirable for online casino fans. They offer unparalleled access to gambling sites everywhere! Second, partnerships with banks are a core part of these services, and both boast many of them. Of course, this brings a higher level of security that all users can appreciate. While they share some big traits, these methods still function very differently. We'll explain how below.
As you can probably tell by the name eChecks are electronic versions of classic bank checks. They operate practically the same, with this modern version using an online platform to make the process more convenient. While you might know how these work if you're older, most younger generations aren't too familiar with the concept. Since traditional checks aren't used much today as they once were, these pieces of paper have nearly faded into obscurity.
Like traditional checks, eChecks operate in collaboration with banks. If you don't have a bank account to back your transaction, you can't even start the process. Naturally, the bank's job is to go over your payments and approve them. These financial institutions authorize and clear these transactions after confirming their legitimacy, sending the money to its intended destination safely. 
You've likely concluded this already, but this method does share your banking details with the operator you choose. Fortunately, this isn't a cause for concern. The service is incredibly safe! The information can't be accessed by outsiders, and the procedure itself requires the player to confirm their transactions after proper verification. Usually, this is done through two-factor authentication.
Something to note about eChecks is the inclusion of several other financial institutions, on top of your bank, in the process. Safety is on a pedestal with this method. The service takes many precautions to ensure the money gets to its destination safely, which can have some drawbacks. Mainly, this extends the processing times for deposits and withdrawals. Usually, it takes about 3-5 days for an eCheck to finish a cycle. If you're not in a rush and prioritize safety, this method should serve you just fine. If you're looking for quick service, then you might need to look elsewhere.
MasterCard is, without a doubt, one of the best-known payment options of our time. Despite being seemingly modern, this bank card service dates back to 1966! It got its start as a membership organization in the US, established by some big names in finance. These included Wells Fargo, Bank of California, Crocker International, and United California Bank. Word of this service spread quickly, and soon, more than 25,000 financial institutions became shareholders. Not much later, word of it spread outside of the US, and so did the service. Given its exponential growth, Master Charge, as it was called back then, rebranded and started launching its most popular product – bank cards.
MasterCard's power lies in its extensive global network. It currently covers over 180 countries, making it one of the most widespread banking options on the market. The service is used for many purposes, from produce shopping at local grocery stores to making high roller deposits at online casinos. Because of its incredible reach, MasterCard is a viable option in most online gambling sites. Along with its security, this is one of its biggest advantages. With this service, players can choose to enter nearly any gambling venue that catches their eye! 
We might have mentioned this already, but MasterCard's most popular products are their various bank cards, specifically, their credit and debit cards. Most people are familiar with how these two types of cards operate, but if you aren't, here's a brief rundown of what to expect. Debit cards are usually the default. With these at their side, users can spend as much money as is available in their accounts. With credit cards, things are a bit different. Users can spend past the money they have available and go into debt. 
Something to note here is that credit cards have been getting some negative attention lately. This card type has been banned for online gambling purposes in the UK and Germany! While we hope this stays isolated to these particular countries, it wouldn't surprise us if other regions follow in their footsteps.
Getting Started with the Two Methods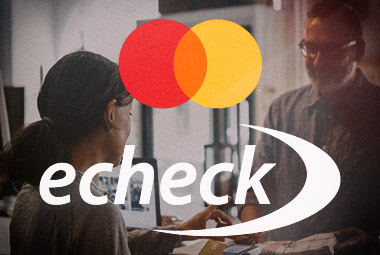 Getting started with eCheck is a pretty laidback ordeal. Essentially, players need to meet the prerequisite of having a bank account, and they're nearly done. To start the process, specifically in online casinos, they'll need to visit the operator's page and find the method. After this, enter your bank account details, and voila, the process is underway. Things are now in the hands of your bank and the other financial institutions helping things along. Sit back, relax, and wait for the check to clear.
If you're not interested in the details of how the background processes of this service operate, you can skip this paragraph. Essentially, the information users enter is processed by services like Authorize.net, transforming it into useful data. After this step is complete, the data makes its way to a different third party – Automated Clearing House. As you can tell by the name, this institution is there to verify that everything is legitimate, before handing it over to your bank. The last step is performed by your bank. Once the bank confirms everything is in order, it will clear the check!
The getting-started process with MasterCard is a bit more hands-on. To get their hands on a bank card, users will need to search for a partnering bank near them. The good news is, there are too many of these to count! MasterCard collaborates with countless financial institutions, so no matter where you turn, you'll likely find one. Before you head into the bank and get things going, it's best to decide what kind of card you want. Do some research on the pros and cons of credit and debit cards and pick the option in tune with your needs.
Once a decision is made, head to the bank and get started. First, you'll need to fill out some forms with personal information. Some users may get a bit concerned here. Many of the questions on the application form are personal. They can require information on your financial status, marital status, employment status, etc. It's good to remember that this information will be used exclusively by the bank unless explicitly stated otherwise. Along with the forms, you'll also need to submit a photo ID to verify your identity. You can do this by providing a valid driving license, government-issued ID, passport, or other similar forms of identification.
After you submit everything, the bank will quickly review the information and get back to you if revisions are needed. Your application should be approved in no time, which will immediately prompt the bank to start working on your card. The card should be ready within a few days, and users can pick it up at the bank's location or have it delivered by mail. 
Using eCheck and MasterCard Across Online Casinos
Now that you have a better idea of how to start using these methods, you can head over to your favorite online casino and choose one to make a deposit. Doing this should be just as easy as the previous step. Using these options in online casinos feels intuitive, so even if you're a complete newbie to both the methods and online casinos, you shouldn't have any trouble following the simple instructions.
If you've chosen eCheck as your go-to deposit option, here's how to proceed:
Look for eCheck's logo in the casino's Cashier/Deposit/Banking page and tap or click on it. 
Enter the required details in the new window. 
Specify how much you wish to deposit. 
Confirm the transaction. 
The money will arrive in your casino account in 3 to 5 days. 
Withdrawing with eCheck follows the same procedure. The one difference players would need to make is choosing the withdrawal page in the beginning. After that, follow the same steps listed above. Interestingly enough, withdrawals with this service are even more popular than deposits. The reason for this is the processing time. While players can get a bit anxious when waiting for their deposits to clear, the same isn't the case with withdrawals. Withdrawals usually take a few days to process anyway, so it's seen as routine.
For those that have chosen to use MasterCard for their casino transactions, here's how the depositing process plays out:
Choose the "Deposit with Credit/Debit Card" option.
From the list of offered credit/debit cards, select MasterCard as your deposit option. 
Enter the card's number, expiry date, your name as the cardholder, and the CCV2 code on the back of the card. 
Specify how much you wish to deposit and confirm the transaction. 
In an instant, the funds will arrive on your balance!
Similar to the previous option, there isn't much difference between depositing and withdrawing with MasterCard. Simply choose the withdraw option instead of the deposit one at the start and follow the steps above this paragraph. Unfortunately, we have some bad news regarding MasterCard withdrawals. Unlike deposits, withdrawals aren't instant. They come with long waiting periods attached, taking 5-7 days to process a transaction. On top of this, withdrawing with the service is a scarcer option in online gambling venues than depositing.
Advantages and Disadvantages
eCheck and MasterCard are easily some of the best banking options out there these days. They offer players some incredible perks, but, they also come with a few downsides that can be disappointing. Up next, we'll go over the pros and cons of these methods briefly.
The pros that these services share relate to their availability and security. While MasterCard might be more widespread in the online gambling space than eCheck, the two methods are incredibly popular. Thanks to these services, users can visit nearly every online casino in existence and have a good time without a hitch. When security is in question, it's hard to get such a high-level treatment with most other methods. Not only are these services protected by the banks they work with, but they implement personal layers of safety that make them harder to penetrate. This is especially true for eChecks, as they use an additional security channel provided by third-party financial institutions.
Unsurprisingly, these methods share many of the same downsides as well. Arguably the biggest con to these methods is the long processing times. While this only applies to the withdrawals made with MasterCard, eChecks have it worse, as it applies to depositing too. When you compare the processing times of these two methods to some modern banking options like eWallets, they lag significantly.
Another thing to keep in mind when considering these services is the credit card ban imposed by countries like Germany and the UK. If you happen to be using a MasterCard credit card, you won't be able to access operators in these regions. Sure, you're free to use your card for any other purpose, but online gambling won't be a part of that repertoire.
It's not hard to conclude that eCheck and MasterCard are two excellent choices, despite their flaws. You'll likely enjoy your time in the online casino world, regardless of the method you choose, so give them another once-over, and pick the one you feel suits you best.
Online Casinos that support both eCheck & MasterCard Credit: