VISA and Discover tend to be pretty big deals in the online gambling space. These services are two of the most popular bank cards available, so they cover a large portion of the online casino market, allowing players access to these venues. You've likely encountered these options even if you're a newbie to casinos. They're used frequently for all kinds of transactions, from shopping at your local grocery store to browsing random knickknacks on an online platform. While the reach of these services is undisputed, there are tons of other payment options out there that offer similar perks. Naturally, this leads to one very important question online gambling fans want an answer to - Why choose VISA or Discover as your primary online casino payment option?
About VISA and Discover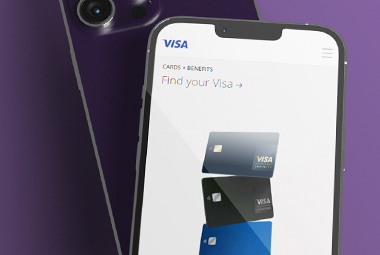 VISA is undoubtedly the most popular bank card brand you'll run into these days. The service dates back to 1958, giving it an impressively long lifespan that's nowhere near over! The brand is one of the most easily-recognizable global powerhouses of our time, but its start was nothing like that. The service came to life after an employee at Bank of America was assigned a project to create an automated billing process through a computer system. They did as instructed, and soon, the project took on a life of its own! It was incredibly successful, launching the first-ever credit card program known to man.
Through the years, VISA has become the leading banking brand worldwide. Most people are familiar with the service, and what's more, they likely use it regularly. Of course, this comes as no surprise. VISA can be used to purchase goods online and offline, so it thrives everywhere, from small marts to massive online retailers. The service boasts a network with unparalleled global reach. It's a viable banking method in nearly every country you can think of, and it doesn't shy away from partnerships. This is apparent from its work with financial institutions and even many world governments.
It's easy to see that VISA is a massive player, but you might be wondering why the service is such a popular pick in the online gambling world. The method has a few excellent perks that gambling fans can appreciate. First, it's incredibly convenient. Most people already have a card from the service, so they needn't bother setting up an account. Of course, this extends to the accessibility it offers. The method is accepted in pretty much all venues. You can choose any online casino you fancy and start playing right away! Naturally, perks like safety are also something players can appreciate. These cards come with top-tier bank security and additional two-factor authentication features.
Discover might be a pretty popular credit card now, but it has gone through its fair share of struggles. The service launched in 1986. While being a product of a well-known US  company like Discover Financial Services gave it sturdy ground to stand on, it came out later than most of its competitors. By this time, VISA, MasterCard, and American Express were already well-established brands with large followings. Naturally, this made it harder for the new method to amass a following. Thankfully, it did so with time and effort, and it now boasts more than 5 million users!
Since Discover is a US-based service, it started its journey locally. As it grew, word of it reached many other countries, and it started to encompass several regions, including key European markets! You're likely wondering how this method managed to thrive with such fierce competition, and the answer is as simple as it gets. The service offered perks and features its competitors didn't. While the card's late start put it behind in some areas, it gave it a chance to establish a unique infrastructure with one-of-a-kind offers. These attracted tons of users and even convinced some to switch brands!
Coincidentally, the unique perks that give Discover an edge over the competition are the ones online casino fans are crazy for! These include 5% cashback on all purchases made with the card, alack of annual fees, and no need for a customer account. It's not hard to see why these perks are so beloved by casino connoisseurs. They work perfectly with the usual online casino offers, giving users a better online gaming experience. Because of this, Discover is a viable option in nearly 200 online gambling venues!
One more noteworthy thing about Discover is the addition of merchant codes. These are unique codes assigned to all partnering services. They make tracking transactions easy, upping the payment method's security significantly! While they're generally an excellent pro, they did cause some trouble for US online gambling fans in the past. Mainly, banks used these codes to identify online gambling transactions and block them. This was due to the strict gambling laws in effect at the time. The good news is that players needn't worry about this now. These regulations have changed drastically, making this a non-issue.
Getting Started with the Two Methods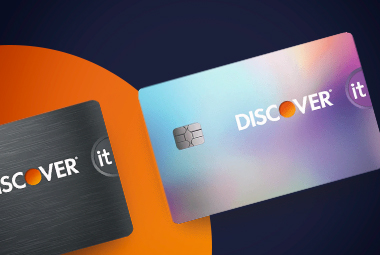 VISA and Discover are both essentially bank cards, so the getting-started process for these services is similar. What's more, most people should already be familiar with how works. Since owning a bank card is practically essential at this point, most of us have already been through it once or twice.
If you're not familiar with the getting-started process for VISA, it's good to note that it's not as complicated as it seems. To get things underway, you'll need to apply for a card at a bank that partners with the service. Finding one should be a breeze. Since most banks are a part of the service's network, your choice will likely be a part of it too. Before you head inside and start the application process, it's best to get informed on the various card options available. These tend to come with different perks, so choose the one that best fits your needs.
The most common card choices you'll run into are credit and debit cards. The latter is the default nowadays. It's a traditional bank card that allows users to spend as much money as they have available in their accounts. The former of the two offers users an additional feature they might take interest in. With a credit card, you can spend past the money you have available in your account and go into debt. Consider these carefully before moving on with either pick.
Now that you've made your choice of card, it's time to apply for it. Head to the bank and request an application form from the clerk. On the form, you'll find all kinds of questions. While most of them require basic information, such as your name, email, and phone number, others can be a bit more personal. It's good to keep in mind that none of this info is shared with third parties, and it stays between you and the bank. It's just an essential part of testing your eligibility for the service. The next step is verifying your identity. When you submit your form, you'll also need to show proof of identity in the form of a valid photo ID. A driving license, government-issued ID, or passport should do the trick.
Discover boasts a similar getting-started process, with one key difference. Instead of heading to a bank to apply for a card, users can do so online! Since the service issues the cards through a personal network, there's no need to get banks involved in the process. Naturally, this saves time and makes things much easier. The process itself doesn't differ from the previous one. It requires filling out a few forms through the Discover website and submitting an identity verification document. When done, the service will review your submission and contact you as soon as possible.
As we've already mentioned, Discover and VISA both utilize credit cards. Remember that this option comes with some issues in certain regions. In Germany and the UK, the use of credit cards for online gambling purposes has been banned. If you're not from these regions and don't intend to play in operators based there, you should be fine. Unfortunately, there's no guarantee that other countries won't enforce a similar ban in the future.
Using VISA and Discover Across Online Casinos
VISA and Discover are staples in the online gambling world. They're both available in countless online casinos, giving users access to top-tier options with different offers. You can expect a variety of content and features from most of these options, so no matter which payment options you choose, you should have a leg-up from the start!
If you've landed on VISA as your go-to deposit method, here's how you should proceed:
Visit the casino's Payments/Banking/Cashier page. 
Look for the VISA logo on the list of accepted methods and click or tap on it. 
In the new window, enter the card's number, expiry date, and the CCV2 number, if needed, and specify your name as the cardholder. 
Specify the amount of money you'd like to deposit.
Accept the transaction, and the money will arrive on your balance right away.
Withdrawing with VISA isn't too different from depositing. To cash out your winnings, you can follow the steps listed above, with a change in four. Instead of specifying the amount you wish to deposit, specify how much you want to withdraw. While the process itself is easy to follow, using this method for cashouts does have a downside. The processing times here are pretty long compared to modern options like cryptocurrencies and eWallets. While these tend to be instant, your bank card withdrawal can take anywhere from five to seven days to arrive in your account!
If you've decided to use Discover for your online casino transactions, here's what the process looks like:
Choose the "Deposit with Credit/Debit Card" option.
From the list of offered credit/debit cards, select Discover as your deposit option.
Enter the card information requested on the screen.
Enter the 3-digit verification code provided by Discover.
Specify how much you wish to deposit and confirm the transaction.
In an instant, the funds will arrive on your balance!
Discover withdrawals follow the same formula. If you follow the steps above with a few simple changes, you'll be done in no time. Unfortunately, withdrawals with this method suffer the same cons as those of VISA. They can be painfully slow, so if you're in a hurry to use your winnings, you might have better luck choosing an alternative cashout method. It generally takes 5-7 days to receive your withdrawal from this service. Add to this the processing times imposed by some online casinos, it could be even longer.
Advantages and Disadvantages
VISA and Discover come with some incredible perks attached to them. Users in the online gambling space go wild for these advantages, but that doesn't mean their downsides should be overlooked. In this last part of this text, we'll briefly go over the biggest pro and cons of these payment methods.
VISA's biggest advantage is its massive worldwide network. The service reaches nearly every piece of land on this earth, so it's privy to most online casinos in existence! Users have an endless selection of gambling venues, many of which have exclusive offers. Additionally, the method is one of the safest ones you'll run into. Not only does it use traditional bank security, but it implements other safety measures to keep players protected.
Discover has several excellent perks that make it a blast for online casino connoisseurs. On top of classics like convenience and security, the method has no annual fees, it doesn't require a user account, and it boasts 5% cashback on all purchases. These work incredibly well paired with casino offers and bonuses, extending playtime and making online gaming more exciting!
Unfortunately, both of these services suffer the pitfalls of being bank cards. They take a long time to process withdrawals, making users wait up to seven days before receiving their money. Additionally, both of their credit cards are limited by the online gambling ban that's live in several European countries.
Now that you're more familiar with what these services have to offer, you should be a step closer to making up your mind. They both usually lead to positive experiences for a majority of users, so no matter your choice, we're sure you'll have a good time on your online casino venture.
Payment Methods Comparison
Payment methods name
Visa Credit
Discover
Available accounts
n/a
1 account
Account management fees
n/a
free
Cashback and promotions
Additional bonus programs
n/a
Yes
Two factor authentication
n/a
n/a
Money-back guarantee in case of fraud
n/a
Yes
Link to terms & conditions
n/a
https://www.discover.com/online-banking/terms-of-use/
Online Casinos that support both Visa Credit & Discover: